Garlicky Meatballs swimming in hearty marinara sauce on top of buttery fettuccine noodles, this will be your new favorite pasta dish!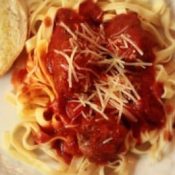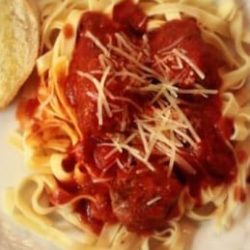 Oh goodness! This Fettuccine with Garlicky Meatballs might just be heaven on a plate!  Kicked up in flavor, this will be your new spaghetti & meatball dinner idea!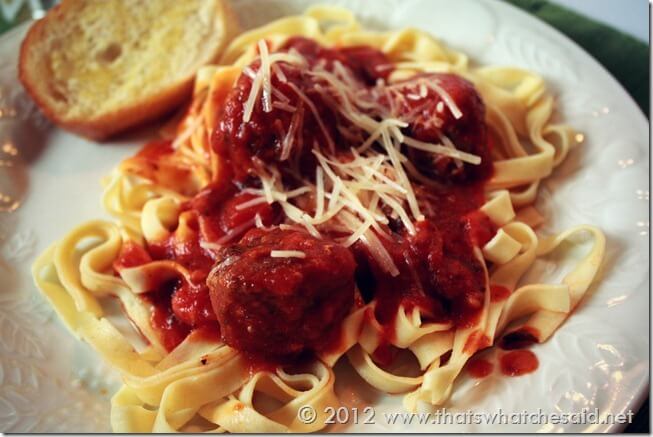 I am not a big spaghetti and meatballs fan, so I was really surprised that I LOVED these guys!  I prefer not to make the actual spaghetti noodles for meals because 1.  they are hard for my kids to eat, especially the little guy and 2.  apparently my husband has an aversion to the noodles also.  He really dislikes angel hair!  (Who knew?!?)  So I normally stick to rotini or Mostaccioli noodles.  I have to say I am a huge fan of the fresh fettuccine noodles.  They worked great and everyone was happy!  Including me!  I am now a meatball lover…as long as they follow this recipe :)
Supplies Needed for Fettuccine with Garlicky Meatballs:
A tip to make uniformly sized meatballs is to use an ice cream or cookie scoop.  You get roughly the same amount of meat mixture each time and it makes the meatballs uniform in size and cook evenly!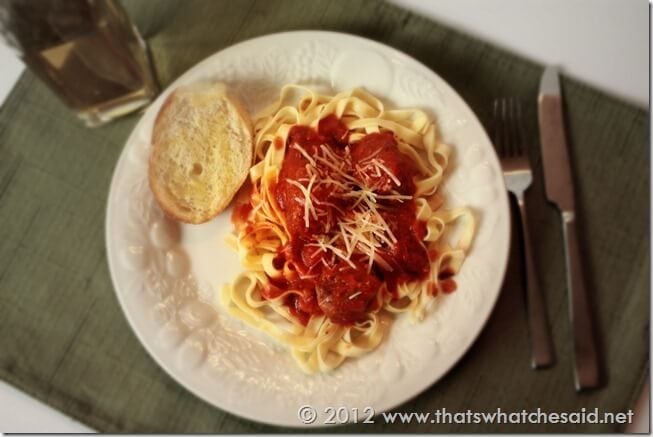 As you boil the water and cook the fettuccine, you make the meat mixture and form the meatballs.  The meatballs then get a quick sear on all sides and then they chill in the pot, soaking in the marinara until they are cooked through.
This recipe is super easy by using the store bought refrigerated fettuccine which cooks in no time and tastes great as well as store bought Jar marinara.  My favorite is Ragu – Thick & Hearty!  So flavorful!
I served this pasta dish with Fresh Garlic Bread and a garden salad.  I can't wait to make it again!  It was delicious!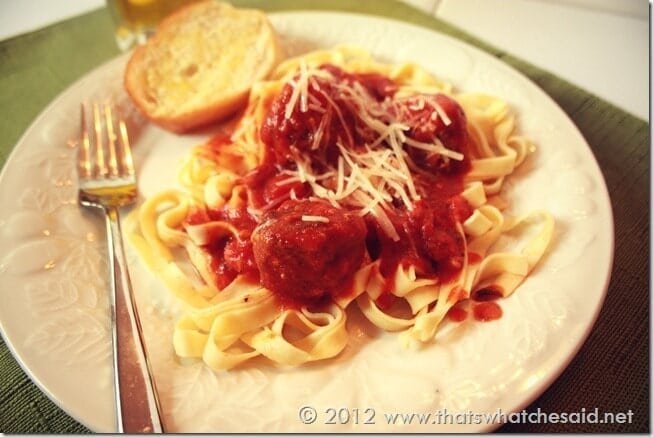 YOU MIGHT ALSO LIKE THESE MAIN DISHES:
[posts_grid type="recipes" columns="3″ rows="2″ order_by="date" order="DESC" thumb_width="250″ thumb_height="250″ meta="no" excerpt_count="0″ link="no" link_text="" category="Main-Dishes" custom_category="" tag="" custom_class=""]
Recipe for Garlicky Meatballs & Fettuccine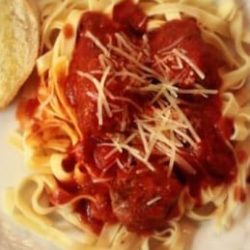 Fettuccine with Garlicky Meatballs
Garlicky Meatballs swimming in hearty marinara sauce on top of buttery fettuccine noodles, this will be your new favorite pasta dish!
Print Recipe
Pin Recipe
Ingredients
9

ounces

Fettuccine

,

refrigerated, fresh

12

ounces

Ground Sirloin

1/2

cup

Panko

1/4

cup

Grated Parmesan Cheese

3

cloves

garlic

,

minced

1/2

tsp

onion bits

1/2

tsp

onion powder

1/2

tsp

salt

1/4

tsp

Pepper

1

each

egg

,

large

1

jar

Marinara Sauce
Instructions
Cook the pasta according to the directions in a stock pot. Before draining pasta water, reserve 1/3 cup.

Combine ground sirloin, panko, parmesan cheese, garlic, onion bits, onion powder, salt, pepper and egg in mixing bowl and mix together.

Form meat mixture into meatballs of uniform size. (Mine were about golfball size)

Heat olive oil in large skillet over medium-high heat. Add meatballs and sear until brown on all sides.

Reduce heat to medium-low and add marinara sauce and the reserved pasta water.

Cover and cook for 11 minutes or until the meatballs are cooked through.

Layer the fettuccine with the meatballs and marinara sauce. Top with parmesan cheese.
Notes
*Note: You can also prepare these during naptime (in peace and quiet) and store in the refrigerator until needed at dinner time :)