Today I have partnered with Joann Fabric and Crafts Stores and Wilton Prodcuts to bring you the 13 Days of Sweet Halloween Treats, I am sharing some Easy Halloween Treats that will have your sweet tooth ghoulishly excited!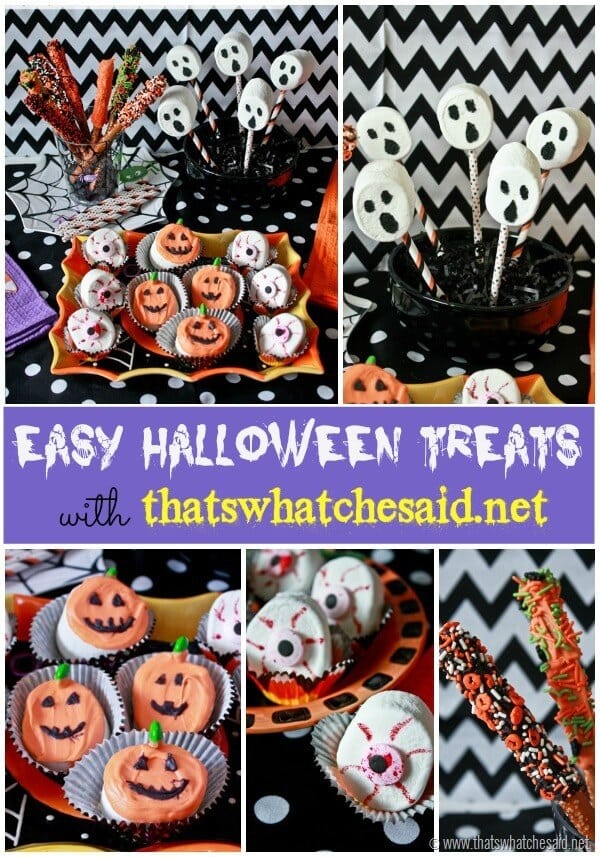 I love Halloween, do you?  Part of the reason I love it so is because it's the first holiday of fall!  Not to mention it's a holiday filled with sweets and who doesn't love sweets?  I was so excited to join these other amazing bloggers as a part of the 13 Days of Sweet Halloween Treats series hosted by Jo-Ann Fabric and Craft stores and featuring Wilton Products.
If you have ever baked in your life, chances are you have some Wilton products in your home already.  They happened to send me a big box of goodies that I can't get enough of!  You will be sure to see a few more treat ideas from me with some of the products!  I love them!  You will too!
Easy Halloween Treats:
Halloween Pretzel Treats
Supplies You'll need for Halloween Pretzel Sticks: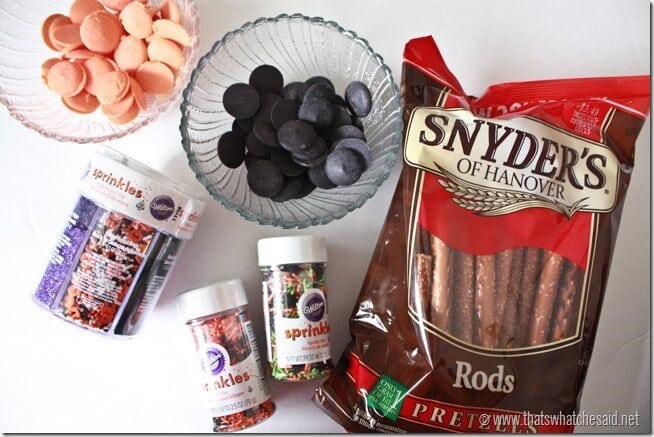 I started out by melting the candy melts according to the package directions in my microwave.  Then, with the help of a spoon, I covered about 1/3 of the pretzel.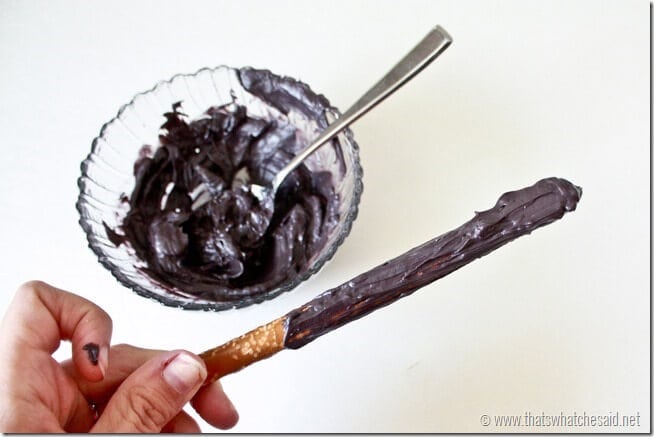 While the candy melt is still wet completely cover with sprinkles.  I used a dish below to catch the run off and then used that run off to fill in my pretzel.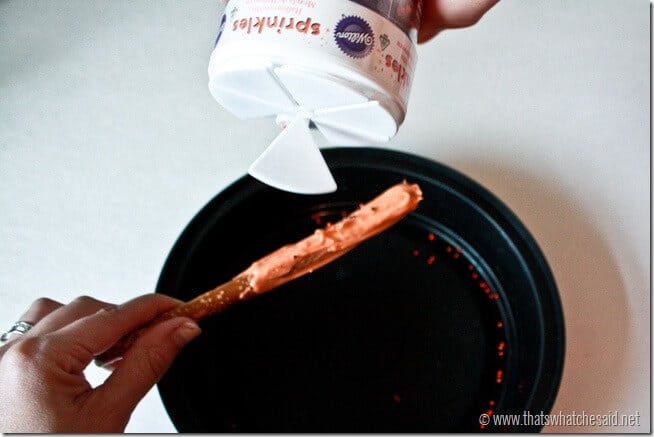 Let dry standing up in a glass or flat on a parchment paper lined cookie sheet!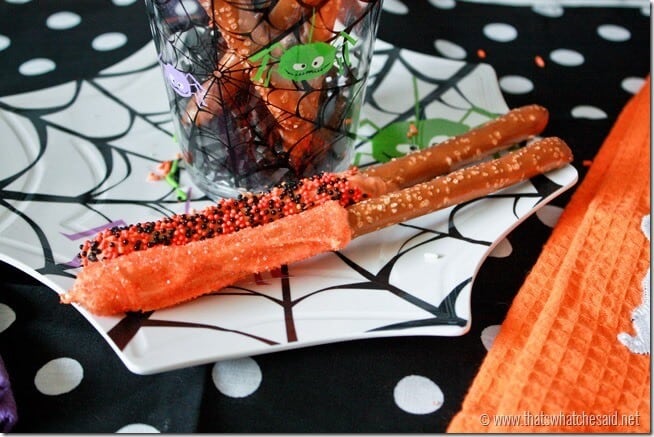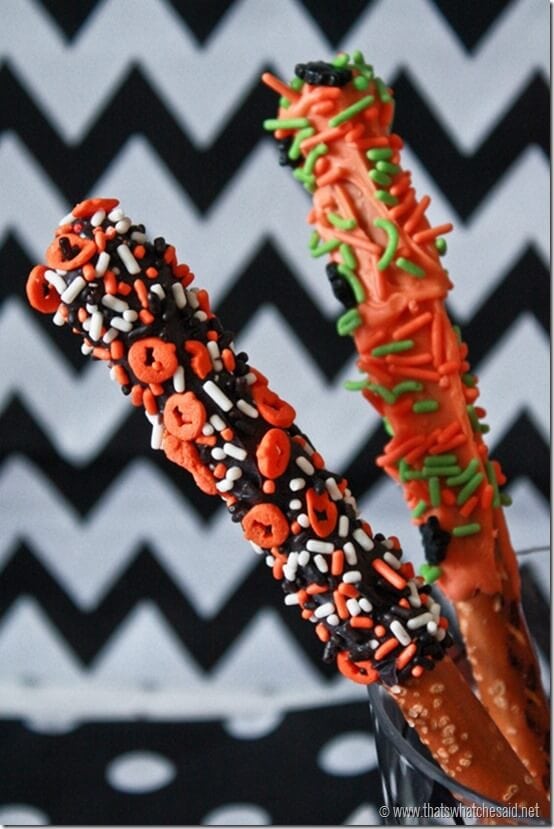 For my next three treats I used Jumbo Marshmallows!  These little ghost pops are so fun and with the Wilton Food Writer, your little ones can help with this treat!
Ghost Pops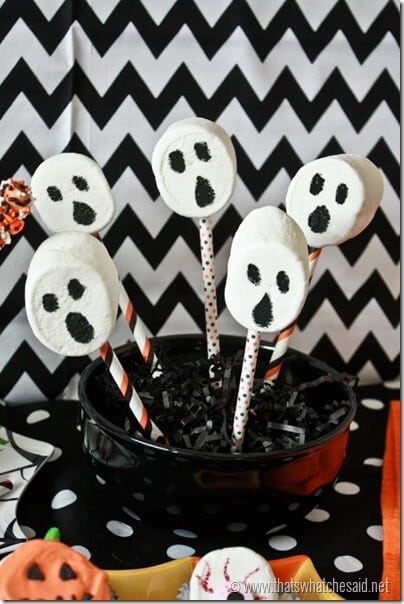 Supplies You'll Need for Ghost Pops:
Insert the sticks into the Giant Marshmallows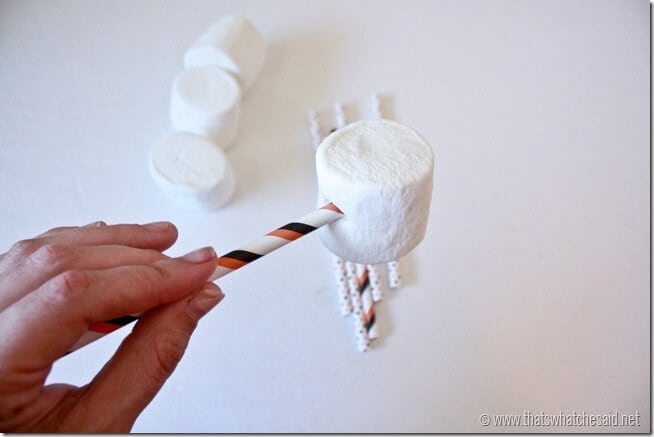 Use the Food Writer marker to draw on faces!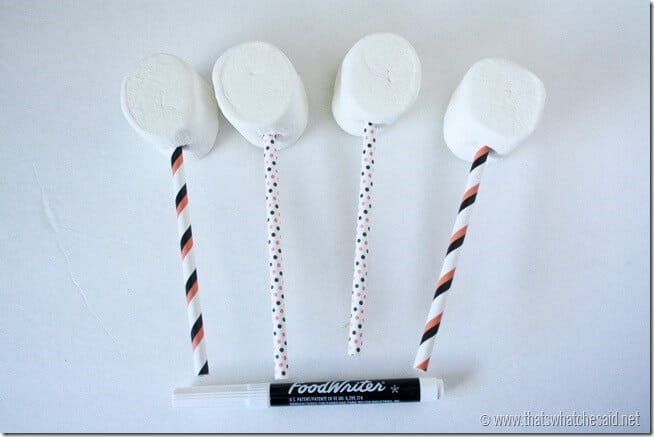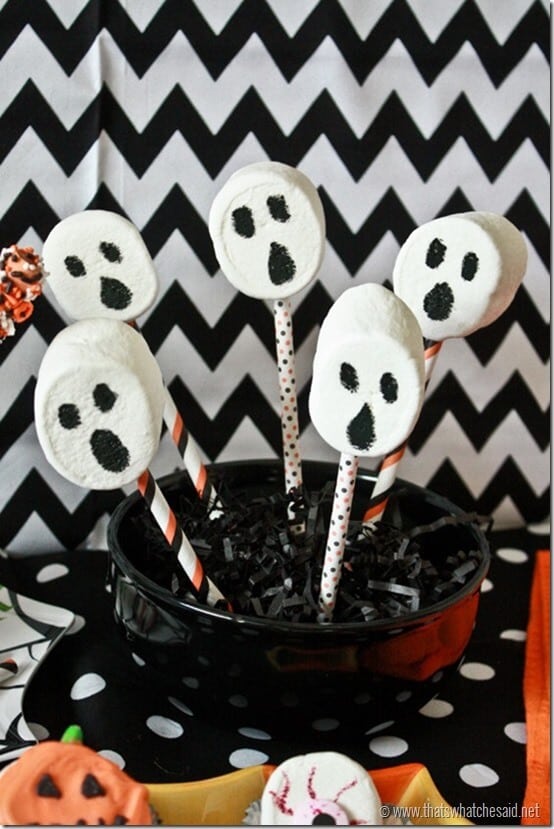 Pumpkin Marshmallows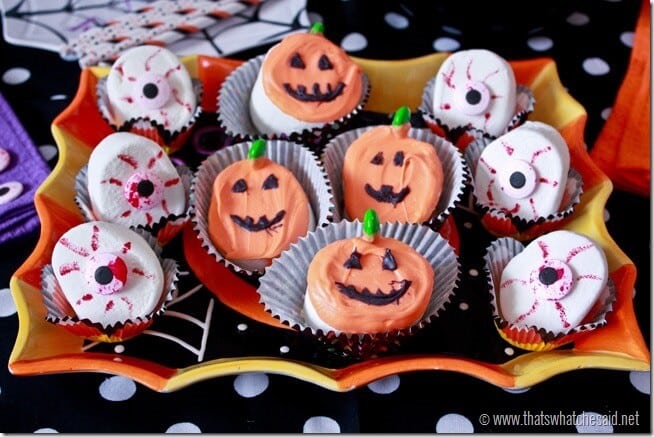 Supplies You'll Need for Pumpkin Marshmallows:
The pumpkins I simply used the orange and black candy melts along with a green chocolate candy!  Really easy!  I waited until the orange was completely dry before I drew on the faces.  A little orange melt was used to secure the stem.  Pop them each in a Halloween Cupcake Wrapper.
Marshmallow Eyeballs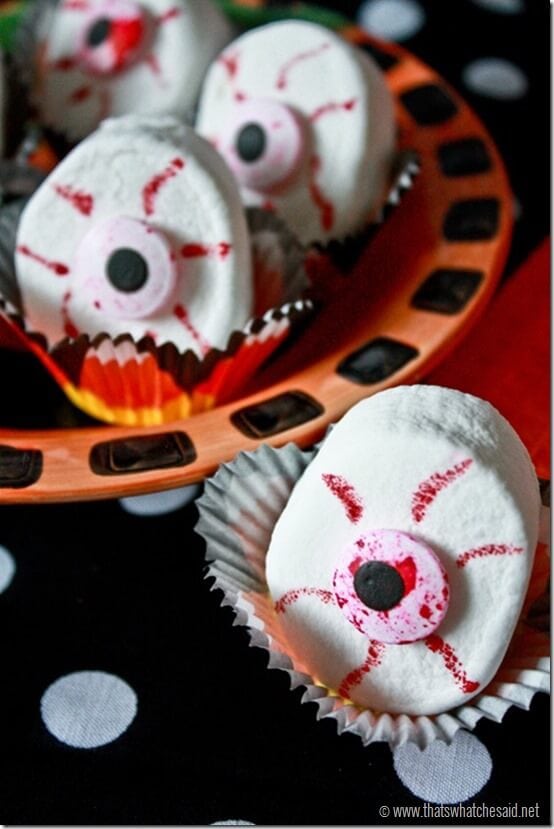 Supplies You'll Need for Marshmallow Eyeballs:
I used a small dab of candy melt to secure the candy eye on the marshmallow.  Using the red food writer marker, I drew some extra bloodshots across the eyes.  Then I placed in small cupcake liners to serve.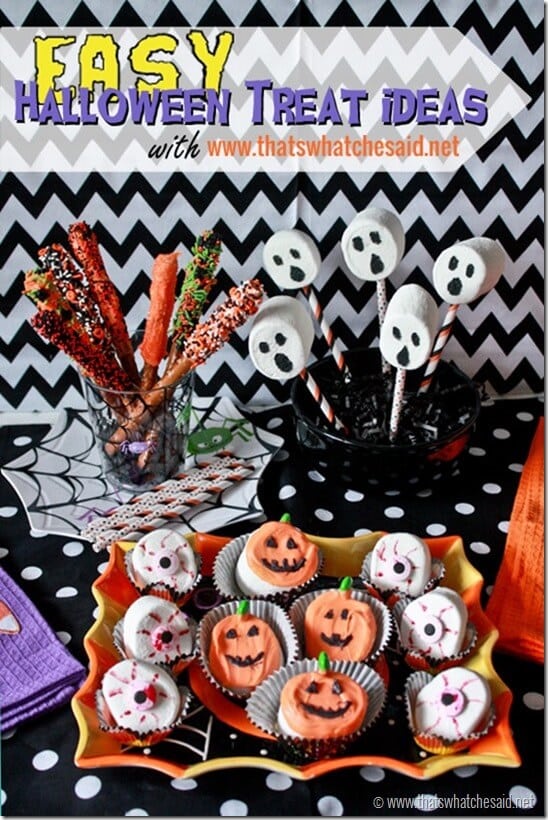 More Spooky Treats from my friends!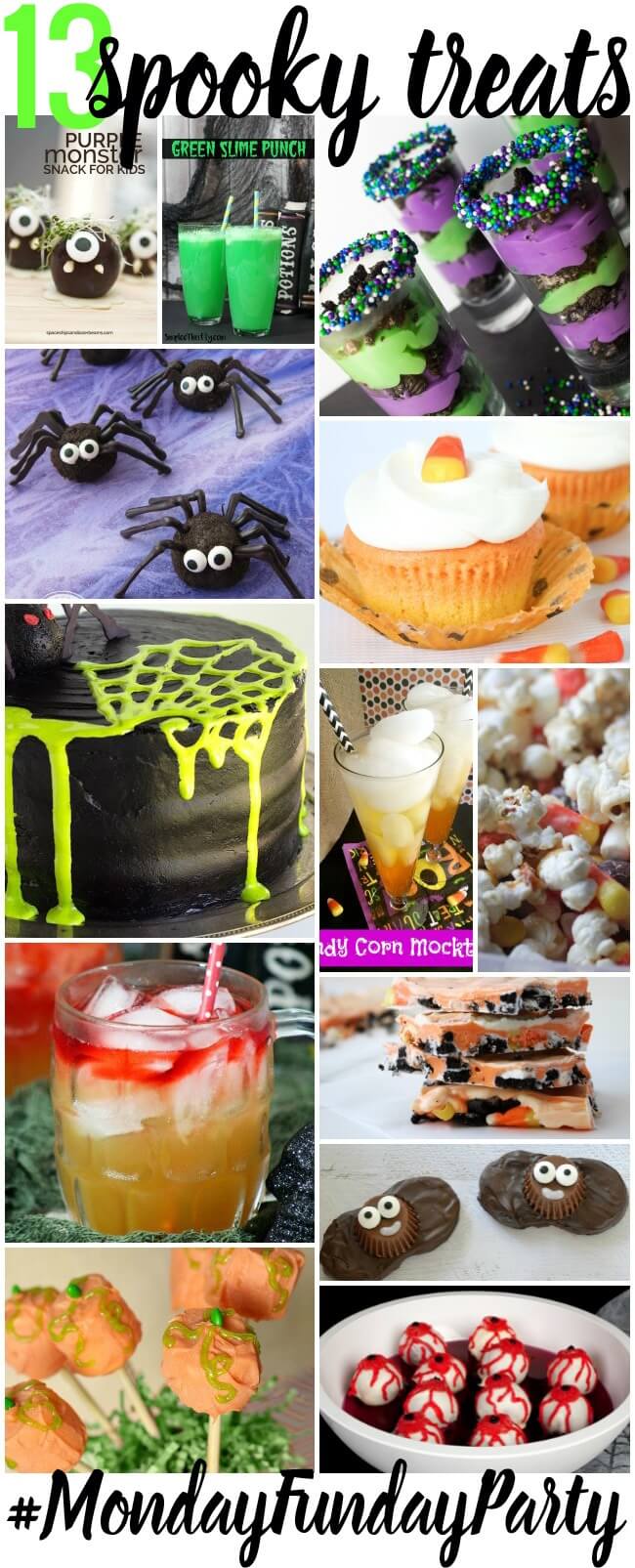 Purple Monster Snacks  |  Green Slime Punch  |  Monster Mash Pudding Shooters
Oreo Truffle Spiders  |  Candy Corn Cupcakes
Spooky Spider Cake  |  Candy Corn Mocktails  |  Halloween Candied Popcorn
Bloody Cider Drink  |  Candy Corn Cookie Bark
Pumpkin Marshmallows  |  Nutter Butter Bats  |  Floating Eyeballs