This is the easiest adjustable box pleat crib skirt tutorial you will ever find!  It's not even a crib "skirt" so much as it is a crib "apron"  :)  It's so easy and it can be adjusted for when you drop the mattress as your little person learns to pull up themselves!  I am a super beginner sewist so if I can make this, YOU can make this!
Supplies Needed:
Fabric of choice*
Measuring tape
Scissors
Sewing Machine
Thread
Ribbon
Small safety pins
Iron
Ironing board
*I used the same awesome fabric as I did my DIY Grommet Top Lined Curtain Panels that Online Fabric Store sent me!
I started out by measuring my crib.  It was 51 inches wide and 19 inches tall when the mattress is in the highest position.  I cut my fabric 20 inches tall and used the whole 54 inche width that my fabric came in.
I folded over the left, right and bottom seams half inch and pressed flat.  I then sewed a straight stitch on these edges.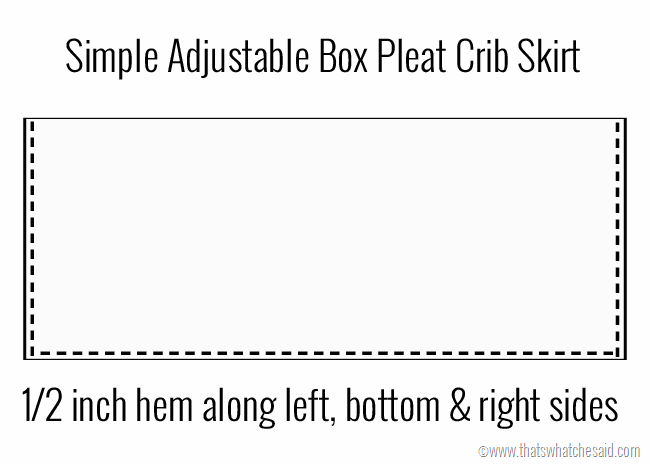 Then I folded the hemmed fabric in half, right side in.
I found my center mark from the fold and I then pinched the fabric over itself so that the width (with box pleat) would be 51 inches, same measurement as my crib.  I pinned in place.
Here is what it looks like down the full height of the skirt.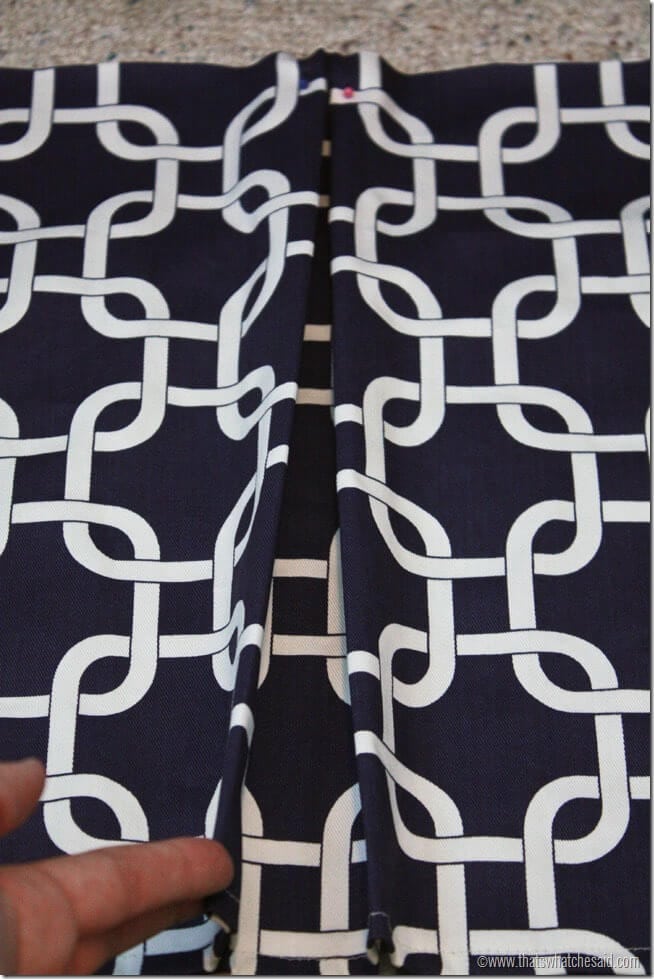 I stitched the box pleat just to hold In place and then I folded the whole top over sewed a 1/2 inch top seam.
Now you have your front skirt that is hemmed on all four sides and it has a box pleat in the center.  To make this adjustable so that you can shorten it when it's time to drop the mattress, I simply used some ribbon and safety pins.  This way when you drop the mattress you just adjust where the safety pins clip to the crib skirt.
I lifted the mattress and tied the box pleat crib skirt onto the wire crib spring.  I did one on both ends and in the center.
Here is how it looks all tied on.  I did not make ones for the ends, that's why I say this should be an apron, but you can certainly do the sides too.  There you would just need to hem all four sides.  Unless you want to get fancy and add box pleats there too!
A big thanks to Online Fabric Store for sending me this awesome fabric for Spangenbaby's Nursery!  You can read how i made my own curtain panels here and be on the lookout for more fabric fun from his sweet new room!  I have also shared this Chalk Painted Chevron Table along with this fun Geometric Tissue Box.
If you are looking for that perfect fabric, be sure to check out Online Fabric Store!  Their selection is amazing!
Website  |  Blog  |  Pinterest  |  Facebook  | Instagram  |  You Tube