Ever have an idea in your head of something you want but you can't find it in the stores?  That happened to me and so I did what I love to do and I made a DIY Sunburst Mirror…from a candle holder!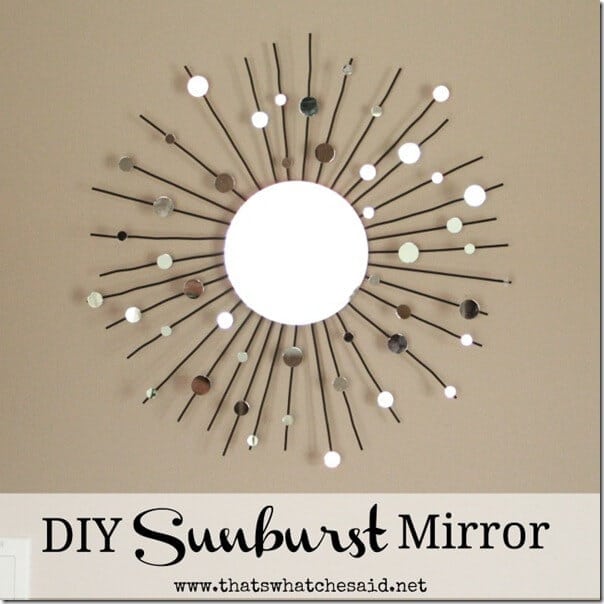 That's right, I made a sunburst mirror from a candle holder!  I am in as much love with this little mirror as I am with my DIY Chrysanthemum Clock from plastic spoons!  Isn't she pretty?  Not only could I not find exactly what I was looking for but the ones I did fine, I refused to pay the hefty price tag on it!
Let me share how this story unfolds.  I am at Hobby Lobby.  I come across this guy right here:
But he also carried this price tag right here:
My goodness!  Even when the mirrors go 50% off I am still too cheap to spend $50 on it!  So I pouted a bit about it..as any normal adult would do, mumbled under my breath sulking like a champ and continued to meander through the store.  I took a chance turn down the candle holder aisle to dodge a huge pallet jack of boxes and that's when I came across this guy right here: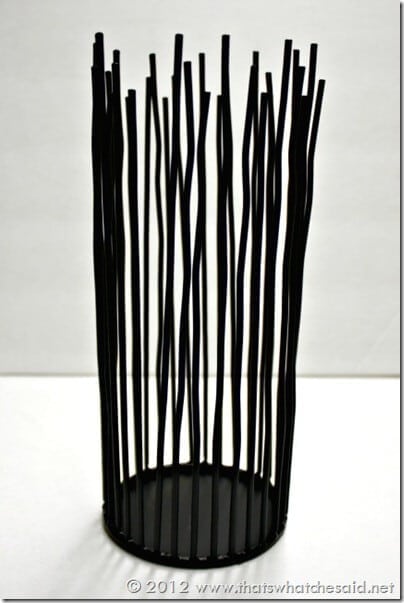 This cute little candle holder.  The prongs on this guy reminded me of the sunbursts on that clock and BAM!  My cart came to a screeching halt, I pulled a u-ey and booked my rear end to the aisle with all the little mirrors!  I picked up a large one (about 7") for the center and a few bags of assorted smaller sized mirrors!  Sometimes ideas just hit me like that and if you ask me, I'll tell you that I actually hear the word "BAM" when it does!  :)
How to Make a DIY Sunburst Mirror:
Supplies Needed:
Prongy candle holder from Hobby Lobby (the large size)
Large mirrors (7" – came in a 2 pack)
2 packages of assorted sized small round mirrors
Strong adhesive
hot glue/glue gun (not pictured)
3M Velcro Frame holder/adhesive strips (not pictured)
To start out, I just bent the prongs flat on my candle.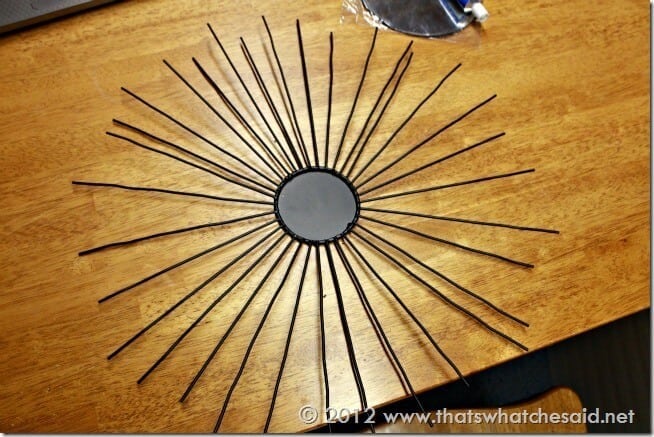 Next place your large mirror centered over the center part of the candle holder for reference.  We will adhere it later.  I used hot glue to instantly tack the small mirrors on the prongs of the candle holder.   The inspiration piece has a pattern on the size of the small mirrors…I went "crazy" and just eye balled them all hap-hazardly!  I am a rebel like that!
Once those were complete I turned the whole piece over and lied it face down on my table.  I then used my 9001 adhesive to then "double up" on the mirrors so they would not fall off.  Once those were dry, I used the same 9001 glue to adhere the large mirror to the center of the candle holder.
Note:  Be sure to note that if your prongs will not be totally flat so be sure to glue where ever they touch the mirror on the back to ensure a strong hold.
I let that dry overnight.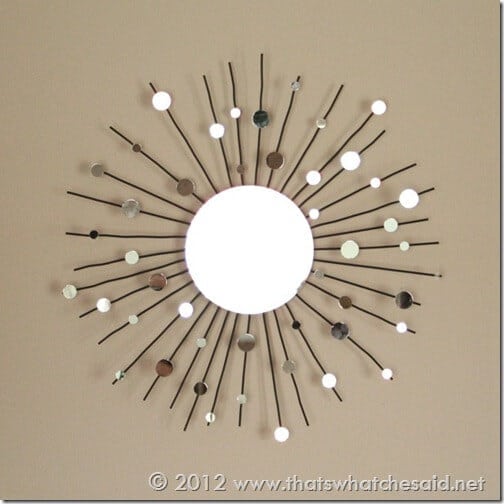 I used some 3M Velcro frame hangars to adhere my DIY Sunburst Mirror to my wall.  They worked perfectly!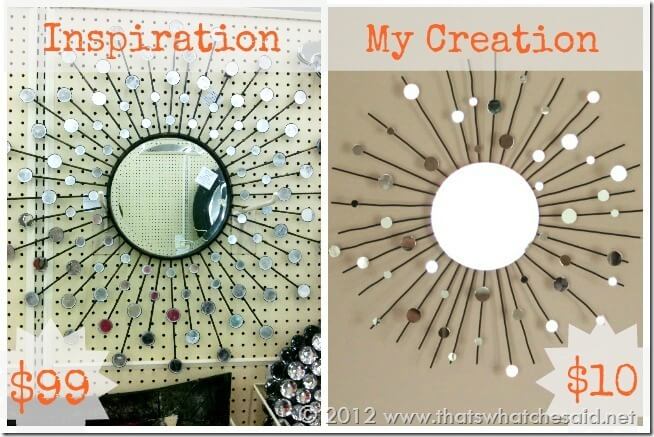 Let's talk numbers shall we?  Like I said, the inspiration piece was $99.  Even when they are on sale at 50% we are still looking at at least $50 for this mirror.  Here are my DIY Sunburst Mirror costs broken down!
Large Size Candle Holder – $7.99 on sale 50% off = $3.99
Large mirrors – $3.47 on sale 40% off = $2.08 (for 2)
2 packages of small mirrors —  $ 2.99 each  on sale 40% off = $1.79 each so $3.59
So for $9.66 plus some glue we all have on hand already we have this awesome mirror!  And an extra larger one for another project!  I call that a win!