Hi everyone!  Before I get to these cute, inexpensive, painted tile coasters, let me apologize for missing a few days of the 25 days of Christmas!  Nothing to worry about going on, just some quality family time had to be spent!  My hubby is traveling 8 of the next 13 days until Christmas so we had to get in some time together!!  I will make all the days up, I promise!!!  Also, if you use Facebook, it'd be great if you could add me on there.  I was able to send out a message this weekend ap0logizing for missing a few days but only my Facebook friends could see that!
Now, on to these cute coasters!!!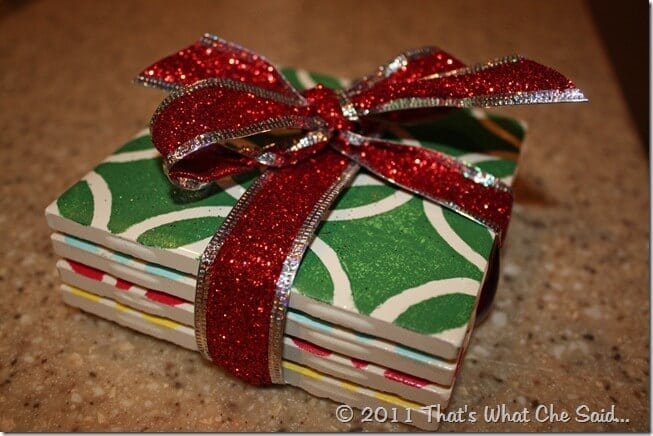 Items Needed:
Tiles
Paint
Stencils
Spray Adhesive
Cork Pads or Felt Pads
Clear Spray Paint
Stenciling brush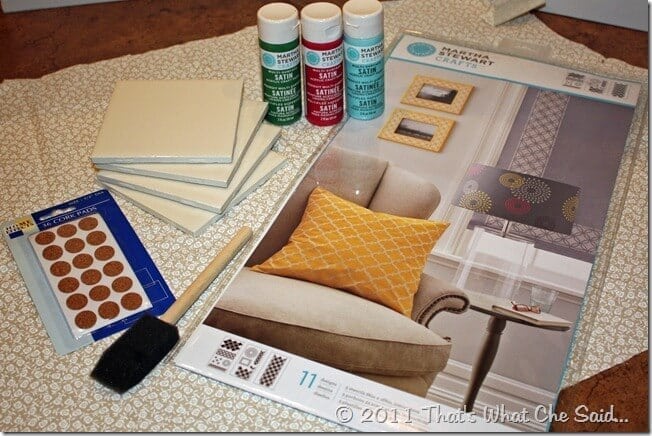 I got my tiles at Lowe's for $0.16 each!!!  Sixteen cents!  Make sure to grab ones that are not "edgers" .  Edgers will have one of the sides curved.
I had this stencil that I bought back this summer and it was talking to me each time I passed it "Find a reason to use me!"  Well I found a reason!
I sprayed the back of the stencil with spray adhesive and lined it up on my tile.
Using a stenciling brush, I painted over the stencil.  I highly recommend the stenciling brush…it left clean lines versus the foam brush I started with (and is pictured above).
Peel the stencil off right away.
I gave the stencil a quick spray of water in my kitchen sink to rinse off the paint, dried it and repositioned it on my next tile.  I didn't even have to re-spray with adhesive, it was still tacky enough.
After the tiles dried I added two coats of clear spray paint to seal them in!
I attached some half inch cork pads that I found at Dollar Tree.
Now you have a set of coasters!  You can have free reign on your design.  Initials? Names? Shapes? Holiday Shapes? Your options to paint are endless.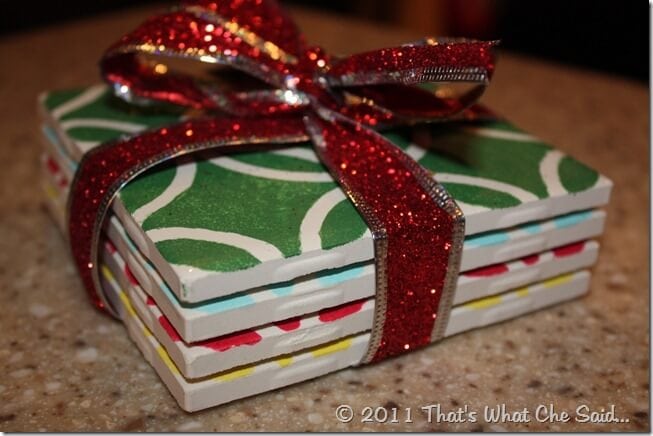 These would make a great personalized gift!  You can even have the kids make them.  Handprints perhaps?  See…I told you the options are endless!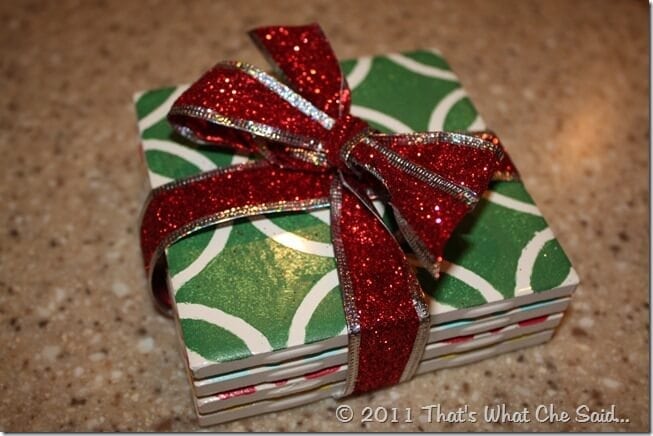 Linking Up Here