I have partnered with Jo-Ann Fabric and Craft stores to bring you my matching hat, scarf & mittens tutorial!  This is a fabulous handmade gift idea that will be sure to keep your recipient warm and cozy this holiday season!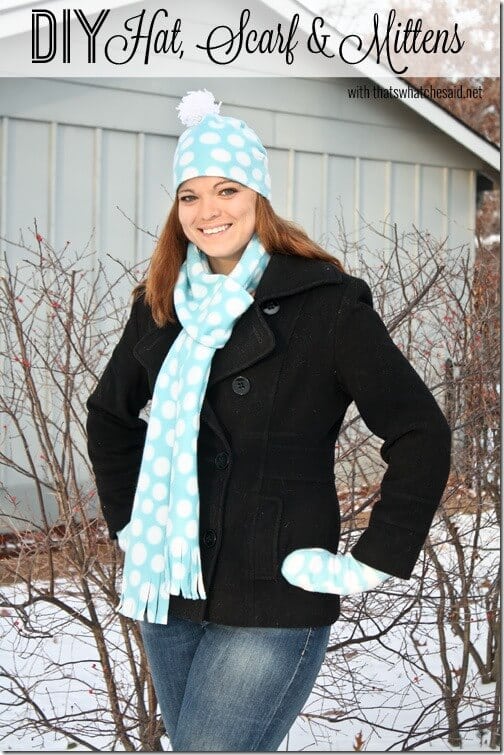 Isn't my baby sister purrttty?  She's the best model ever!

So I have to ask a question…Anyone else LOVE fabric?  I mean, I am a total beginner sewist and even before I got my sewing machine…I LOVED FABRIC!  My favorite thing to do is browse all the awesome fabrics at Jo-Ann's.  Even better…the remnant rack!  I love, love, love the remnant rack!  Would you believe me that I made these mittens, scarf and hat from a remnant of fleece I picked up?
Jo-Ann's has tons and tons of choices for fleece.  I also picked up some for a cute toddler knot blanket that I will share soon!  Here is how I made my matching set!
Supplies Needed:
2/3 yard of fleece in your favorite color or pattern

Sewing machine/thread

Scissors

Pen or marker

Yarn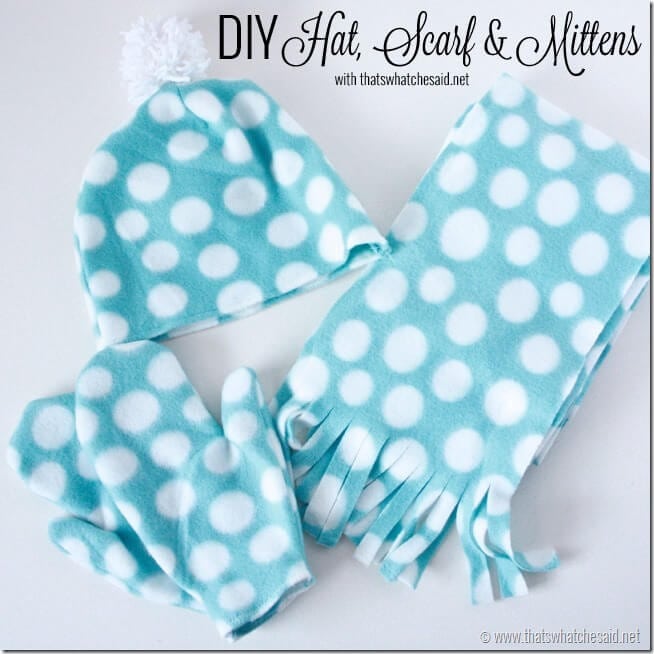 Let's start with the Mittens:
I traced my hand and left almost an inch of "extra" to make sure the fleece fit over my width of my hand.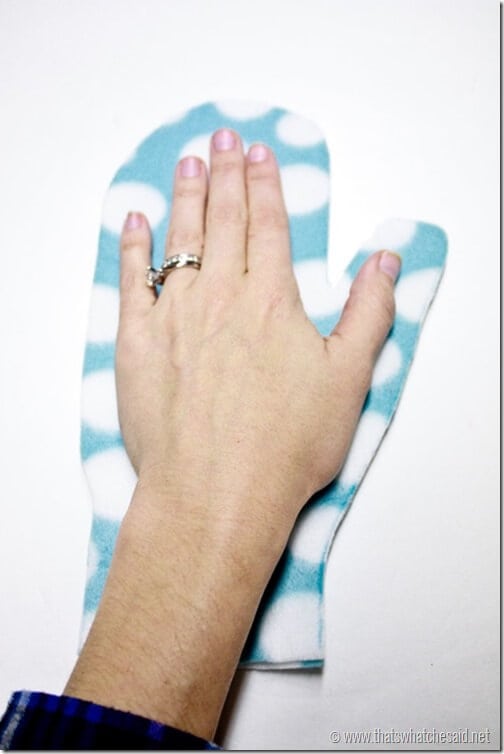 I sewed a small hem on both of the wrong sides of the fabric.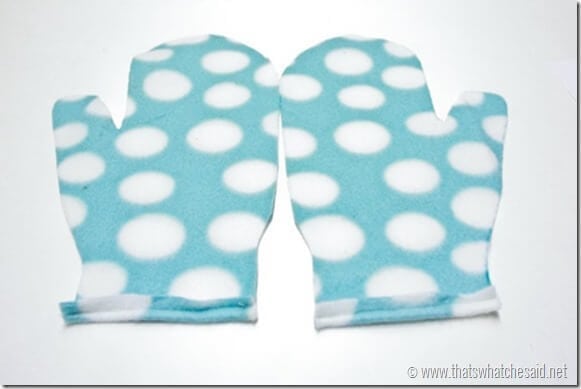 The I matched the right sides of the mitten pieces together and sewed along the outside edge.  Turned inside out and You have some mittens!
Now the Hat:
(I made and attached a template for the hat pieces.  It's pretty simple.  Measure your head and then divide that by 2 (and then add back in a bit for seam allowance) That will be the length of your straight edge)
I began by cutting two hat pieces.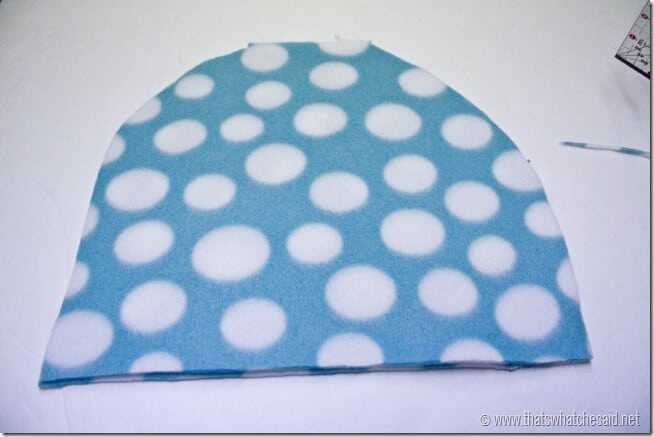 Next I cut a V into the top of the hat (both pieces) like so, about an inch.  We will make a dart here for the top of the hat.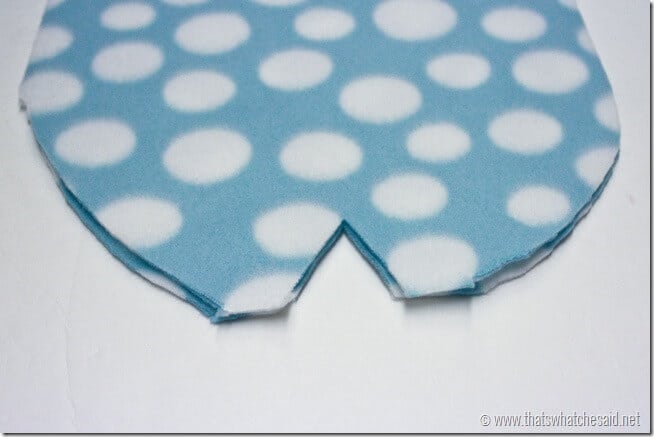 I sewed a small hem along the bottom edge (like on the mittens) along the long edge.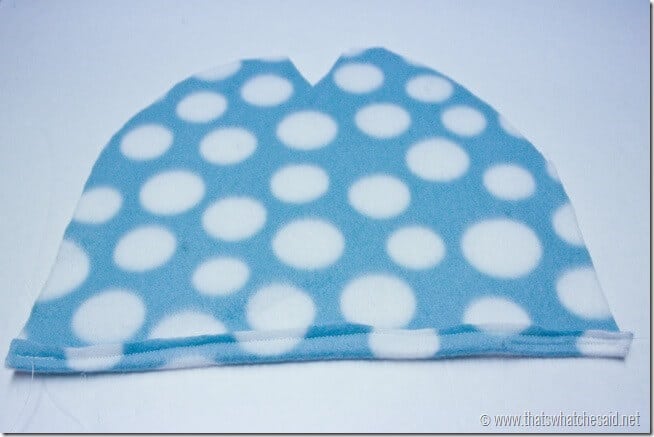 Then I sewed a dart.  Also on the wrong side.  To sew a dart simple match up the sides of the V-notch and sew a straight line.  Do this for both pieces of the hat.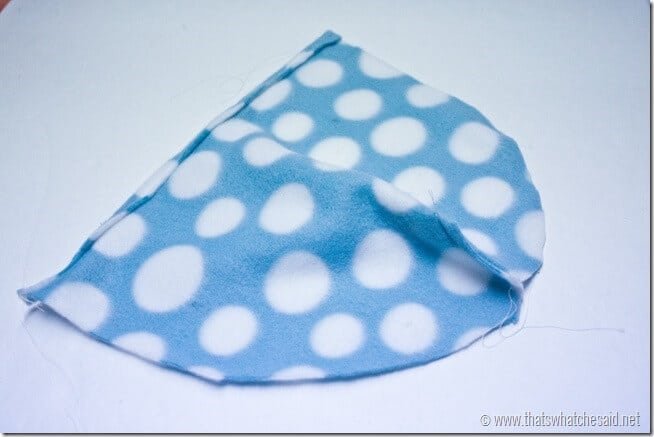 Next I matched up the right sides together and then sewed the wrong side all along the hat.  Leave a small opening at the very top where the darts meet to slip in your pom pom.  You can find my pom pom tutorial here.  I used my three fingers as the width of my pom-pom.  Leave a 3 inch tail on your pom-pom.  Side the tail through (pom pom on inside of the hat along good side)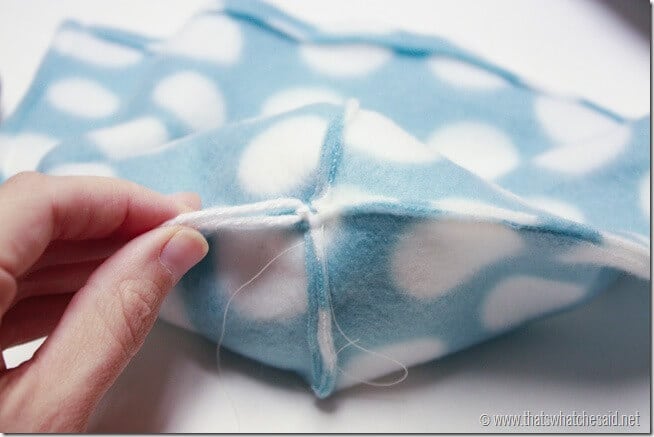 Sew that small hole you left closed including the yarn pieces!  This will hold your pom pom in place!  Turn right side out!
For the Scarf:
Well this is the easiest piece.  Cut any length you want and fringe the edges!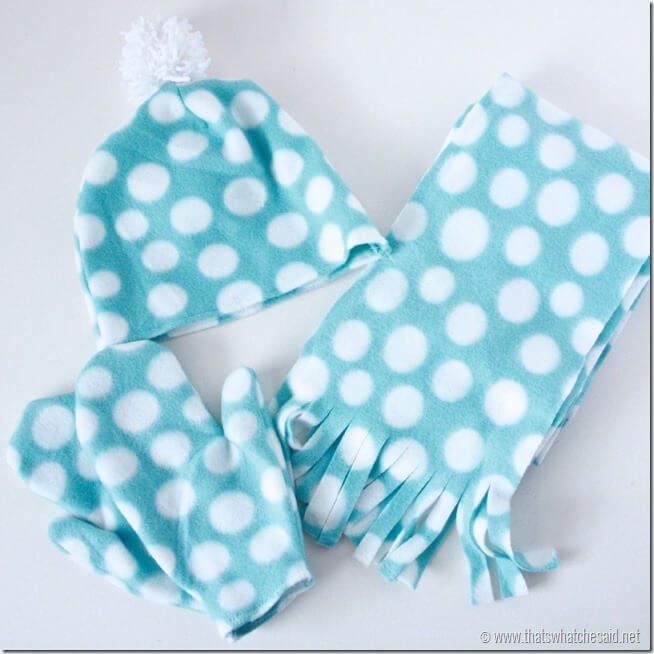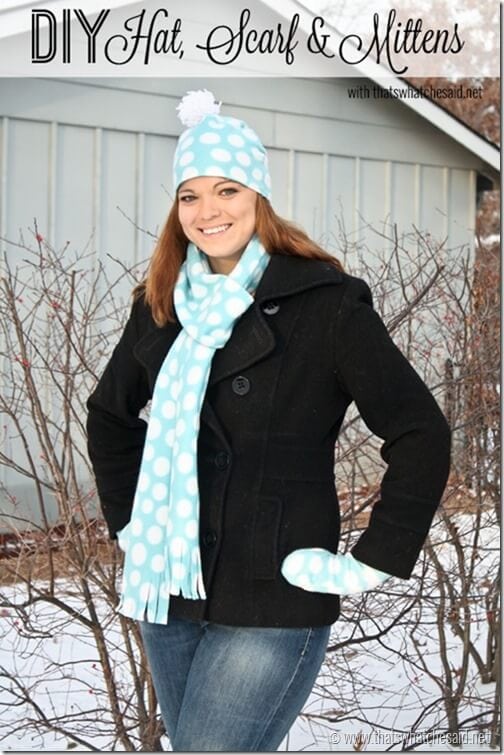 You can check out more awesome projects on Jo-Ann's Celebrate the Season page and to help you with your fabric (or paper, or yarn or whatever) obsession, here is a 50% off coupon!!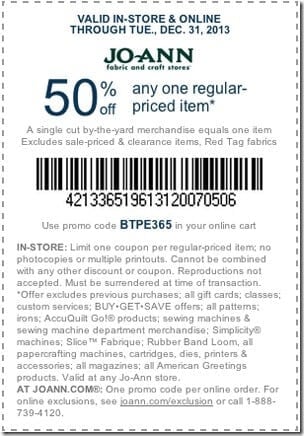 Thanks to Jo-Ann Fabric and Craft Stores and thanks to YOU for supporting these great companies that help make posts possible on That's What Che Said!  All opinions are 100% my own.
Be sure to check out my other 25 Days of Christmas Posts too!
I also invite you to hop over to Michelle's blog, Our Rosey Life and check out her tutorial on how to make a Christmas Place Card Wreath.  I am so grateful that Michelle is sharing her talents with us today for the series!  I have some talented friends!