I have been wanting to lose the last 10 lbs. of Ryan (who is 2.5 by the way) for some time now.  Well for about 2.5 years now to be exact.  Since then there are also about 10 additional pounds that came courtesy of age/slowing of metabolism/and frankly just being too tired to take care of myself once I take care of everyone else!  Especially since Fred travels so much for work.  I do it alone and really just let myself go for lack of energy. 
Well this year I am making a new resolution to take better care of myself.  It's not selfish it's practical and better for my family.  If I am taking care of me, I will have more energy to take better care of everyone else! 
Besides the aesthetic things like highlights, hair-cuts and eye brows…eating has been my #1 downfall.  I don't eat breakfast, I shove a few mouth-fulls of left over kids lunch in my mouth (if any is even left) mid-day and then when it comes time for dinner, I am SO HUNGRY I eat a huge plateful!  We normally have pretty good things for dinner but portion control is just as important as nutritional value! 
My problem is that of many moms.  I fix the kids their breakfast and while they are sitting and eating, I am using that bit of "quiet time" to make Michael's lunch, get the kids stuff together, find missing shoes so we can get out of the door on time.  During lunch time, I am cleaning up breakfast dishes or trying to sneak in a few "to-do's" while Ryan is encompassed in his PB&J!  After those times…I have just cleaned up from their lunch…I am not excited about making myself something then…so I just don't eat! 
With all that being said I cannot tell you how impressed and excited I am to share with you an awesome diet delivery service called Diet-to-Go.  I was lucky enough to get this awesome cooler full of FRESH prepared meals sent RIGHT TO MY DOOR!  (You know I hate grocery shopping!)  Each meal was individually packaged!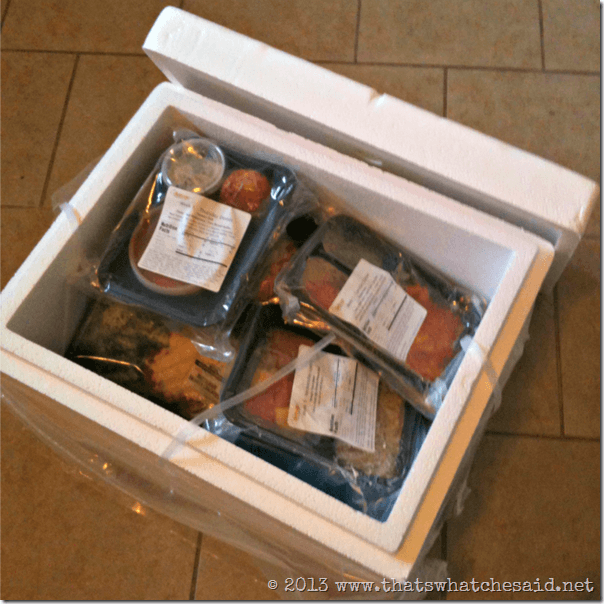 What did it taste like you ask??  Well whenever I hear the term diet delivery I immediately think of one thing…"packets of powdered food that come in paper boxes!"  I can certainly verify that this is not even close!  Diet-to-Go is AWESOME!  Diet-to-Go has three distinct menus, several meal plan options, and hundreds of healthy and delicious meals. Their goal is to make eating healthy easy! They desire to help you meet your weight loss goals, without adding any extra work. Diet-to-go ships fresh meals right to your door…yes I said FRESH!  Like as in you need to put them in the refrigerator!  They are so easy to prepare too…simply open and warm.  The food tasted amazing!  I can't even stress that enough.  You know those refrigerator sections of your supermarket deli that boast "fresh food made daily"…yeah well these were 100 times better than those sub sandwiches that the bread is soggy and they have like 1000 calories!   Don't believe me?  Take a look for yourself!  Here are some of the meals that I ate (from the Traditional meal plan):
Penne Pasta with Snap Peas and Carrots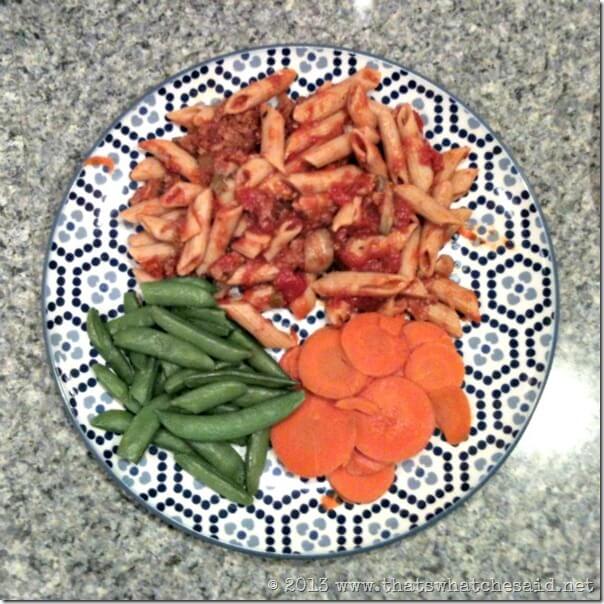 Chicken Pizza with Broccoli and Crackers and Cheese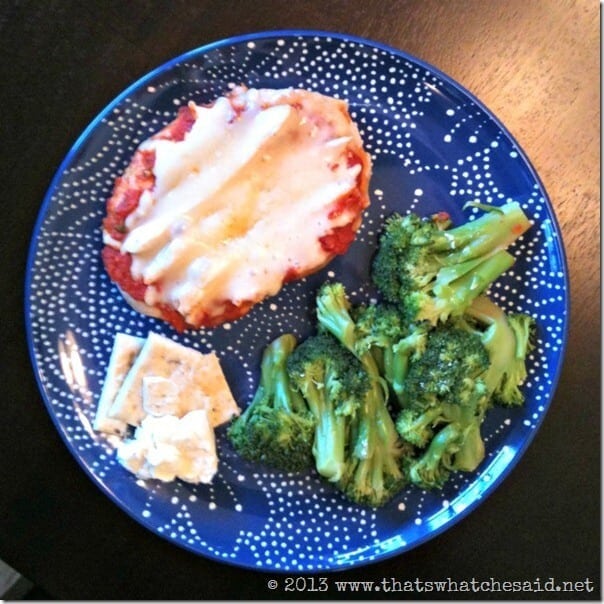 Mushroom Ravioli with Green Pepper & Onion Marinara and
Green/Yellow Beans and Carrots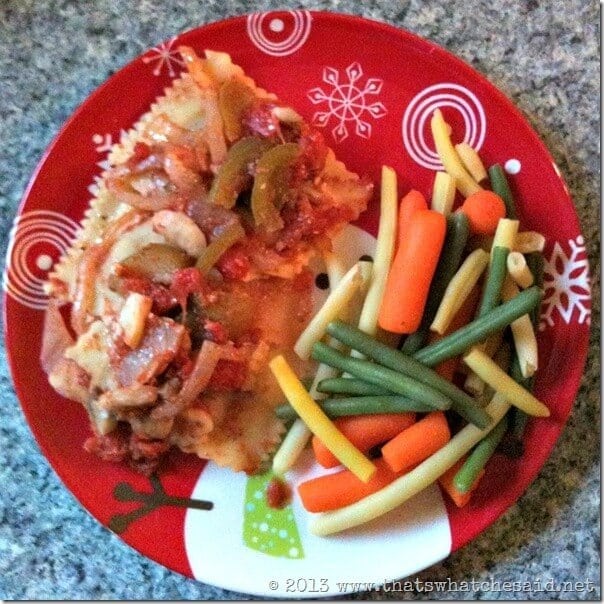 Tuna Salad with Whole Grain Roll and Citrus Salad

Szechwan Turkey Burger with Carrot & Beet Slaw

Turkey Chili, Corn Muffin and Pasta Salad

You can also get breakfast options as well!
Some Fun Facts about Diet-to-Go:
Most inexpensive fresh diet delivery service on the market (doesn't compare to nutrisystem because they don't ship fresh meals, they ship meals that don't have to be refrigerated).

Recently rated #1 diet delivery company by Epicurious

There are no cancellation fees or gimmick pricing. There is no commitment or contract, and we have a 100% satisfaction guarantee.

3 unique menus(low-fat, vegetarian & low-carb) and 20 plans to choose from.

According to a University of Washington study published in the Journal of the Academy of Nutrition and Dietetics, high-quality, healthy foods cost on average $18.16 per 1,000 calories – just for the ingredients! That's why eating healthy with Diet-to-Go is such a great value. With Diet-to-Go, you can get a delicious variety of fully prepared, healthy meals for just $17.02 per 1,000 calories. And, everything you need is included. No shopping, no complicated recipes, and no messy clean-up – It's like having your own personal chef. Best of all, it may be less expensive than trying to do it on your own.
The great thing about this service for moms like me is that there was zero excuse for me not to eat a healthy DELICIOUS meal.  No excuses what-so-ever. I made the kids lunch and then popped open a meal, separated out the cold items (such as the pasta and citrus salads) and then heated the rest.  In 2 minutes I had a fantastic bowl of turkey chili, corn muffin and pasta salad!  I did not have to go grocery shopping for all the food to make it.  I did not have to make it…all I had to do was ENJOY it! 
If you'd love to take control of your diet and get healthy and delicious meals delivered straight to your door then be sure to check out Diet-to-Go at all their outlets below! 
Get 20% off of any meal plan for your first order between 1/9/13 – 1/31/13 by using code:
jan20percentoff
Head on over to Diet-to-Go and sign up for your very own diet delivery service…you'll thank yourself when your pants fit better and your stomach is full and happy :)
Disclosure: This shop is part of a social shopper marketing insight campaign with Pollinate Media Group™, but all my opinions are my own https://cmp.ly/3/8vNxcO