Cricut has added a new machine tool that can be utilized on both the Explore Family of machines and the Cricut Maker! That's right Explore Family, YOU get a new tool too! The Cricut Foil tip transforms designs into metallic creations perfect for cards, signs, banners and more! No heat, no cords, no additional power needed!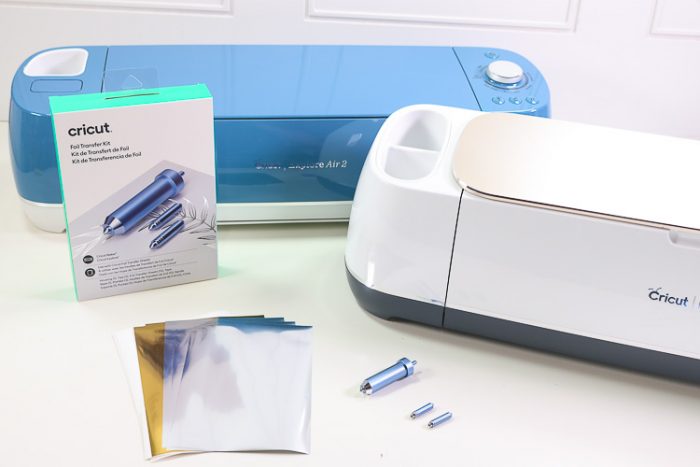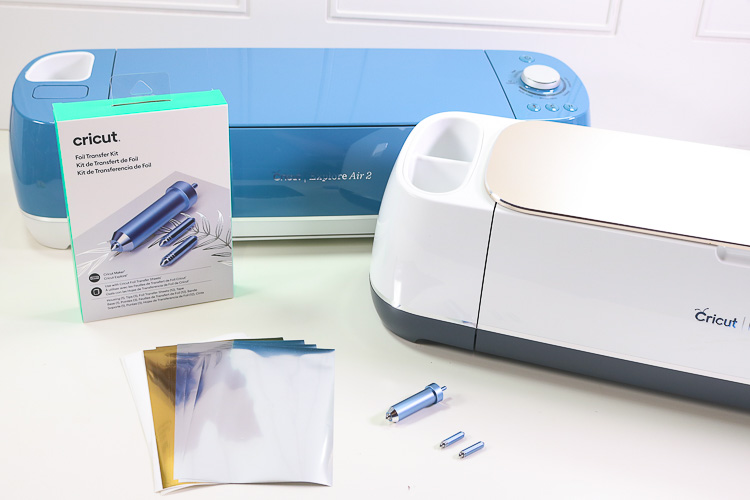 This post may contain Amazon Associate and other affiliate links.
As an Amazon affiliate, I earn a small commission from these links at no additional cost to you.
This post has lots of great information about the Cricut Foil Tip. You can jump from section to section using the table of contents below.
What You Will Learn in this Cricut Foil Tip Post

What is the Cricut Foil Transfer Kit?
Cricut Foil Transfer System is a new tool that has functionality on both the Explore family of machines (Explore, Explore One, Explore Air, Explore Air 2) and the Cricut Maker.
The Cricut Foil Tip utilizes force from your Cricut machine to create pin-pointed pressure that transfers the foil from a Cricut foil sheet onto the material loaded to your machine.
The Foil Tip does not require any heat, has no cords, and requires zero external power.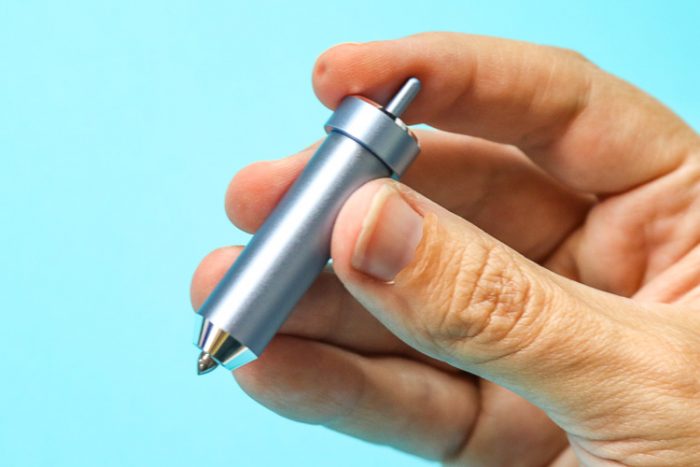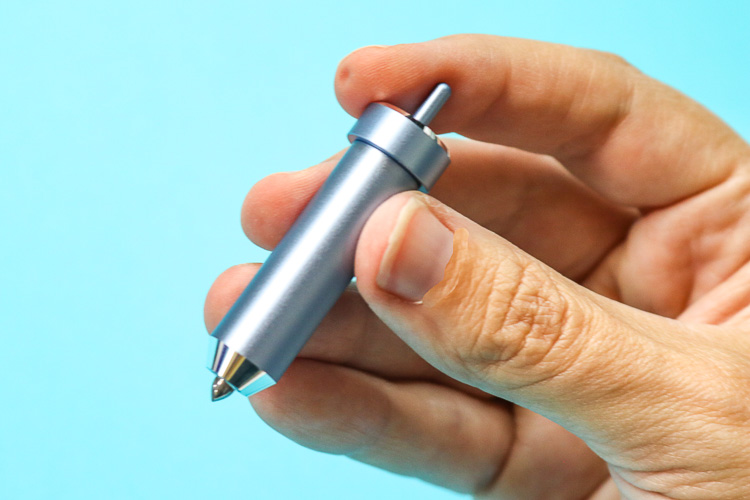 The Foil Transfer System comes with 3 different sized foil tips, fine, medium and bold creating the perfect 3-in-1 tool!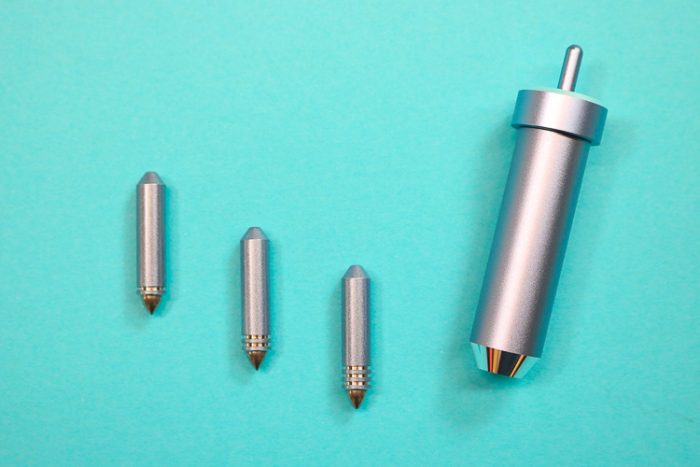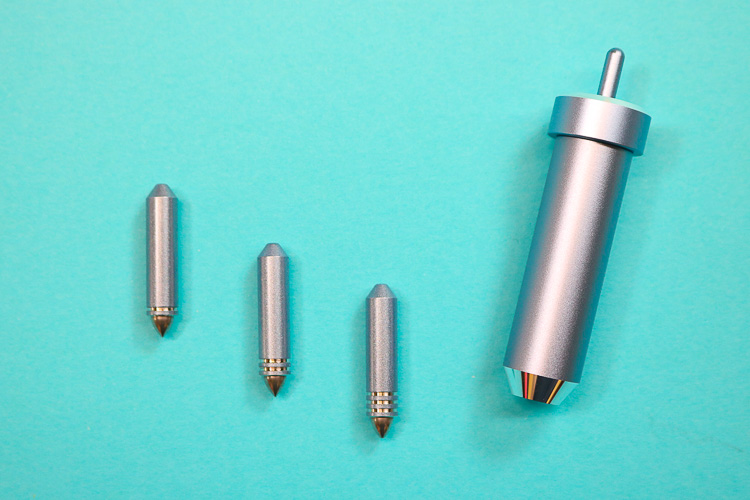 What is in the Foil Tip Box?
Foil Tip Housing
3 Foil Tips (Fine, Medium, Bold)
6 sheets each of 4 x 6-inch silver and gold foil
Precut Adhesive strips – 4 sheets
Out of the box you have everything you need to get started on a project! Let's talk a bit more about each item.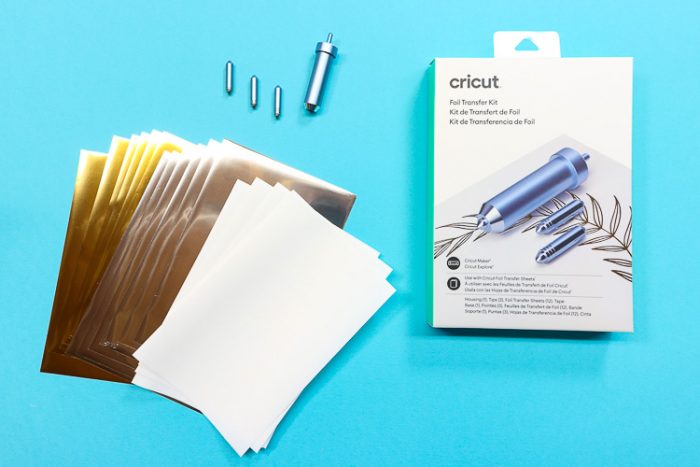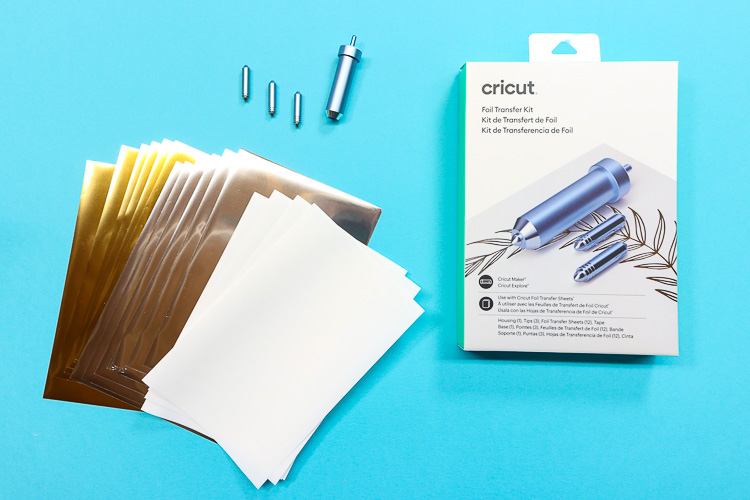 Cricut Foil Tip and Housing
The Foil Tip housing is similar to the Quick Release Housing for the Cricut Maker however can be used on both the Explore family of machines (Explore, Explore One, Explore Air, Explore Air 2) and the Cricut Maker.
You press down on the top stopper and you are able to release and insert the different foil Tips.
The foil tips can be differentiated by the number of lines near the tip end.
One Line – Fine Foil Tip Blade
Two Lines – Medium Foil Tip Blade
Three Lines – Bold Foil Tip Blade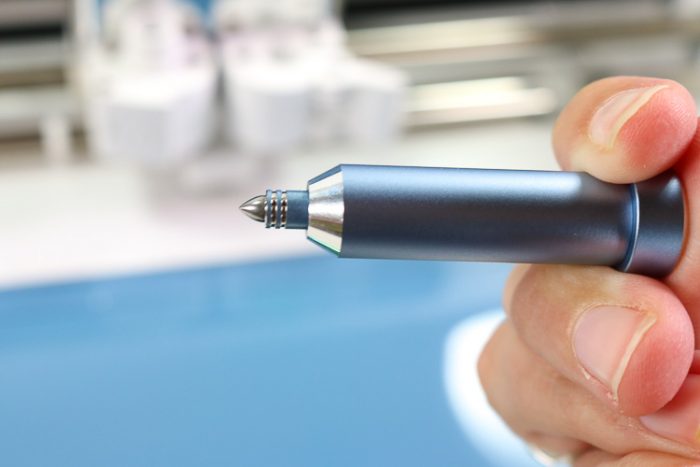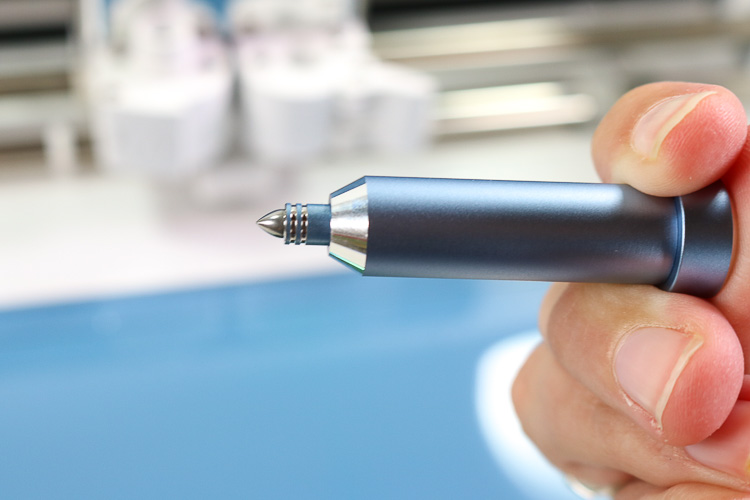 With the press of the top stopper, you can easily interchange all three tips!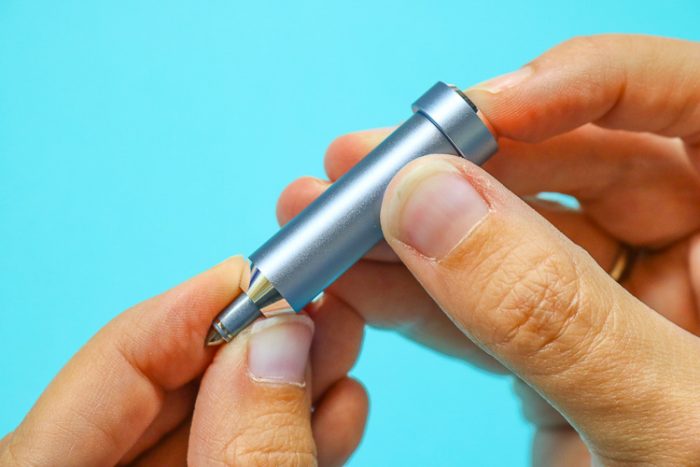 Cricut Foil Tip Foil Sheets
As mentioned above, the Foil Tip box includes six sheets of each gold and silver Foil Tip Foil Sheets.
These sheets are specially formulated in order to transfer with pressure only. They do not need heat.
Additional Colors of Foil Sheets are available in 12 x 12 Gold and Silver in a 12 x 12 size and the Jewel Pack of Foils, is available in Green, Blue, and Purple in the 4 x 6 size. More colors will become available soon!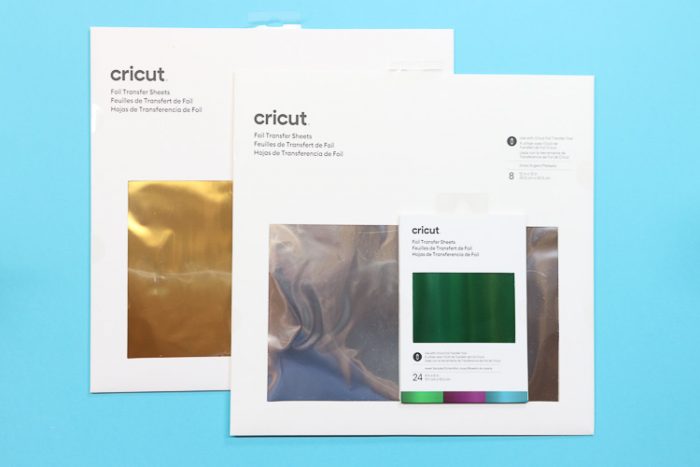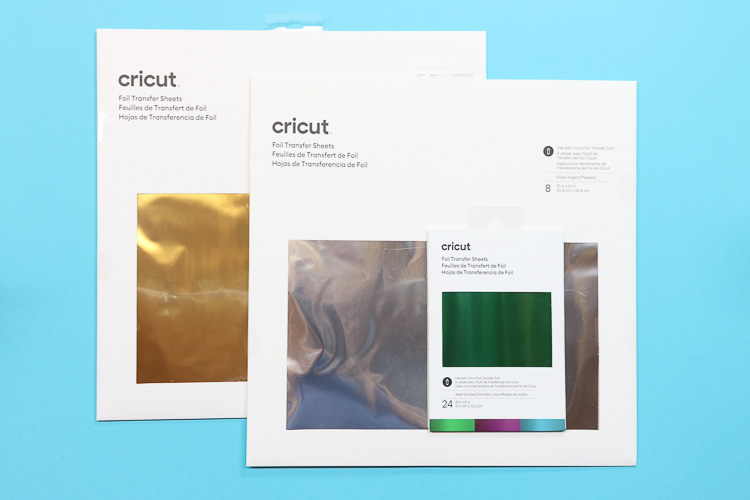 Cricut Adhesive Pre-Cut Tape Strips
In every foil pack purchased, or included in the Foil Tip Box, you will be given pre-cut sheets of adhesive tape strips.
There are enough strips in the package to adhere to all 4 sides of every sheet of foil in the package!
TIP: When using on Kraft Board or Cardstock, it's helpful to stick the adhesive strips to your shirt once or twice before applying to the surface. They will still keep the foil in place but will not leave any marks on your material this way, up on removal!
If you need to cut down a 12 x 12 Foil sheet to a smaller size, simply cut the tape strips down as well!
What Materials Work with the Foil Tip?
That is an excellent question! The Foil Tip works great on many materials including:
Cardstock (Light, Heavy & Medium)
Kraft Board
Faux Leather (Paper-thin)
Clear Printable Sticker Paper
Deluxe Paper
Deluxe Paper Foil Embossed
Heavy Watercolor Paper
Pearl Paper
Vellum
Printable Vinyl
What Can you Make with the Foil Tip?
What can't you make? Here are some great ideas and ways to use the Foil Tip:
Banners
Place Cards
Earrings
Cards
Gift Tags
Invitations
Framed Decor
Backgrounds for scrapbook pages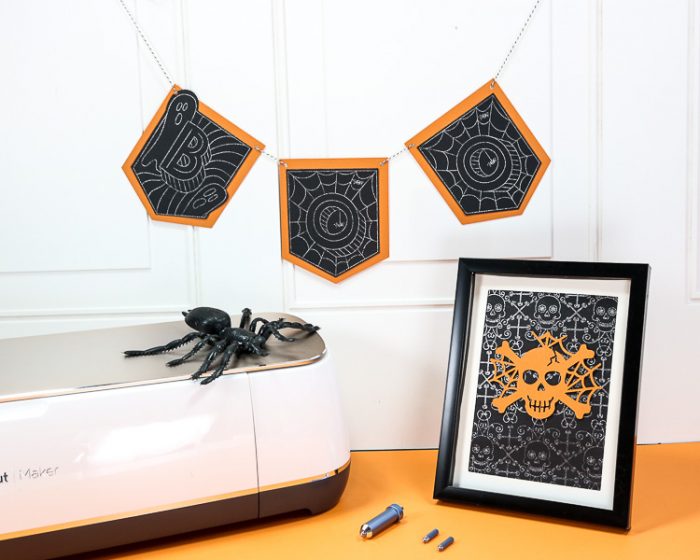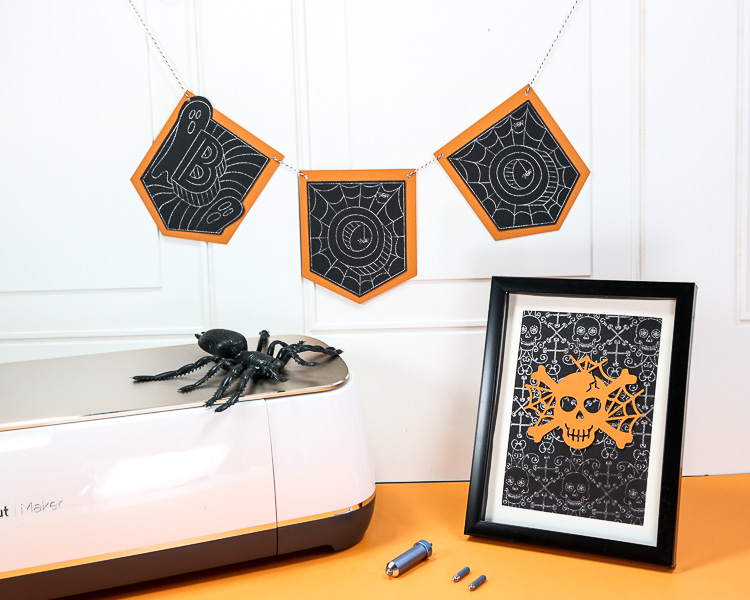 More projects will be linked here as tutorials are made! Check back often or sign up for my emails!
Don't Miss Out!
Get new Cricut Tutorials, Product Announcements, Project Ideas, SVG Files and more straight to your inbox!
Where Can you Purchase the Foil Tip?
Right now, the Foil Tip is offered on Cricut.com as well as many more major retailers including Michaels and JOANN.
This is not an exclusive product but each retailer works on their own schedule so if you want it right away, Cricut.com will be your best bet.