Happy Monday!  I hope you had a wonderful weekend!  We certainly did!  We celebrated Michael's 5th birthday with a Cars party this weekend!
I made these invites using Photoshop Elements 9.0.  I used a map of Radiator Springs that I found online for free as the background.  Then I placed the wording and the photo of Lightning, Sally and Mater (all of which were free also!)  Michael loved them!  I had them printed at Winkflash.  They have an awesome option to just upload your own design and they will print them!  I used the 5×7 Photo cards and they also came with envelopes!  I, of course, found a coupon code online and enjoyed 60% off my purchase
.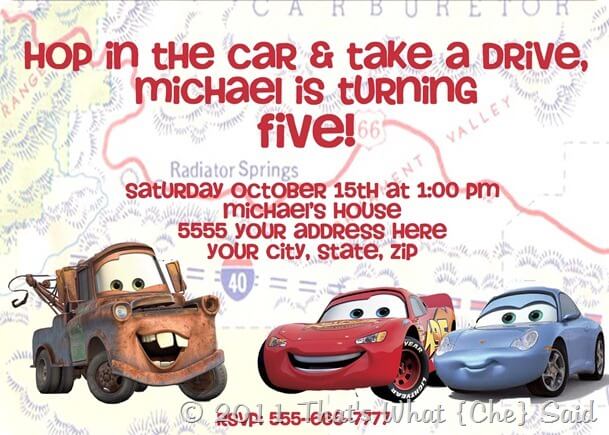 Since my house is in total Halloween Mode right now and the weather was forecasted for nearly perfect, we decided to transform our covered patio into Party Central!  It worked out really nicely to use an essentially clean slate to start from!
For drinks I thought it'd be fun to drink what the cars drank!  I found a giant party tub at Party City and filled it with beverages.  I made signs with doll rods and cardstock.  We had Capri Suns that were "Oil", water bottles that were "Coolant", a soda selection that was our "Transmission Fluid" and then some beer that was our "Gasoline".  Michael loved asking me if he "could have another quart of oil!" 
   I also made a sign for "Flo's V8 Café" and hung it up near the drink station.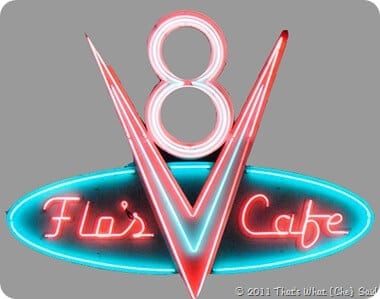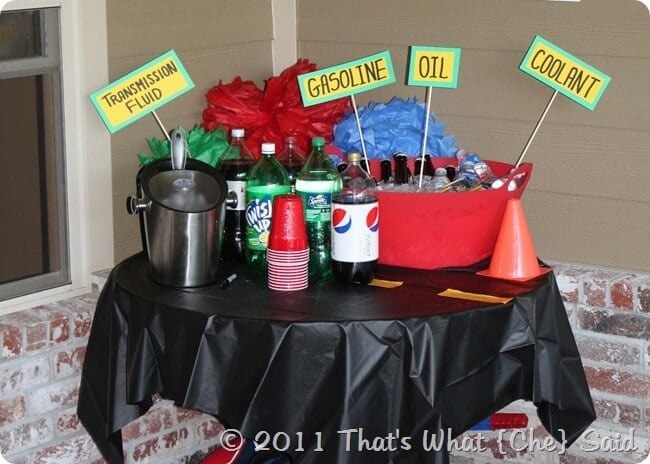 I used black table cloths and cut some strips of yellow duct tape down the center as roads.  We had some orange cones already from the dollar bin at Target that we used for "Cozy Cones".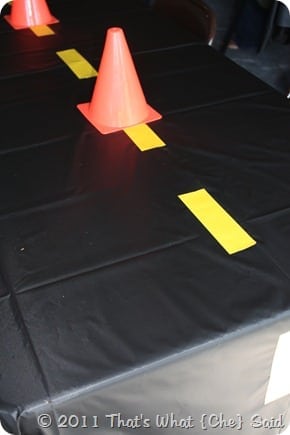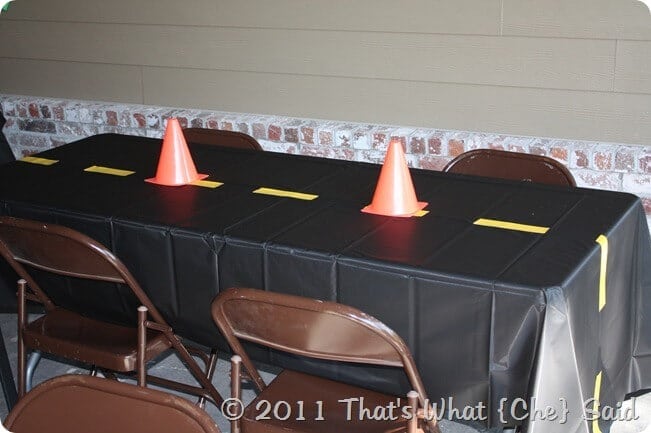 I printed off some Route 66 signs and some pictures of all the cars characters to hang up along with some yellow and black streamers and balloons.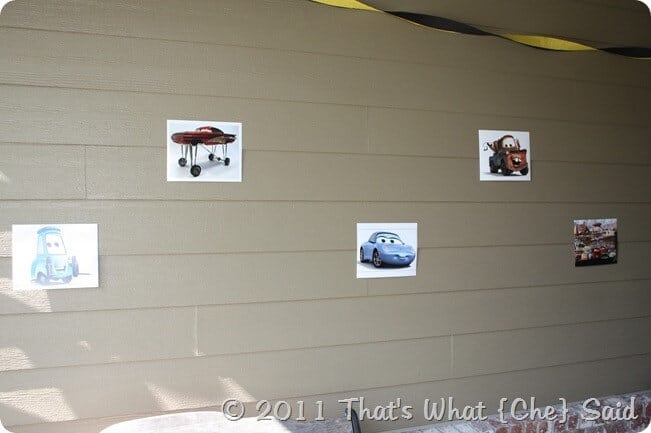 Inside our house,  I used a "Pit Stop" arrow sign to show guests where our "Pit Stops" were since many had not been to our new house before!  I also put a "Pit Stop" sign on each of our bathroom doors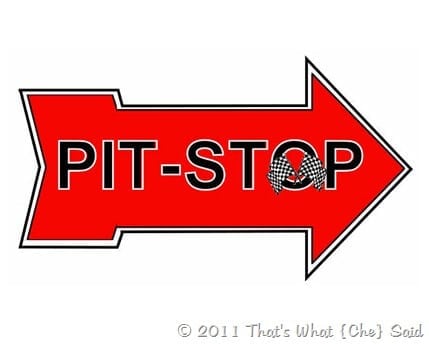 I printed all of my signs above using a daily deal from Winkflash!  $0.75 for 8×10's!
I made a Birthday Banner the exact same way I made Ryan's First Birthday Banner, except I attached them to the ribbon a bit differently this time.  I had this great ribbon slit punch that I used in each corner of the pennants and then strung the "race flag" ribbon through!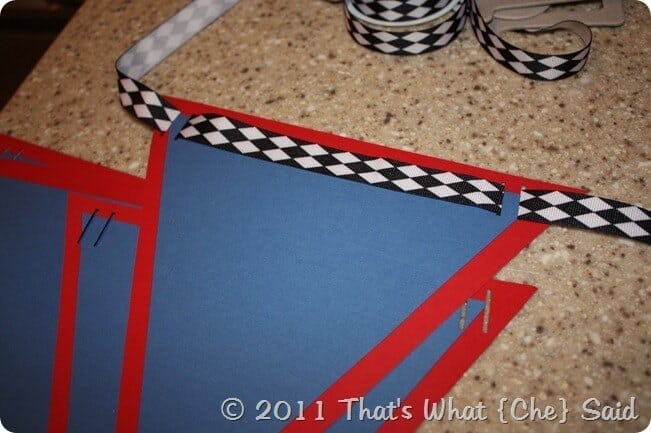 I also reused the giant pom-poms that I made for Ryan's Birthday as just some punches of color and to add some festive décor!  The large I put behind the drink station and the small, I hung from the ceiling fan.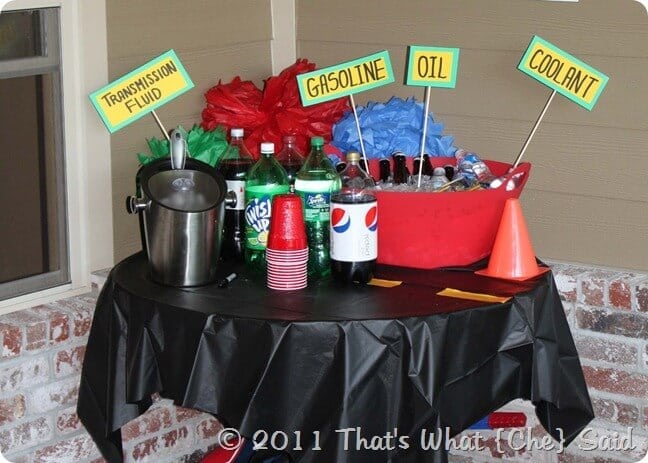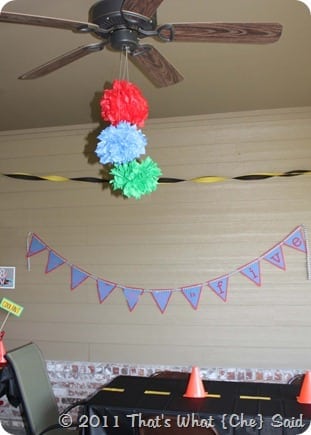 We had a very simple menu of "flat tire burgers", "Hot Rod  hot dogs", "spark plug pasta salad" and "spare battery broccoli slaw".  Per Michael's request we did a small personal Cars cake and some cupcakes (both store bought).  I added some cupcake flags that I also picked up at Party City.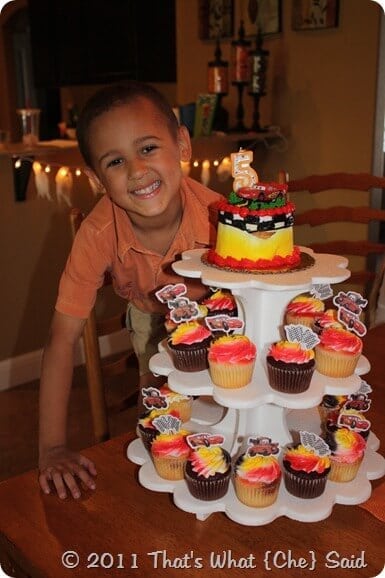 A
SUPER

easy party that was a

SUPER

fabulous time
(if you can't tell from his smile)!
Happy Birthday!!!