I know, I know, Christmas is over however I love candy canes and I had to share this easy project.  I also wanted to stress the fact that even though you don't have a fancy electronic cutter, you can still use VINYL!  I talked briefly about that when I accented a regular old canning jar with vinyl to make it cute for gift giving.  Here is another simple project.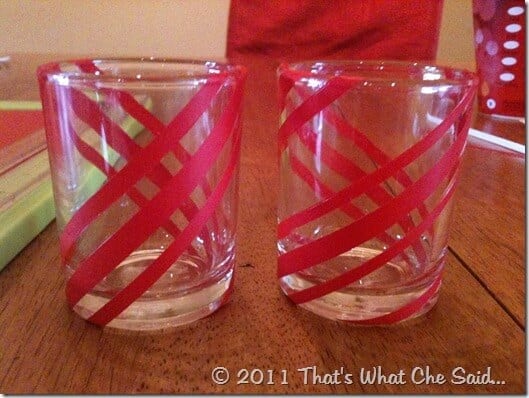 Vinyl is awesome for several reasons.  It's durable and it is double sided color wise.  Stickers are normally color on top of white…so using stickers on clear surfaces result in you seeing ugly white blobs from the other side of your glass vase or dish.  With vinyl you get your shape in full color from both sides.  It is also repositionable so you can work slowly and if you need to, you can pull it up carefully and re-position it!  Vinyl works best with smooth surfaces including glass, mirrors, wood and plastic.  So basically you can use it almost anywhere you have a smooth surface including walls!
Back to the candy cane votives!  I had some larger candles with candy cane stripes and wanted a few smaller ones to accent on the shelf below.  Enter these guys.
I used a paper trimmer to cut straight strips of the vinyl.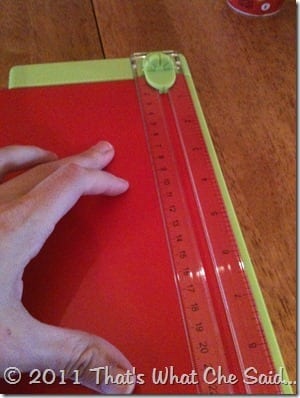 Next I applied the vinyl to the glass votive holders and a diagonal.  I trimmed the excess with scissors and then wrapped over the top lip so that it looked pretty!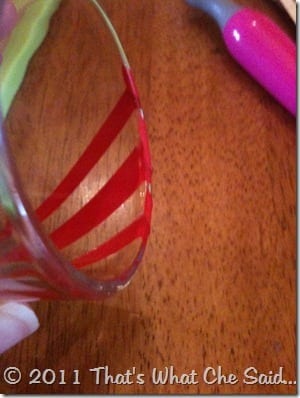 SO. EASY.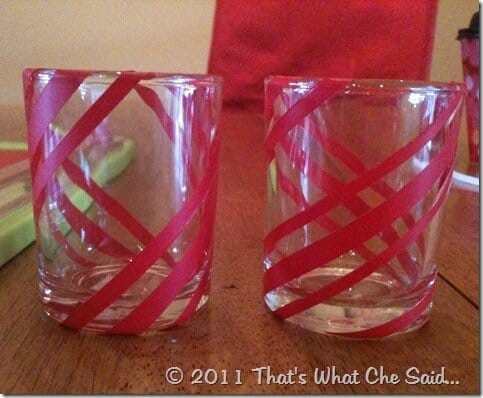 I apologize for my lack of actual candles in the votives…you know you have 8,483 white candles every time EXCEPT when you need TWO of them!  Could not find mine anywhere and was too impatient to wait until I had some to post!  Sheesh, what are you guys going to do with me?
Look for more vinyl fun this week!  I have a couple more projects to share!
Disclosure:  I was given vinyl from Oh My Crafts to use for my project!  All opinions are 100% mine and I would never recommend anything to you guys that I didn't LOVE myself!  You can find their vinyl selection on their website!  Please click HERE to view my full disclosure.