Let me proudly introduce you to my new best friend! Please meet the The BISSELL®Symphony™ All in One Vacuum and Steam Mop! If you have been around here before you might have noticed that I LOVE multi-tasking things. Love-love-love them! Anything that saves me time or can double as something else and serve another purpose is totally my style! This post is sponsored by Best Buy however ALL opinions are 100% my own!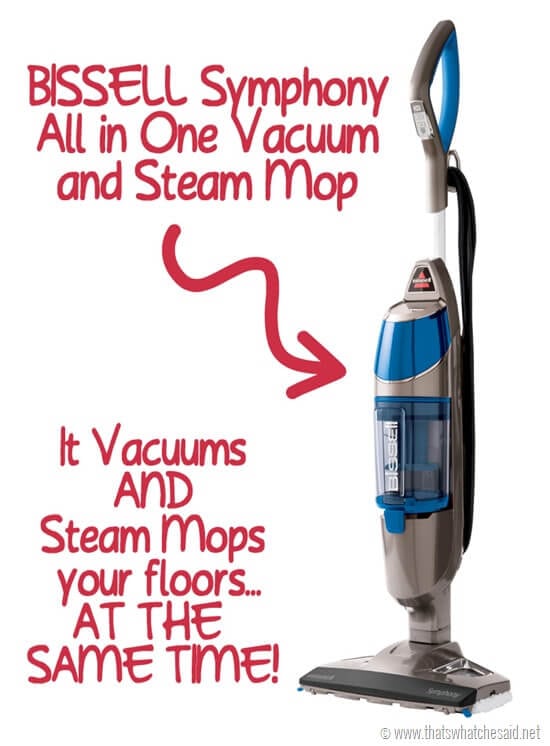 It was a happy, happy day when this new beauty showed up on my door step. At first I was a bit skeptical. When it said it could vacuum AND steam mop my floors AT THE SAME TIME, I honestly didn't get my hopes up that this would be my knight in shining armor because it seemed too good to be true.
I was blown away.
I have tile and laminate wood floors in my open living/dining room. I have tile in my kitchen and breakfast room. I also have two boys and a dog. The laminate has a shiny finish that SHOWS EVERYTHING! In the past I had to go one pass around my house with the vacuum. Then I had to go around (on my hands and knees) and scrub and then instantly dry with another towel to avoid all those streaks from showing.
I vacuumed and steam mopped my entire first floor IN ONE PASS!
Don't judge…I am being very honest! My floors are the last thing I clean and normally just get vacuumed and that's it!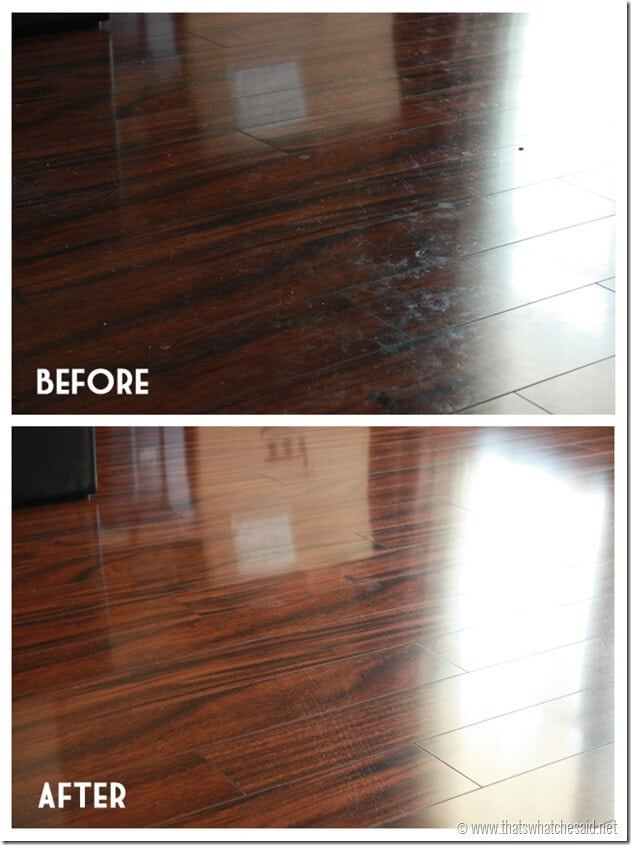 I am especially in love with the way it vacuumed and steamed the area by my back door…where the DOG and the kids come in and out. I can only imagine what lived on that floor there by the door!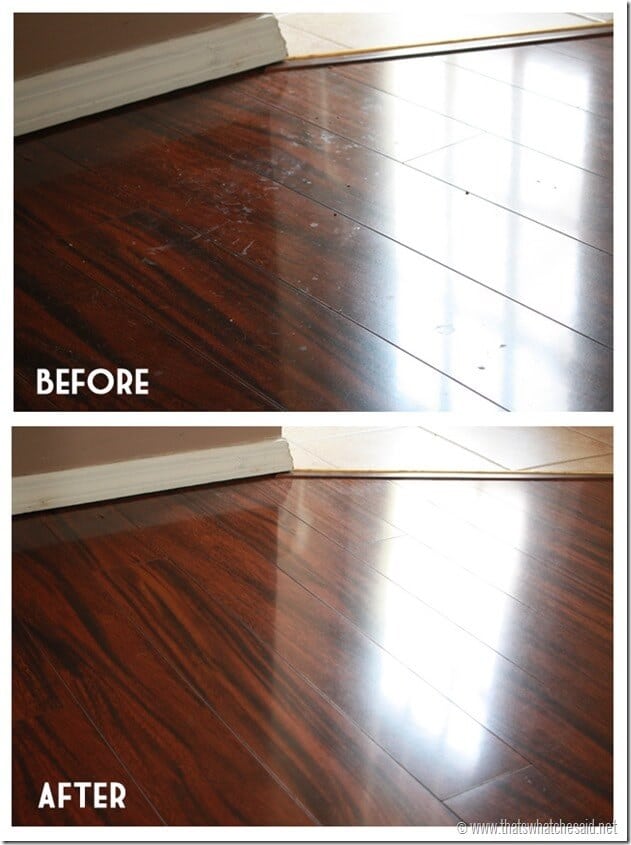 It was super simple to put together and get up and running! It has a wonderful adjustable height handle as well an easy to fill water reservoir that allows for up to 15 minutes of continuous steaming before refill is needed!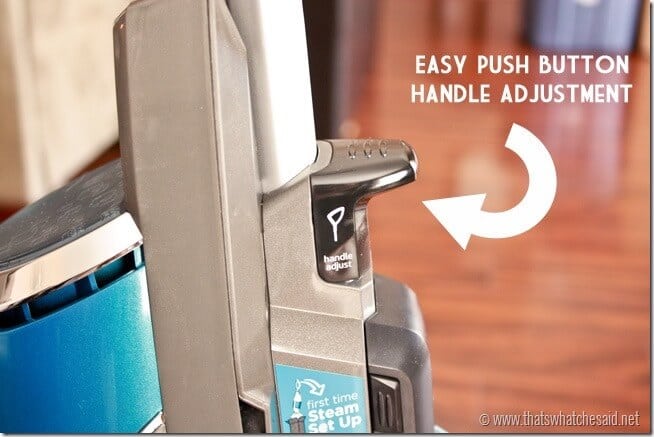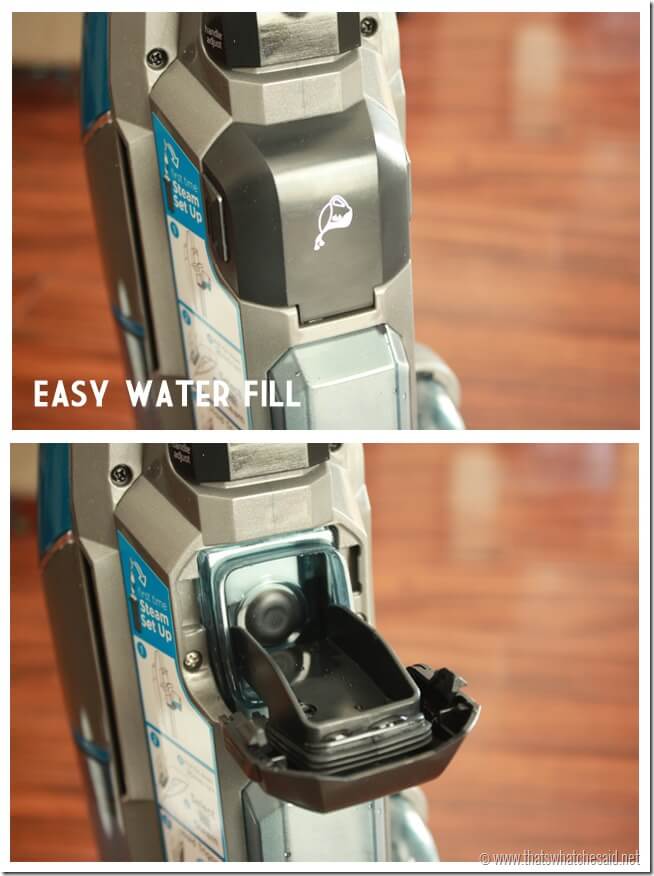 With a simply slide of an switch your dirt canister comes out and empties with a push of a button!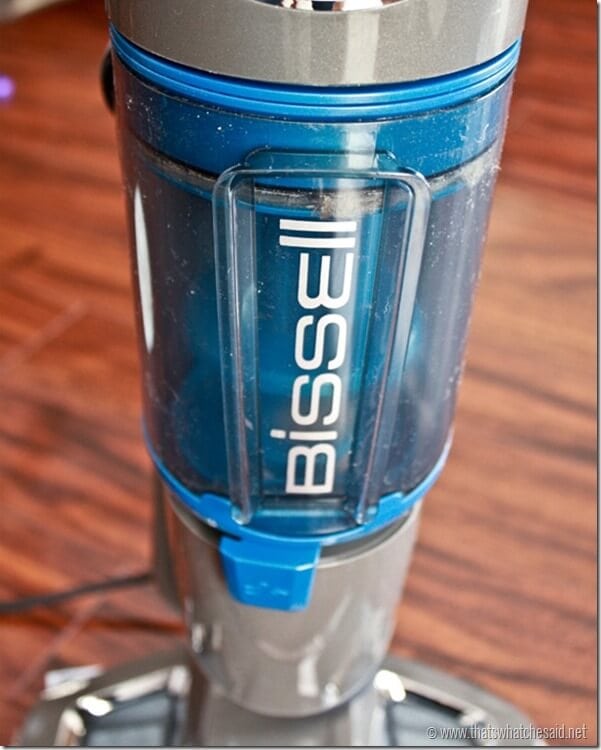 If you are looking for a new knight in shining armor…I share with you this great coupons for Free Mop Pads with Purchase of Bissell Symphony at Best Buy. This offer is valid ONLINE only as the mop pads are not sold in store. The Bissell Symphony purchased at Best Buy comes with additional pack-ins including:
– 1 Symphony™ All in One Vacuum and Steam Mop
– 4 Microfiber mop pads (2 soft, 2 scrubby)
– 1 Water Filter
– 1 Water Cup
One of the other things I love is that you can use this as a stick vacuum alone, or as a steam mop alone or as a vacuum and steam mop in one! It's easy to use, easy to maneuver and seriously has already become a member of the family! <—Not even joking! The vacuum was powerful and effective. This was another thing I was originally skeptical about. I thought it would just be a duster but it indeed is a strong vacuum! It went from my tile floors to my laminate wood floors seamlessly and I AM IN LOVE!
Once my mop pad got pretty dirty I did notice some streaking…which is to be expected. I easily and quickly replaced the washable, reusable, mop head that came in the box and got back steaming and no streaks! So if you notice some streaks…it probably means your mop pad needs to be changed!
I am so happy to report that when the evening sun came shining in my windows, I did not wince at the appearance of my floors like normal. I actually sat and stared at their beauty before rolling (as much as a pregnant lady can) back and forth on the clean shiny goodness I was looking at!
Be sure to make your life simpler and pick up a Bissell Steam Mop Vacuum at Bestbuy.com
The reviewer has been compensated in the form of a Best Buy Gift Card and/or received the product/service at a reduced price or for free. You may view my full disclosure here.