This honest and straightforward Baby Sleeping Sign will be perfect for keeping the outside of your house quiet while your tiny people nap!  A free Cut File will make it all that much easier to make your own!

You know what I am talking about.  The minute you get the baby settled and quiet in their bed, the UPS guys comes up to your door, either knocks bangs on the door or rings the bell.  The dog starts going crazy.  You are reminded once again you need to change your bell from a melody of church chimes to a simple buzz.  Your door and screen door squeak and crackle so loudly you are sure the neighbors can hear it when you open your door and there you hear it…the baby is awake again amidst the commotion.  GAH!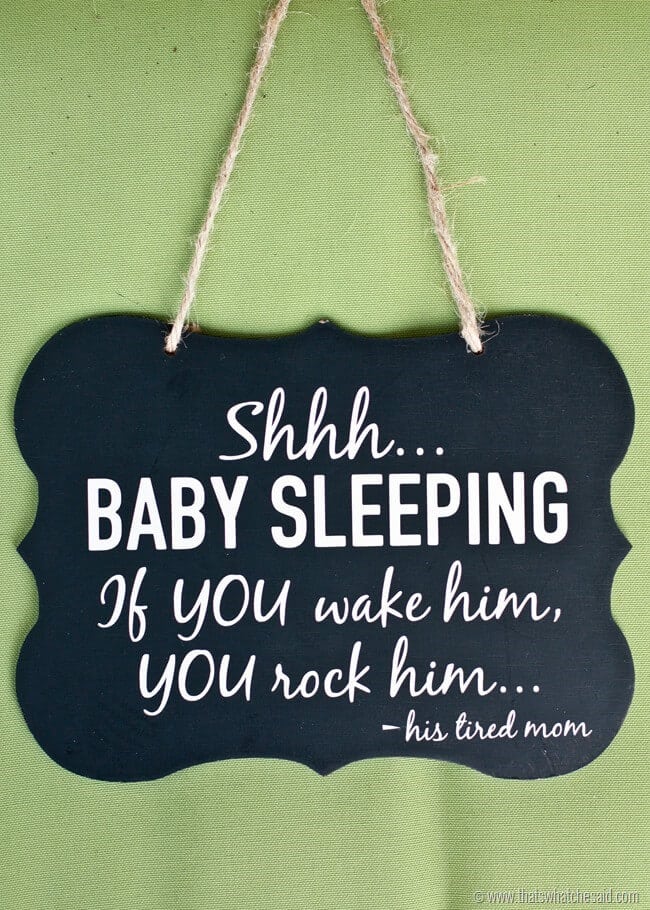 Seriously, one of my worst nightmares.  A tired baby that was just awoken from slumber to decide that those 10 precious of minutes Mommy got to enjoy are all she needs and he/she is up and ready for more whining, fussing, and being completely inconsolable because they are so flipping tired they cannot process anything.  I know I am not alone!
So enter my Baby Sleeping Sign.  Yes there is a tad bit of humor, yes there is a tad big of sarcasm, but if you don't have both of those things, you might as well go crazy!  I made one for boys, girls and multiples!  Perfect for your house, grandma's house, the baby sitter's house or really any house that has a sleeping baby :) 
Supplies Needed:
Free Vinyl Cut File  *free for personal use only!
A plaque, chalkboard, canvas or small sign
Electronic Cutting Machine
Paint (optional) + Paintbrush
I found this chalkboard looking sign at the Dollar Spot at Target.  Those little bins suck me in every time.  I have also seen very similar ones at all the craft stores.  You can use a wooden plaque and paint it to your choice of color, you can use a small chalkboard.  This is a really flexible project!
I cut my vinyl out of white vinyl and then applied it to the sign.  That easy.  To save vinyl I moved the "-his tired mom" part up into the main wording on the cut file.  I don't like to waste vinyl and I like when my designs come out in squares or rectangles so I can use the remaining vinyl in another project!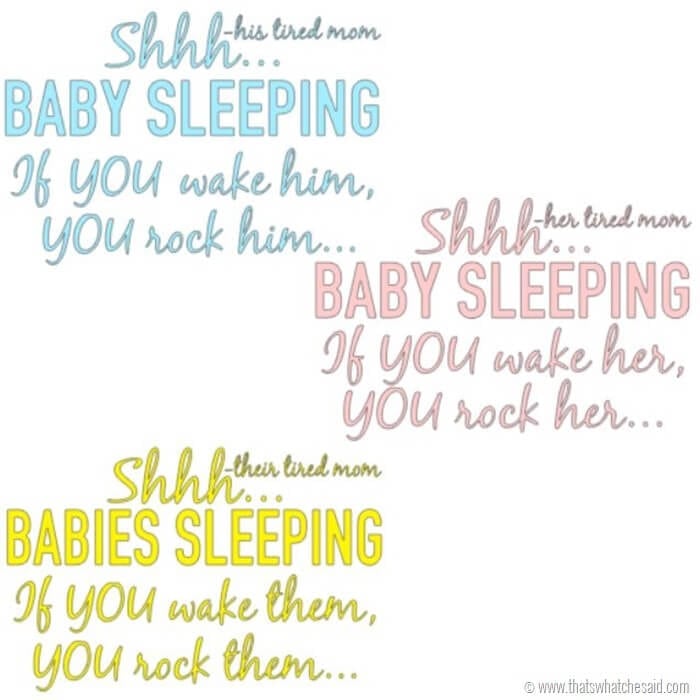 So when applying, just be careful not to transfer the signature onto your plaque.  Move it to the bottom corner and apply there!
When using this cut file you will need to be using Silhouette Studio.  Currently the file has the boy version being cut.  Be sure to select which version you need and change that to "cut" and make sure to change the other ones to "no cut"  You can move them around and resize as well!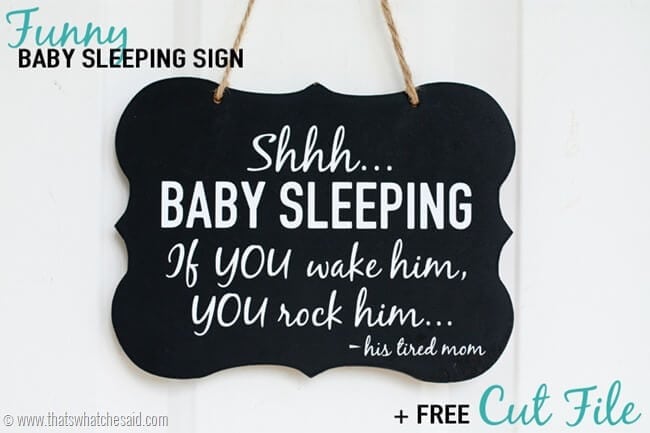 I'm really in love with it and I have to add that my UPS guy is really awesome and actually never rings my bell because he knows I have kids.  He also has treats for my dog <3.  So he totally got a bad rap in this post for no reason, lol!  He's kind of awesome!  He carries in heavy packages for me too!  Love him. :)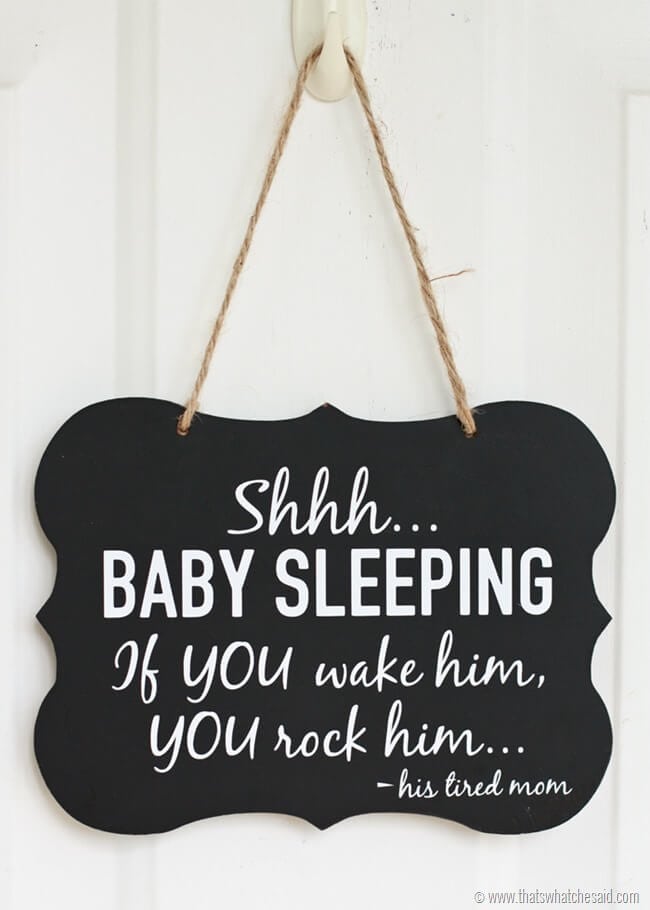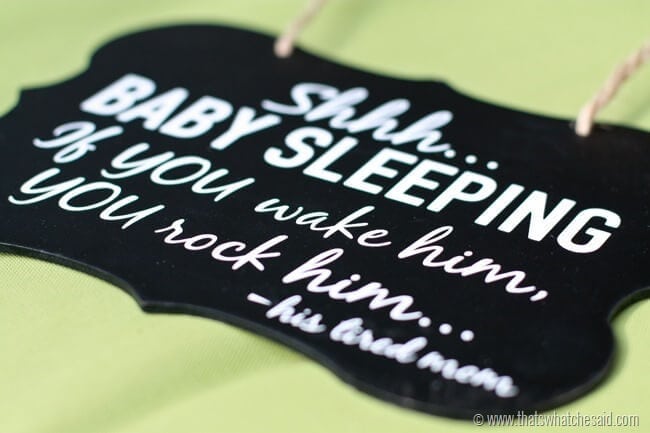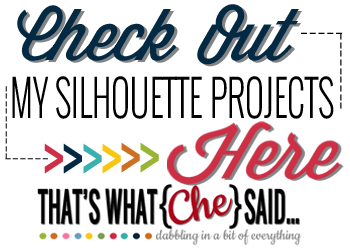 You can also find more of my Vinyl Projects and All of my Silhouette Projects!
Happy Quiet Sleeping!!
*this post may contain affilate links. You can find my full disclosure here.