This is a sponsored conversation written by me on behalf of Horizon Organic. The opinions and text are all mine.
Brrr!  Is it chilly where you live?  It's chilly here and I really believe after Christmas it just gets colder in anticipation for spring!  With the new year here I am trying to get some different ideas when my kids ask "What's for dinner?"  The chill in the air has me longing for comfort foods however I want something fun as well!  This Macaroni & Cheese Pot Pie Recipe is just that!  It's comforting, combining two classics, as well as fun!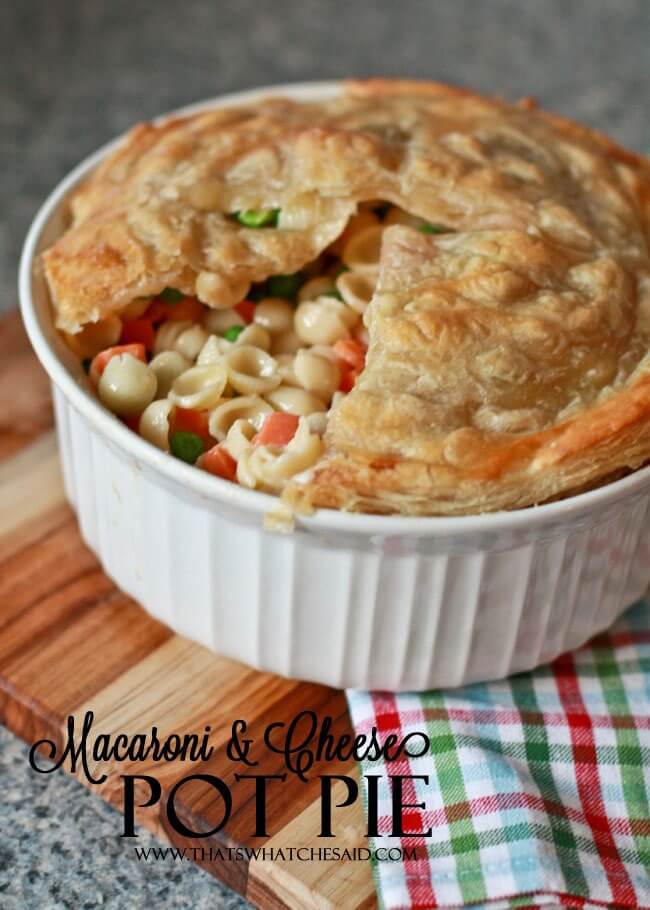 My kids gobbled this up in minutes!  It's a great way to include vegetables in their meals in a way that they think it is fun to eat!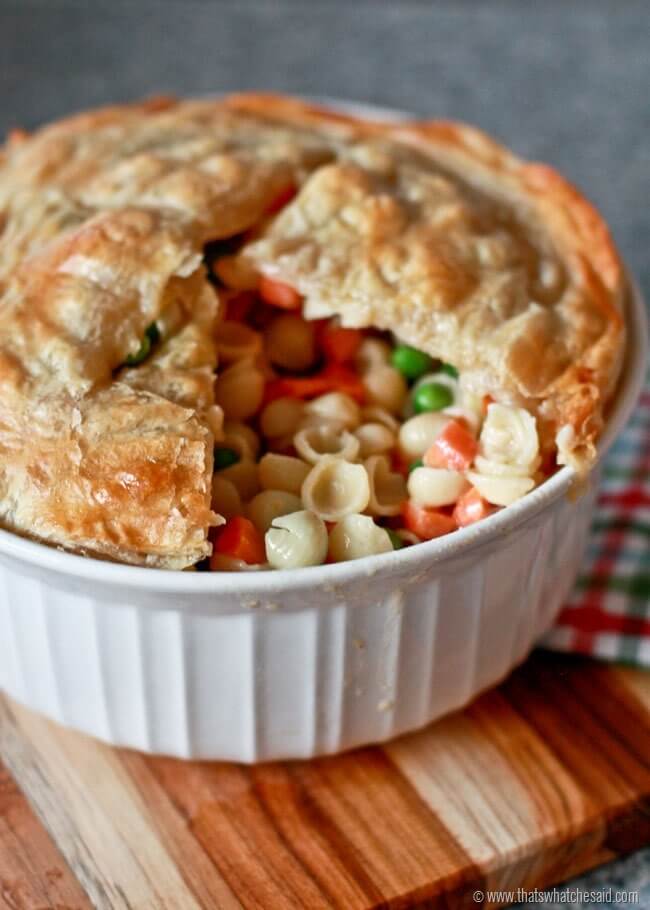 The Horizon MAC-N-ATOR is a great new tool to help you at home make your everyday dishes awesome!   It is a recipe generator that will make your life so much easier when your family asks you the dreaded question, "What's for dinner?"  You can simply select the ingredients that you already have on hand and the MAC-N-ATOR will generate a mac & cheese recipe using Horizon Mac & Cheese!    Any help and ideas that are sent my way are always appreciated!  (My family is grateful also!)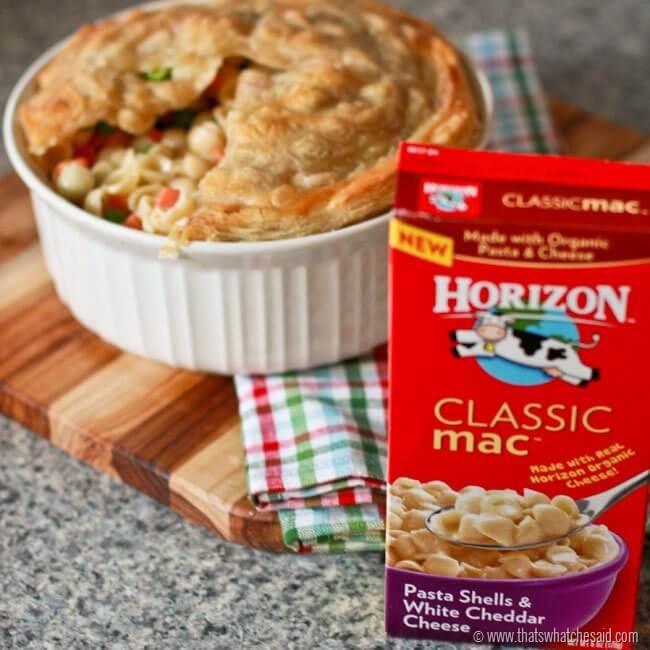 Ingredients Needed:
2 boxes of Horizon Mac & Cheese (any variety, I used white cheddar)
1 cup carrots (frozen or fresh)
1 cup peas (frozen or fresh)
4 tablespoons Horizon Butter
1/3 cup Horizon Milk
1 tsp. Garlic Powder
1 tsp. Onion Powder
1/2 tsp. Paprika
salt and pepper to taste
Puff Pastry sheet
1 egg white
1.  Preheat oven to 400 degrees F.
2.  Open puff pastry and allow to thaw.
3.  Prepare the macaroni according to the box directions.  I cooked for 8 minutes.  Drain.
4.  Add butter and milk and cheese packets that come with the macaroni box.  Mix until creamy.
5.  Add vegetables, garlic and onion powders, paprika, salt and pepper.
6.  Add macaroni and vegetable mixture to casserole dish.
7.  Cover with 1 sheet of Puff pastry and crimp along edges of casserole dish.  Cut slits in the dough to allow steam to escape.
8.  Brush top of pastry with egg white.
9.  Bake at 400 degrees F for 15-20 minutes or until golden brown.
This recipe is just a great marriage of two really satisfying comfort dishes!  Perfect for busy nights because it whips up in no time and will warm your tummy!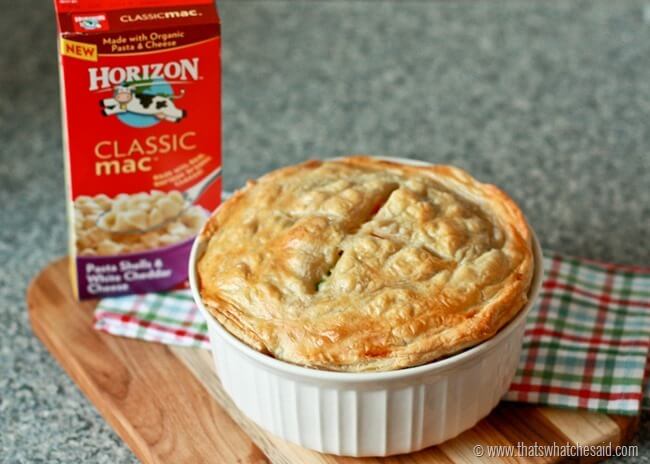 I even made small individual ones for my small people! They LOVED having their own personal pot pie!!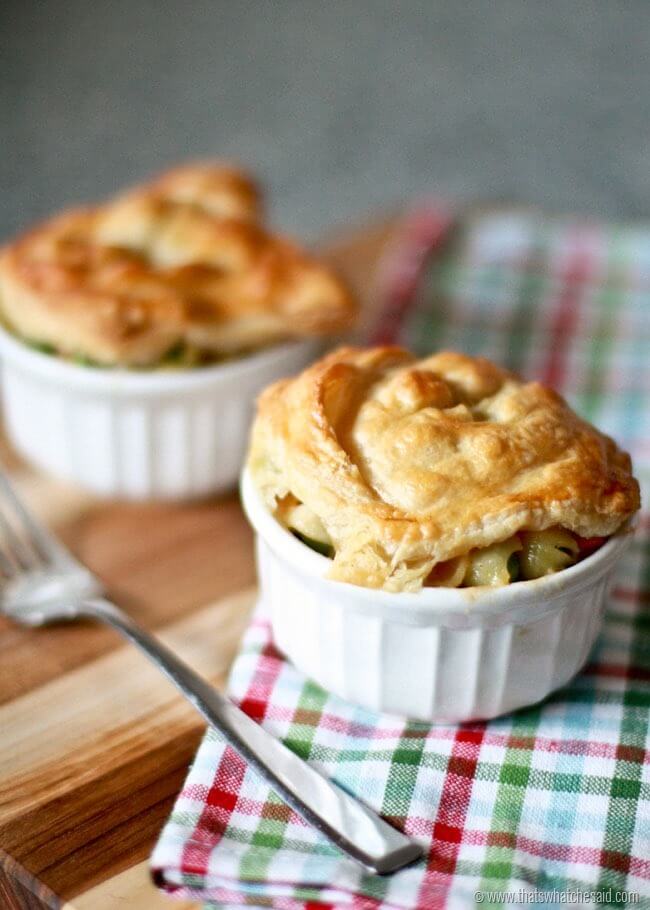 You can also find more yummy recipes on Horizon's Pinterest Board!  
This is a sponsored conversation written by me on behalf of Horizon Organic. The opinions and text are all mine.