Are you going on vacation with your family this year?  Maybe to an amusement park or large pubic attraction of any sort?   Perhaps just going to a State Fair, County Fair, or large public gathering such as festivals?  I have a great project for you to use with Silhouette Specialty Media Temporary Tattoo Sheets!
Make your own Safety ID Tattoos for your small people!
UPDATE:  You can find the full tutorial on how to make these Safety ID Tattoos here!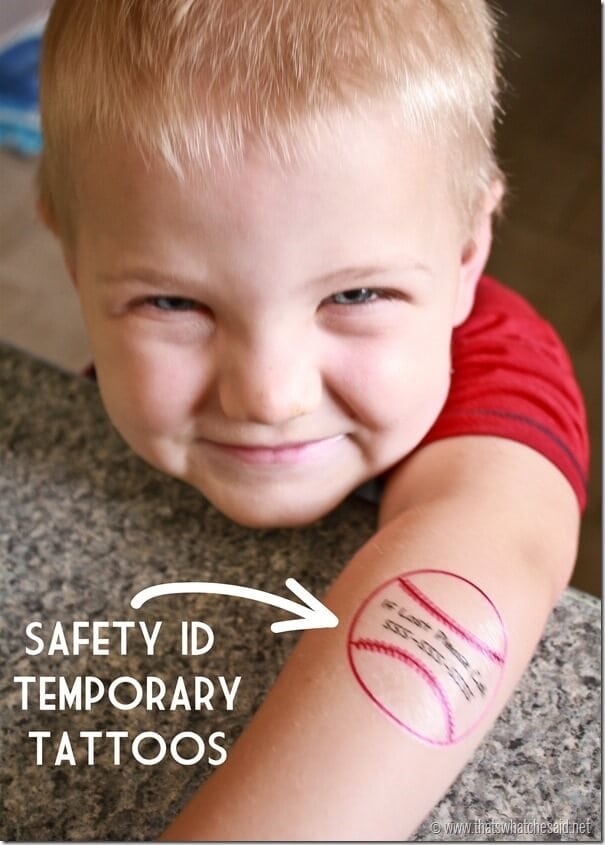 It just takes a split second for you to get separated from your small person!  Even the best little travel buddies can get separated from you and the fact that they are under 4 feet tall make it nearly impossible to locate them in crowds!  These safety tattoos can help reunite you without broadcasting all your personal information!
I used a sheet of the Printable Tattoo Paper, my Silhouette CAMEO, and some shapes and fonts to make these!  I will post the full tutorial and screen cast (!!!) on Monday!  But in the mean time, you can take advantage of these GREAT DEALS going on now!