Hi there, sublimation campers!

Hey, it's me, Cheryl!
We are now Totally Camp Buddies! Yay!
Thanks so much for taking my class, How to Sublimate a T-shirt Like a Pro!
You will find additional sublimation files when you join my email community as well as a full, linked supply list and the tips & tricks I discussed!
Keep scrolling to find out how to also get my "Sublimation T-Shirt Checklist!" which contains the supply checklist, heat settings, and step-by-step tasks to get perfect results each time!
The days of old fashion pen pals are over, join my email community and we can chat that way instead! Oh, and if you do want to be email buddies, I have bonus sublimation files for you as a thank you! Keep reading!
You can also find links for everything we used in our class, How to Sublimate a T-Shirt Like a Pro, and the tips and tricks I mentioned in the video!
Make the most of sublimation camp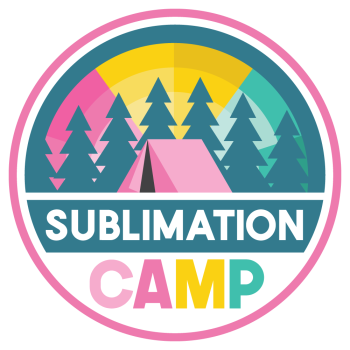 If you haven't purchased the All-Access Pass yet, what are you waiting for? Life is busy! Kids have sports practice, dinner needs to be made, the dog needs to be walked, and with the All-Access Pass, you can come back to my class as much as you need and also watch the additional 20+ classes at your leisure!
All-Access pass perks!
You will ALSO get my Sublimated T-Shirt Checklist with supplies, settings, and steps to print out and place right in your workspace so you can save time and materials while you are working!
The Sublimated T-Shirt Checklist is only available to All-Access Pass members in addition to lots of other goodies from the other speakers!
sUBLIMATED t-SHIRT sUPPLIES
This post may contain Amazon Associate and other affiliate links.
As an Amazon affiliate, I earn a small commission from these links at no additional cost to you.
You may find all of these supplies in one place on my Amazon Storefront made for this class!
Helpful tutorials for A Sublimated T-shirt
SUBLIMATION TIPS & TRICKS
The higher the poly count in your shirt, the better and brighter the transfer will be
Don't be alarmed if your printed design looks dull on paper, it will brighten up when you press it.
Pre-heat your shirt to remove sizing and moisture but be sure it is cool before you place your sublimation design.
When sublimating a baby bodysuit, put the mat or towel inside the onesie in order to raise the center of the bodysuit to the same height as the shoulder seams.
Always tape your sublimation design in place on all sides to avoid shifting and ghosting.
Don't reuse the butcher paper or the cardstock you insert inside the shirt in case any ink is transferred it can transfer again if you reuse it.
GET BONUS SUBLIMATION FILES HERE
If you want to be part of a super cool club AND get some bonus sublimation files, I officially invite you to join my email community! You can pick and choose the content you want to receive from me and I am super, duper selfish so I will never share your information with anyone else and you can unsubscribe at any time, however, I hope you don't since I offer free files. Oh, and did I mention you will also gain access to my ENTIRE FREEBIE LIBRARY? You will! Let's be modern penpals, m'kay?