This post is sponsored by Ryobi.  All opinions are 100% my own.
It's time to winterize your yard and I am sharing what my plans are and what can help get the job done easier!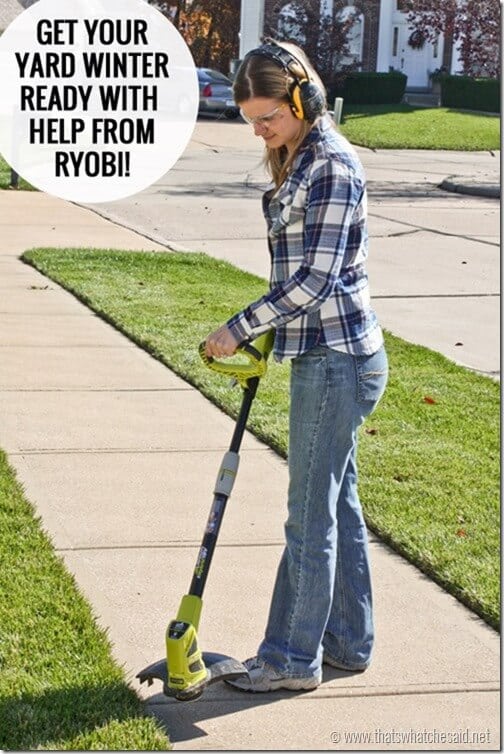 12
Fall as finally arrived here in the mid-west.  For a while I thought we were going to skip straight from summer to winter with the warm weather we were having.  I am not complaining about that but I certainly do love the colors of fall. What fall also reminds me is that winter is coming.  After having lived in Minnesota for 3.5 years I realized how important proper fall yard maintenance is!  Well I should say after living there for my first winter I realized this.
I was not accustomed to how quickly snow came there and I did not have all the leaves picked up, the yard was not given it's final mow and the edges of our yard were not trimmed.  I also did not cut back any of the foliage off our annuals like hostas and day lilies.  This was made all to clear to me when the 4 feet of snow *finally* melted and I was left with wet, dead,  partially-rotted yuckiness!
ICK!  Lessoned learned!  Now I take action come fall.  We don't have to deal with 4 feet of snow here in St. Louis, however we do get it and I am prepared.  I have also found that a few hours of work on two Saturdays in the fall is totally worth it come spring when you just want to get out of the house and enjoy the weather!  It's also nice when the new foliage starts to grow, it doesn't have to fight it's way through dead leaves of season's past!
I used my Ryobi Trimmer to not only clean up my grass after we mow it but also I use the trimmer to cut back all my annual foliage.  Like these guys.  See them?  I did not cut them back last year and they got a bit CRAZY this year! Not to mention they are a trap for all the leaves that have fallen.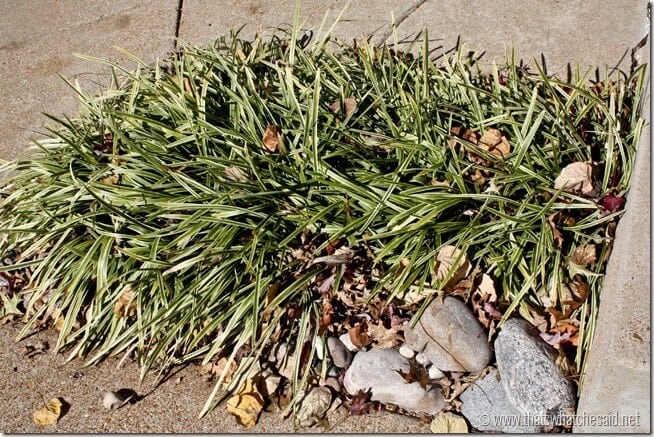 A quick once over with my trimmer and they are all cut back to the ground!  I do this for all my annuals.  Once all of these are cut back it's so much easier to corral all the leaves too!  (Which is my next daunting task!)
The Ryobi Trimmer is awesome in my opinion!  Here are some of my favorite features!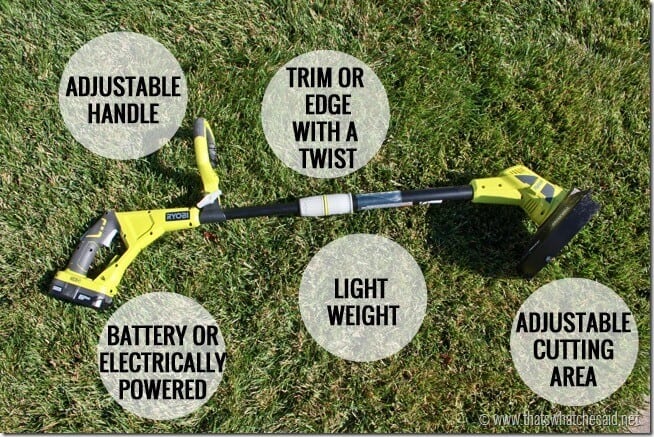 Let's start with the fact that it's powerful but light weight.  I am easily able to maneuver and control it…and I kind of lack in the upper body strength department!  :)  It also has an adjustable handle that not only can move left to right around the trimmer base but also adjust forward and backward.  This is awesome because my husband an I feel comfortable at different positions.  If it wasn't adjustable one of us wouldn't be happy!    You can also easily switch the position of the cutting line by twisting the center dial for either trim (cutting surface horizontal) or edge (cutting surface vertical)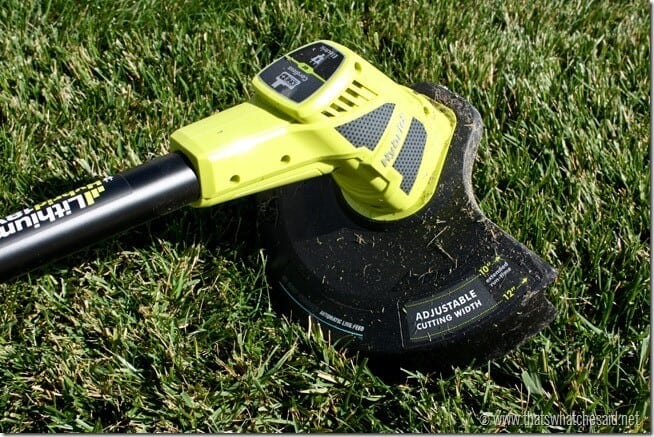 Next it comes with an adjustable trimming area.  10" to 12" cutting diameter and also it has automatic line feed too!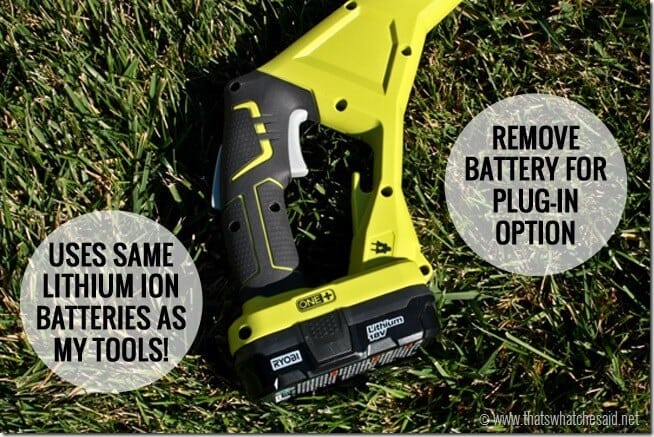 And the brilliant thing is that the trimmer can be used either as battery operated or plugged in!  And the batteries…are the SAME ones I use for my
Ryobi tools!  Yep, same exact battery as my drill uses so I don't' have to have yet another type of battery and charger cluttering up our garage!  Want to plug it in?  Well you can!  Remove the batter and slide the little door back and plug her in!  So awesome!
If you are looking for a kick arse trimmer, I recommend this one!  Now I am on to the leaves and the bushes!  Now that most of the foliage is gone, I will cut back my bushes and then tackle the leaves!  If you don't hear from me in a few weeks…I might be at the bottom of a giant leaf pile!
Be sure to check out Ryobi Outdoors on the web!
Facebook | Twitter | Pinterest | Instagram | Google+
Thanks to Ryobi for sponsoring this post.  I am excited and privileged to work with a company that make awesome products.