I am creating a woman cave with the help of Sauder.  Find affordable furniture that will suit your style perfectly!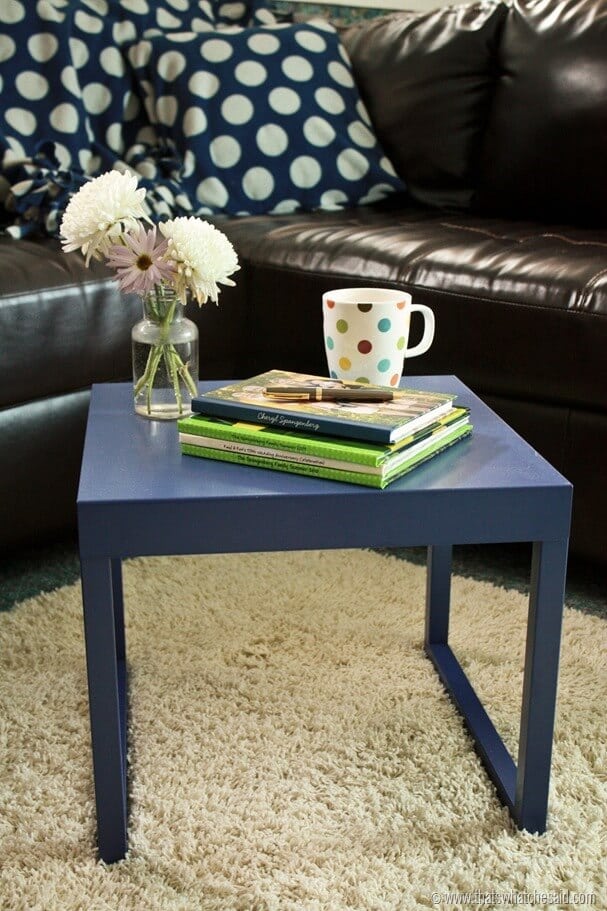 Earlier this year I agreed to purchasing NBA League Pass for Fred.  What this means is that there is a basketball game on 24/7.  Fred loves basketball.  I do not like basketball…unless I am at the game with beer and nachos in hand and honestly I am there for the beer, nachos and child free event, not the basketball.  So it became alarmingly clear that after 5 pm I would no longer have any access to our television.
I made a plan.  Our basement we have the playroom and a living room area.  The areas were not functioning well because the living room was the larger area, the playroom the smaller and the toys were overtaking both areas because the kids like to watch a show downstairs when allowed.  So I decided one afternoon to switch the two!  Whew that was WORK!  Here is the smaller area of the basement where the playroom was.
That's honesty right there folks!  That is normally what our playroom looks like!  Not only is it a work in progress but it's a work area!  The kids have fun down there and they are messy.  So back to my story…I moved all of THAT (above) to the opposite side of the basement and moved the sectional, desk, rug, over to where the playroom is.
I wanted to create a nice area that was toy free, that I could sit and read, work on blog posts, watch TV (non basketball TV) and just relax.  I am a stay and work at home mom so I am kind of SICK of my living room.  I am in it all day everyday so this new space will be a nice change of pace for me to kind of relax.  I can't relax upstairs because I can see everything that still needs to be done!
Sauder is helping me make this area mine!  This adorable Berry Blue Accent Table is the perfect addition to our brown leather sectional.  It creates a nice little spot for me to keep a beverage, a journal or some of my most favorite things…photo books of my sweets!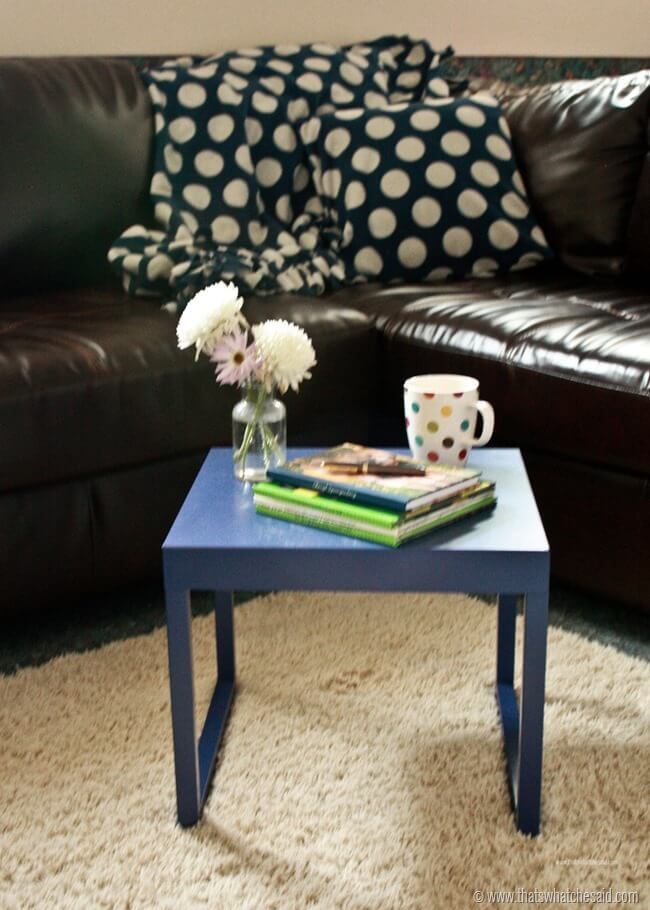 It's such a happy color and it goes so well with my No Sew Fleece Throw and Envelope Pillow I made.  It's the perfect pace to cuddle up!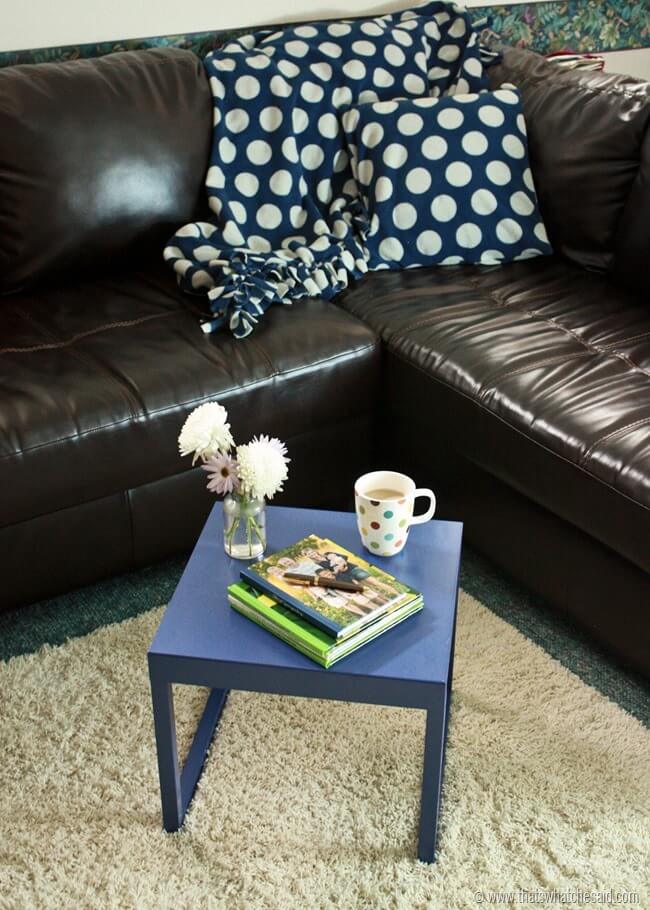 It actually goes perfectly with our carpet down there. too…do you see the teal?  Yea that was from the owners before us (along with the horrid wallpaper border) but I cannot afford to replace the entire basement carpet so this fun table goes perfectly.  I love the modern and straight lines.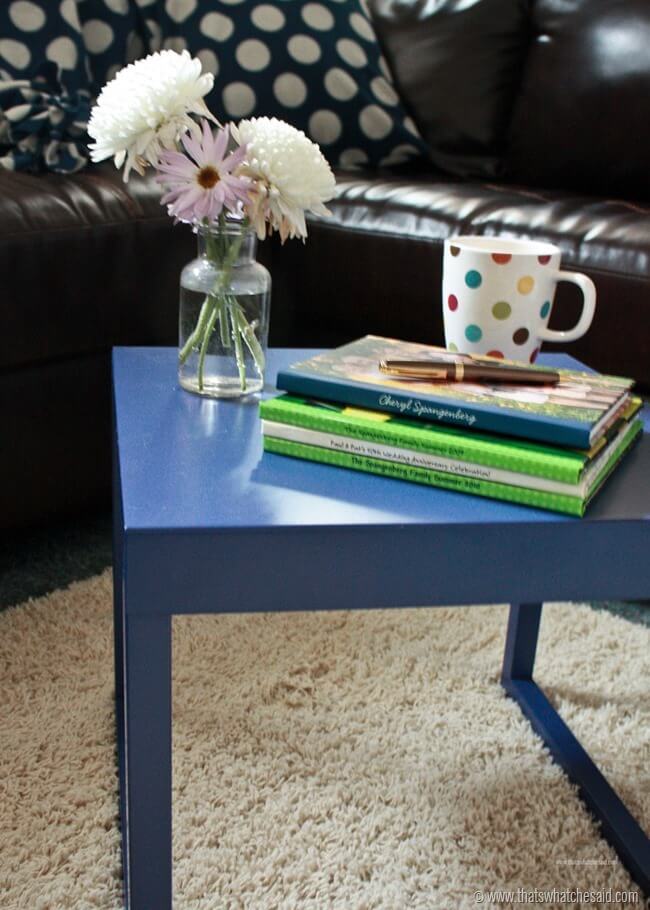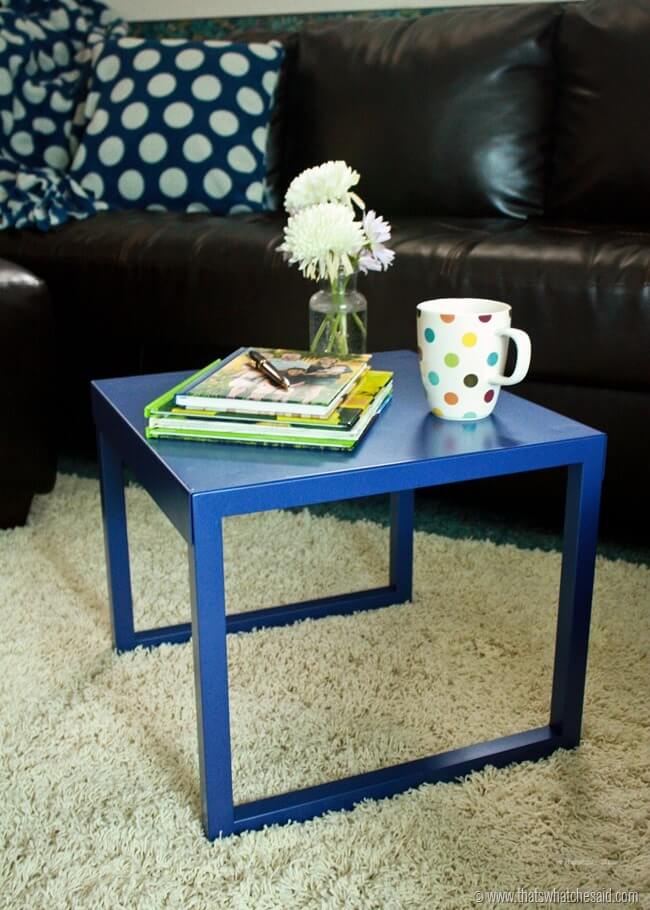 I cannot spend a lot of money on my woman cave so I appreciate that I can find quality furniture at affordable prices at Sauder.  Do you have a space you'd like to give a fresh look?  Check out The Sauder Look Book.  It is filled with inspiration from my blogger friends on how you can use Sauder pieces in your own home.  It's awesome to see how one piece of furniture can be used in so many different ways.  You all know I LOVE multi-tasking things!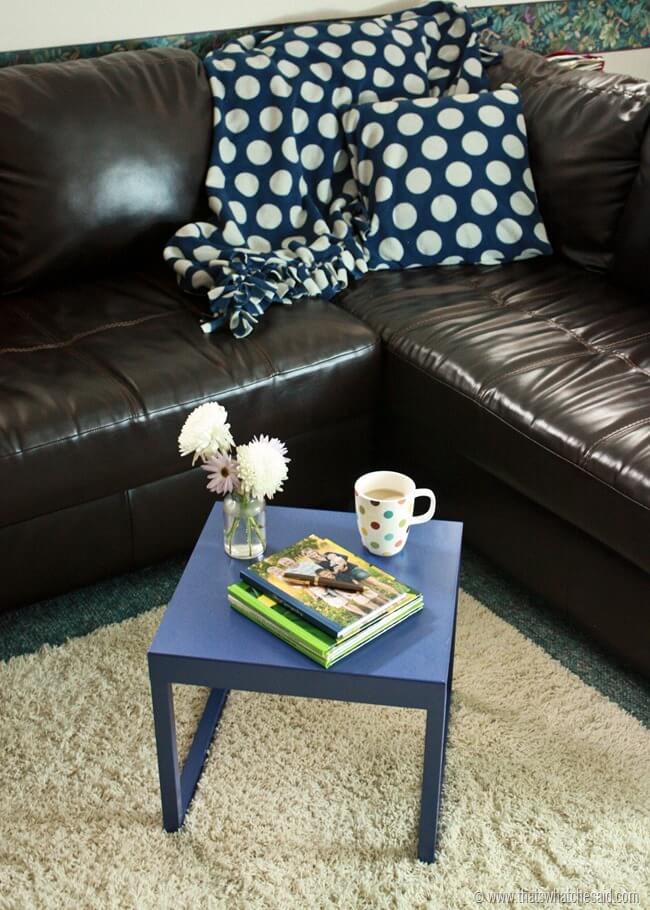 Find Sauder Here:
Pinterest  |  Twitter  |  Facebook
This is a sponsored conversation written by me on behalf of Sauder. The opinions and text are all mine.