If you are just joining me, you can find Spangenbaby's Birth Story – Part 1 here!
In my heart I knew that I was not meant to have another C-Section.  I asked my nurse to give me a bit more time as long as baby was not in any danger.  His heart rate was not dropping like it was before.  She agreed.  We were reaching the 5 pm time frame and I'd have to wait for the doctor to come from the office to the hospital anyway.
My body started to shake.  Uncontrollably.  Like I was in a Minnesota Winter without a coat.  However I was not cold.  My nurse came in my room and I told her, "I am shaking, but I am not cold at all!"  She had a pleasantly surprised look on her face!  Weird.
By now I could feel everything again.  That epidural was a piece of crap.  Seriously.  Damn expensive and wasn't during anything for me.  She called to get yet another re-dose.  He was taking his dandy time coming up to my room (probably not but it felt that way, ha!)
While we waited, she wanted to examine me.  I was at a 6 still.  I had been stuck at a 6 for a while.  Hours.  It was now 6:30pm on the dot.  "YOU DAMN 6….COME ON!", I thought!
She was in my room telling me what would probably happen when the doctor arrived (C-Section instructions) when the pain from all pain occurred.  A contraction that could only be described as a building collapsing on top of me.  I couldn't hear what she was saying.  I couldn't breath.  I couldn't think or see or talk.  It was the most intense pain I had ever experienced in my life.
She saw it in my face.  She said I am going to examine you one more time real quick.  She did and said, "You are at a 10!"
WHAT?!?  Yep, I went from a 6 to a 10 in one contraction!  She said that when I said I was shaking, she was happy because that is a sign of late labor.  She was hoping my body would get moving so I could go on with my VBAC plans!
The drugs came.  The nurses exact words were "Well she's a 10 now so can you just give her a "little bit"?"  He did.  I was thankful.
She then said "We are going to practice pushing!  Just so you know, this can take a few hours!"
We practiced ONE push and she screamed, "OK no practicing you are ready to go, there he is!"
Doctor came right in the room, talked to my nurse, introduced himself to Fred and behind him was a whole gang of nurses prepping and working and unwrapping and getting me all situated.
I pushed maybe 3 times (?), if that, and out he came! Like a rocket! 6:58pm.  So in 28 minutes I went from a 6 to a 10, had a re-dose of an epidural, and birthed my baby.  It was insane!
He was perfect.  They placed him on my belly and I could not have been more in love.
I was in love with him.  I was in love with my husband.  I was in love with the whole birthing experience. It was amazing.  This time I was the first to hold him.  With Ryan, EVERYONE including my family held him before me.  I hated that!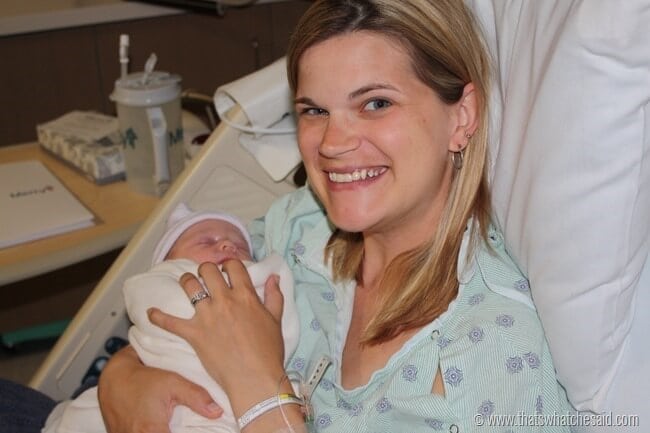 He was 7 lbs. 2 oz., born on 7-7-14, at 6:58 pm.  20 inches long.  He pretty much shot out, otherwise I think he would have kept with the 7's and been born at 7 pm :)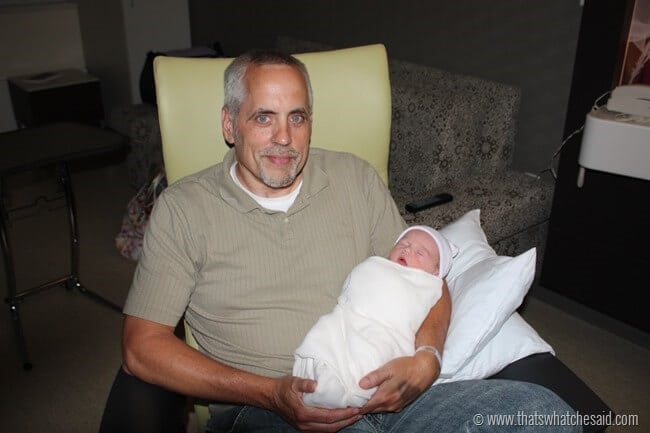 He is my rainbow baby.  A baby that had been prayed for and longed for and loved for so long.  I adore him.  He completes my crazy family!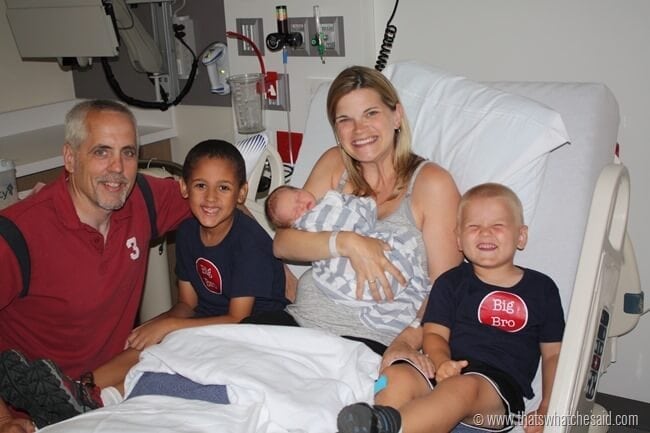 I adore him even more 1 year later!  Happy Birthday Baby!