Oh sibling rivalry.  My poor Ryan has it so bad for his older brother.  It's not what you think though…he is so, so, so jealous that Michael can read and he cannot.  Michael (8) loves reading, writing and art and will make and illustrate his own books at home.  Ryan (4) wants to do the same so badly but can only really write letters.  He gets so frustrated because he wants to be like his big brother so badly.  I am no expert or a teacher and never know where to start!  I am thrilled to be able to work with Reading Eggs and share how this program has made my Ryan so confident in his reading adventure!   You too, can get a free 4 week trial!
I have been so impressed with Reading Eggs!   Reading Eggs is a website for children 3-13 years that uses games, songs, golden eggs and other rewards to make learning to read interesting and fun.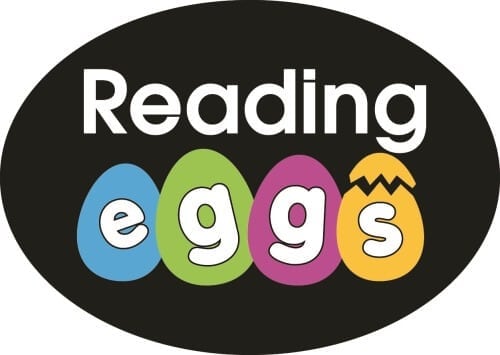 They present material in a fabulous way that builds confidence with Ryan.  He no longer focuses on not being able to read, rather focuses on the skills he has learned from playing Reading Eggs!   It keeps him on track and makes sure he builds his base good before moving on.  The levels are to be completed in an order and the others will not unlock until the base ones have been played!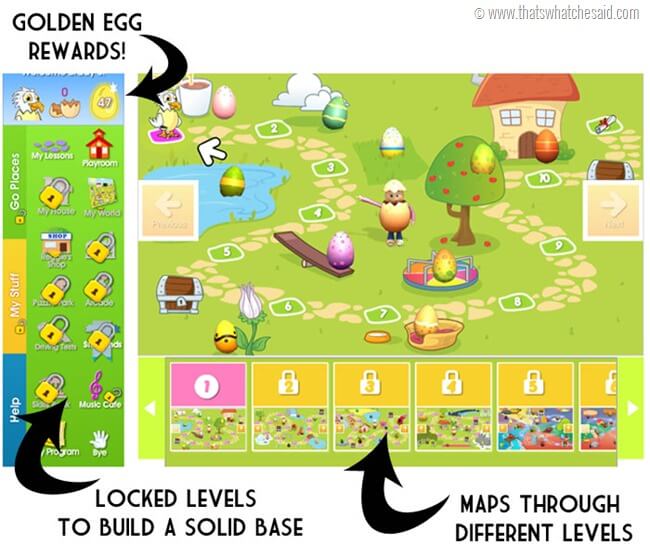 This confidence he has has led to him asking to play first thing when he wakes!  I love it!  He is able to move at his own pace and once he finishes a level he can move forward or he can play that level, or any past level again as much as he wants!  He has already acquired some favorites!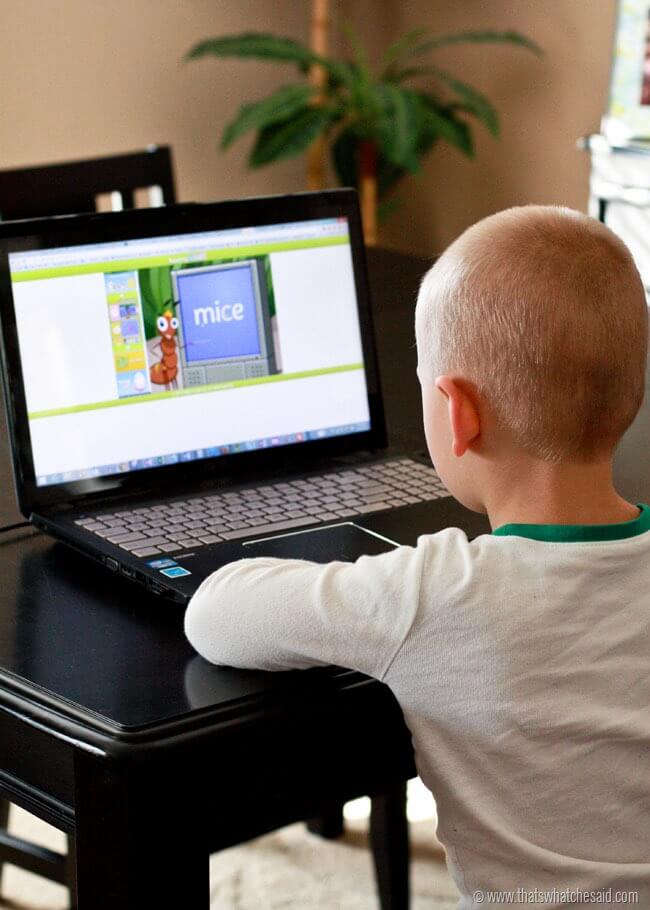 He loves to show me his accomplishments and this is not something that I have to keep on him about.  He LOVES playing and asks to do so himself.  I am not having to hound him or push him in any way.  He chooses to play and loves it!
The playroom is full of fun things to do and explore on the screen!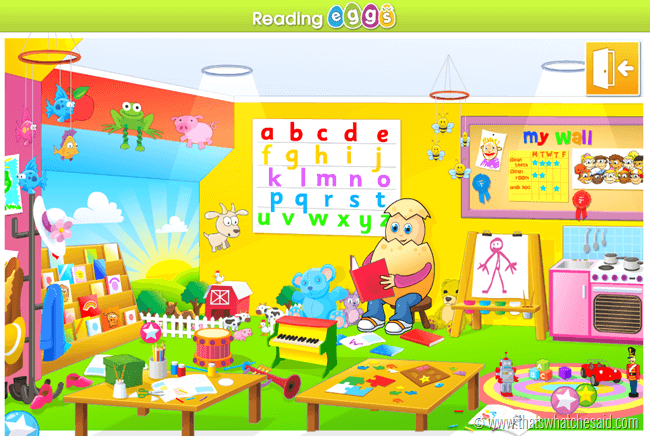 If he clicks on the "My Wall" on the right side this next screen opens with more things to do!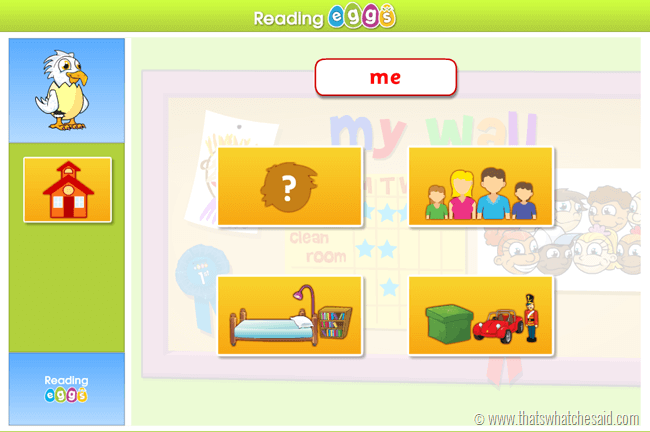 Reading Eggs Program features:

My Lessons: This is the heart of Reading Eggs – 120 reading lessons that travel through 12 exciting maps. Your child can repeat lessons to reinforce essential reading skills.
My House: Your child can change the appearance of their avatar, play arcade games, read Story Factory stories they have written, and view their awards and critters. Your child can decorate their house with their purchases from Reggie's shop.

Skills Bank: The Skills Bank includes 96 carefully graded spelling lessons to develop your child's spelling skills in a progressive sequence. Each lesson focuses on a 12 word-spelling list.
Driving Test Centre: This section consists of 45 tests covering sight words, phonics skills, and content-area vocabulary. When your child gets enough questions correct, they are rewarded with a racing car game.
Puzzle Park: Your child can complete 32 word puzzles that develop a range of reading skills.
Arcade: Contains 24 fun arcade games that your child can play using their golden eggs.
Reggie's Store: Your child can change the look of their avatar and house by purchasing accessories with their golden eggs.
Storylands: Storylands contains 20 lessons, 140 activities, 20 wonderful books and heaps of rewards!Perfect for the child who has mastered their Reading Eggs lessons and is able to read short books. Storylands tests many of the reading and comprehension skills needed for school.
Music Café: The Music Café brings together 62 Reading Eggs songs in one central location. Your child can sing, dance, and enjoy songs from their favorite lessons and characters.
Story Factory: The Story Factory provides a step-by-step guide to writing a story. Your child can choose their own illustrations and access word and sentence suggestions to help write their story. They can also enter a weekly story writing competition.
My World: My World is a world of fun where your child can visit 10 destinations. My World is available after completion of lesson 30.

Eggy Bank: Your child can earn Golden Eggs by completing activities. These Eggs can be used in the Arcade and Reggie's Shop.
The Playroom: Includes over 170 activities and books. This virtual playroom is where young children can play with music, pictures, puzzles, and much more.
My Avatar: Children can create their own unique online character with customized features and accessories.
My Stuff: Children can view their certificates and their collection of cute critters earned for completing lessons.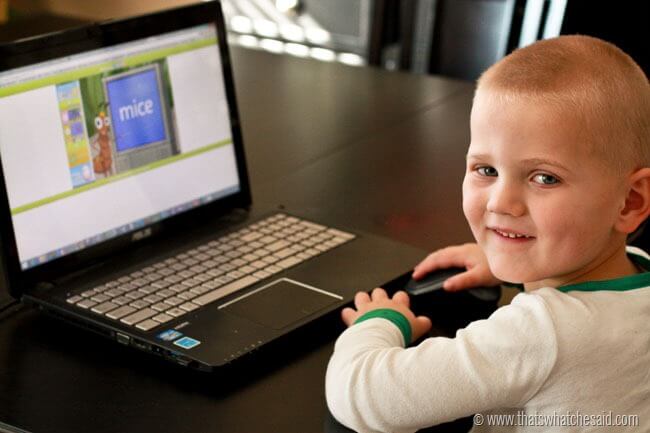 Great News!!!  YOU can get a FREE 4 Week Trial to Reading Eggs too!  No strings attached and NO CREDIT CARD required!  So what are you waiting for?  Let your small people LEARN while they are having FUN!!!  Offer valid December 26, 2014 – February 28, 2015.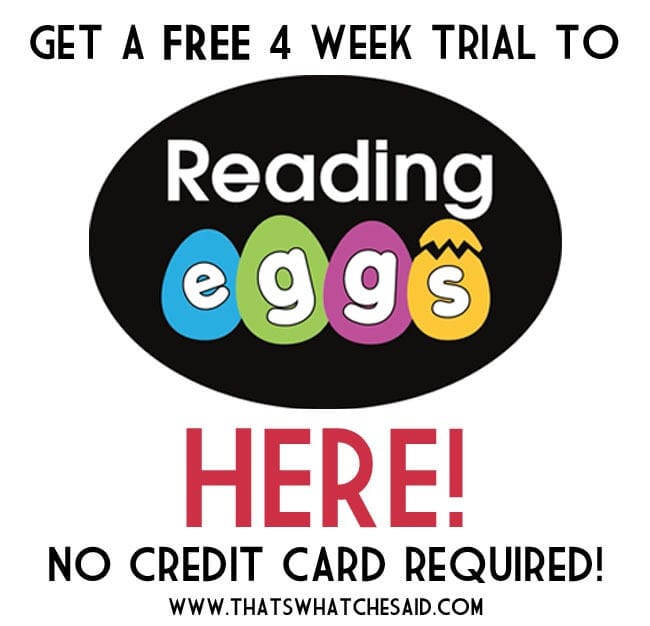 *This is a sponsored post written by me on behalf of the Reading Eggs.  I only share things that I love with you and I really believe you and your small people will love this!