This is a Sponsored post written by me on behalf of Gecko Tech for SocialSpark. All opinions are 100% mine.
Who doesn't love an organized home?  Right?   We all do and now that back to school is in full gear I am looking for more and more ways to organize my life to help simplify our busy days!  Do you know what else I love?  Being able to adjust and adapt and CHANGE MY MIND if I want to!  I am excited to tell you all about Gecko Tech® Reusable Hooks™ from Duck Brand®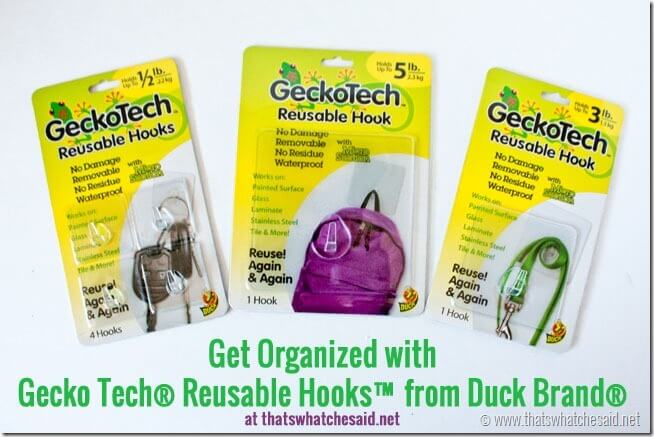 These super awesome hooks require no adhesive and are re-useable which means you can move them around as you see fit! Here are a few ways I used them go get our hours in order.
1.  Use them on the inside of cabinet doors for your measuring cups.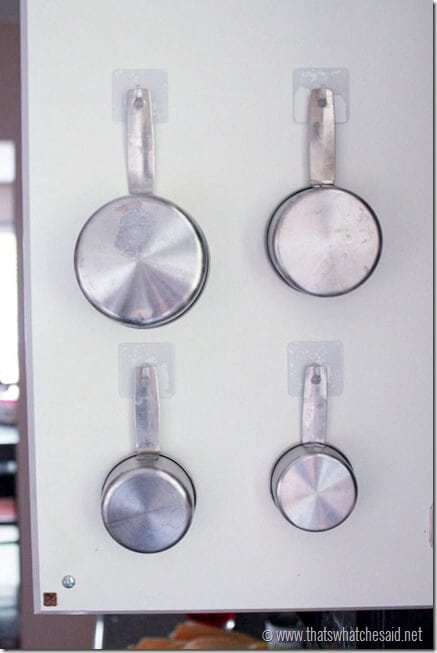 2.  Use them on your lower cabinets to hold towels and brushes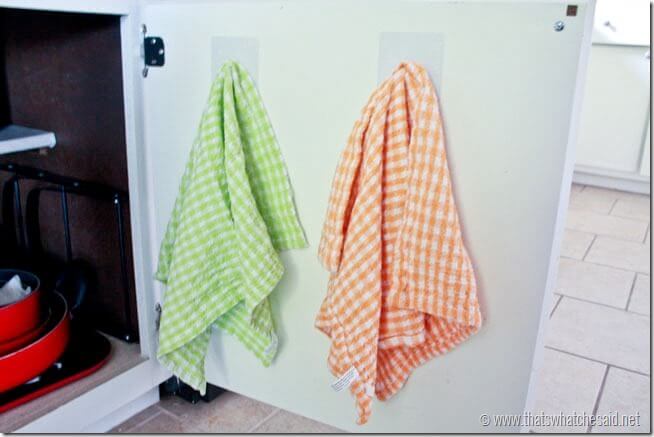 3.  Hang some up to keep your favorite necklaces and bracelets organized and at hand's reach.  No more digging through jewelry boxes or dealing with tangled messes of necklaces!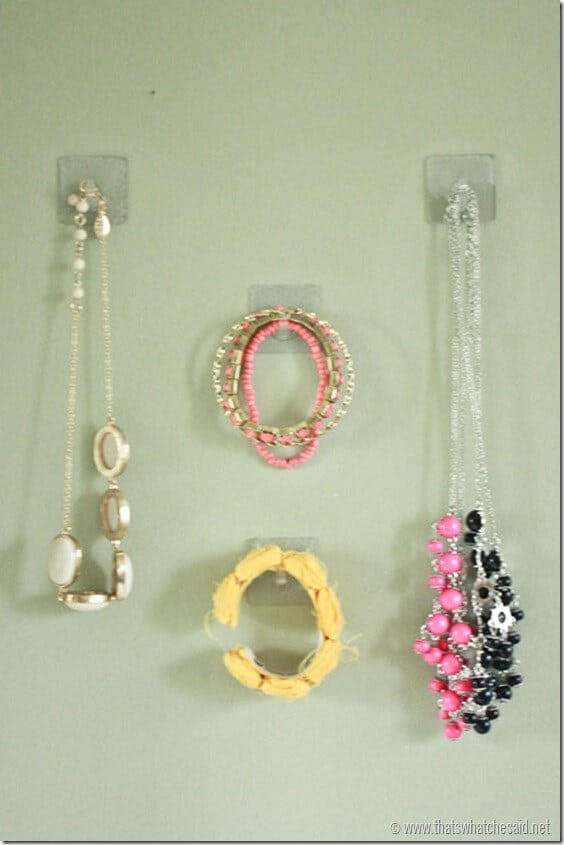 4.  I used on my front door to hang my wreath!  I love this because the Gecko Tech Reusable Hooks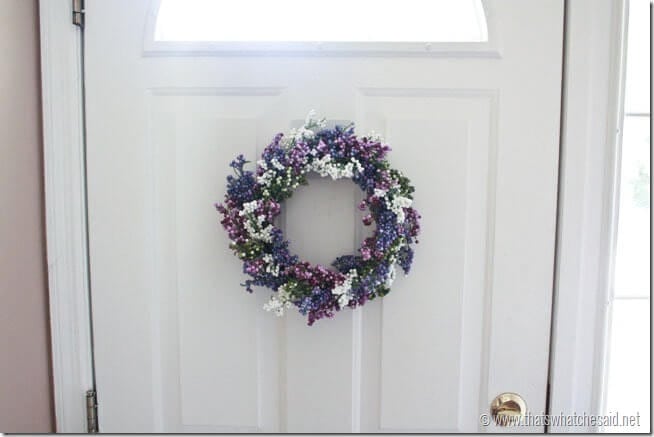 I'm also thinking these would be great for keeping track of all the phone and electronic chargers in our house and for organizing in the kids' playroom! 
How do they work? Gecko Tech® hooks are reusable products, made using revolutionary microsuction synthetic rubber technology that allows them to be used again and again! They do not damage the surface they are applied to, and they remove cleanly. They can be used on plasterboard, tile, laminate, glass, stainless steel and any other smooth, hard nonporous surface.  These would be pure awesomesauce for dorm rooms, classrooms and apartments when they don't prefer you drill into their walls!
(These are not recommended for use on wallpapered, textured, peeling, uneven, coarse or fragile surfaces.)  The microsuction can't do it's thing on those types of surfaces!
See how easy these are to use.  All you need are your hooks and some rubbing alcohol (and a paper towel)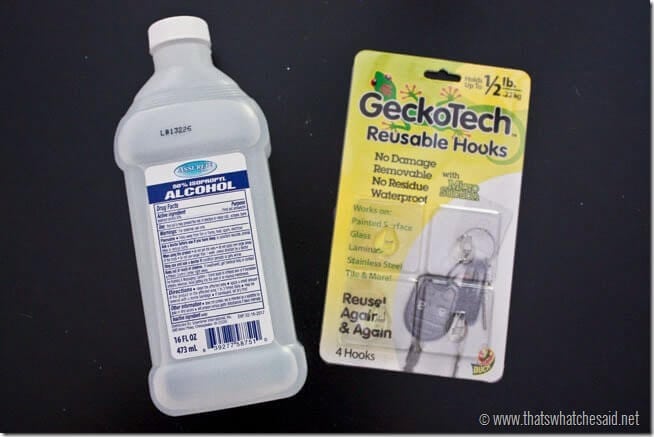 Simply wipe down your area with the rubbing alcohol and then flatten the hook in place smoothing the air bubbles out if there are any!  Hang your item and enjoy!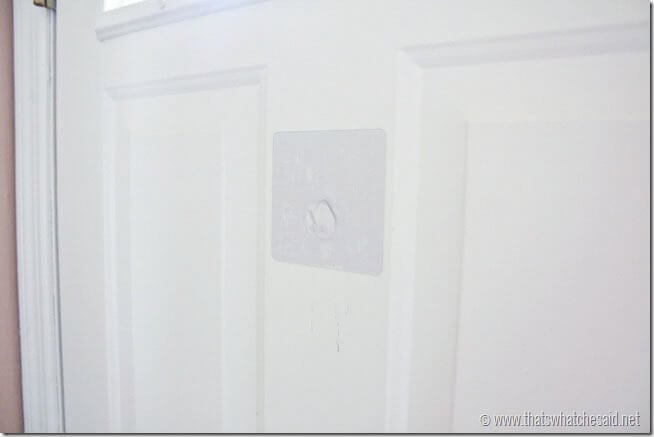 Ready to move your Gecko Tech® hook to a new home?  No problem they come off in a breeze.  I just pulled the corner and it unsuctioned and popped right of!  Easy Peasy!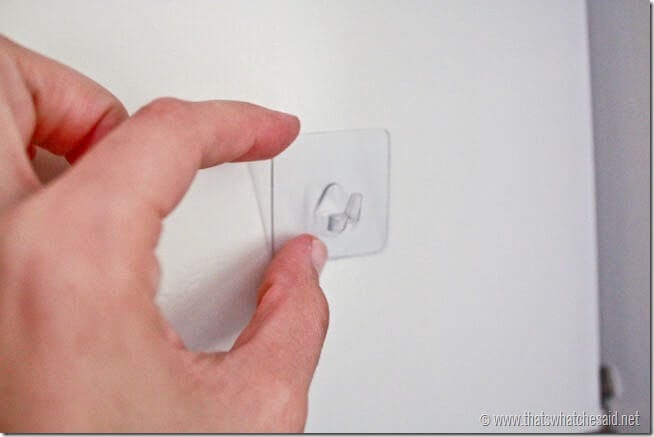 Need some more ideas on where to use your hooks?  Duck Brand® (the makers of Gecko Tech® Reusable Hooks™) is on Twitter!  Be sure to follow for some organizing inspiration!   @TheDuckBrand
Happy Organizing!