Spangenbaby is now 9 weeks old.  How is that even possible?  It seems like my water was breaking in my kitchen just yesterday!  (Yes it broke in my kitchen, more on that later.)   I have been a very lucky girl lately.  I was given the opportunity to choose a diaper bag from Lily Jade to use this time around.  Have you heard of Lily Jade yet?  If so you know how lucky I am!  If not, well let me introduce you! Here is the Caroline in Brandy.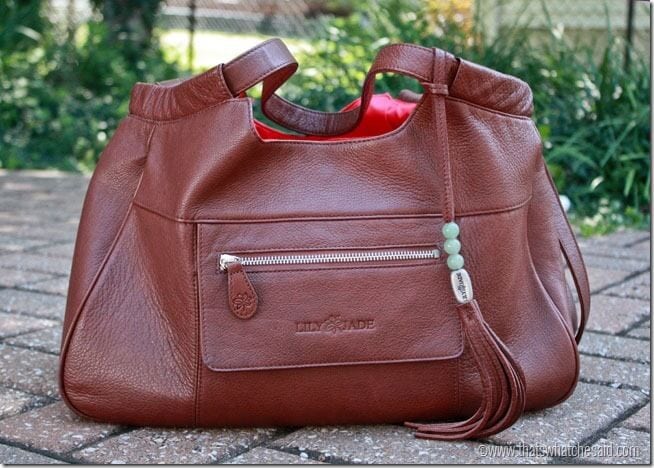 Lily Jade is a fantastic family owned company that makes these delicious diaper bags.  Yes I just said DIAPER BAGS.  You would have never guessed that beauty above was meant to hold diapers and butt cream would you?  Me either!  I am not a super stylish, always up with the trends, kind of mom.  I am a "practical, go with the flow, 3 boys exhaust me mom", but it gives me warm fuzzies to think I don't look like Babies R Us exploded up all over me whenever I need to take my kids out and need a diaper bag to accompany.   Sure…That Winnie the Pooh diaper bag is darling…for my toddler.  Not for me!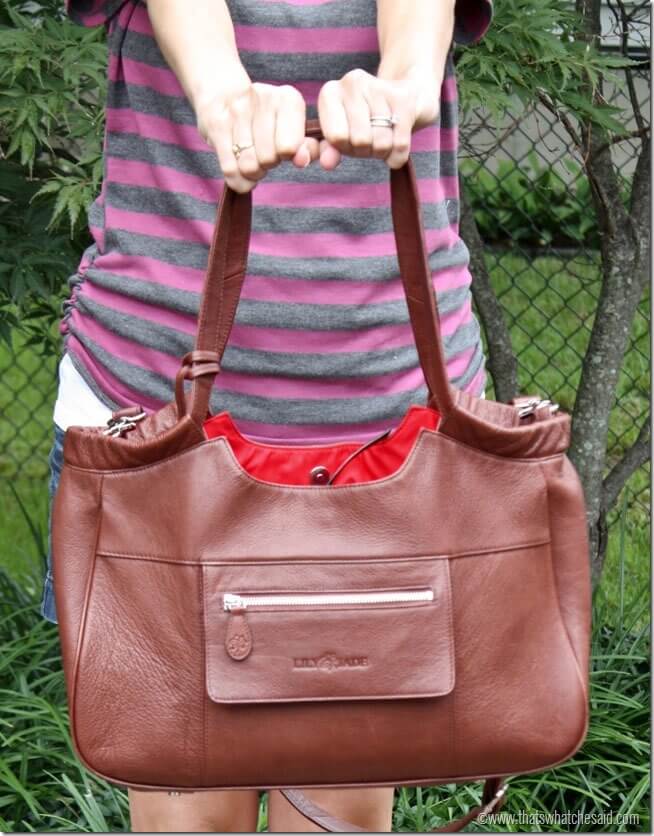 There was a time in my life when I was up to date with all the latest fashion trends.  Now I am up to date with my kids!  I am totally OK this this as I know many of you are as well.  I like to call my current style "practically playful"  Practical in that I wear flip flops, shorts and comfortable shirts to the playground, not wedges, skirts and tube tops!  Playful because I like to play with my kids!  I like to chase after them, slide down slides, dig in the sand and swing "as high as the sky".  You can still be practically playful and look fantastic with this bag!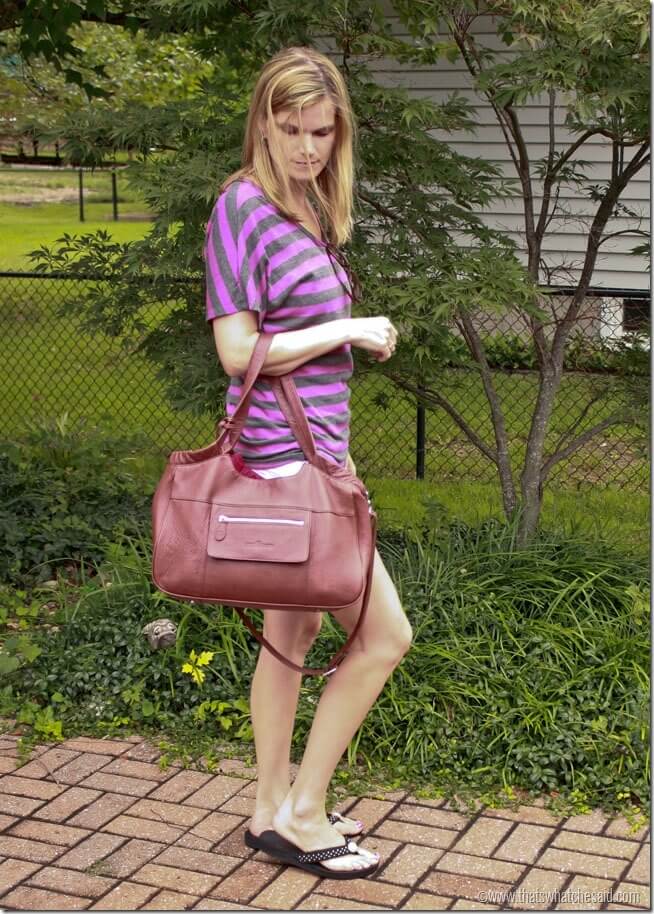 She sure is pretty on the outside isn't she?  The leather might be the softest most delicious leather in all the land!  The construction is quality and beautiful…but what about the inside?  What about the functionality!?  The practical part you ask?  I give you the baby bag.  This great pocketed insert that makes this bag the hostess with the mostess!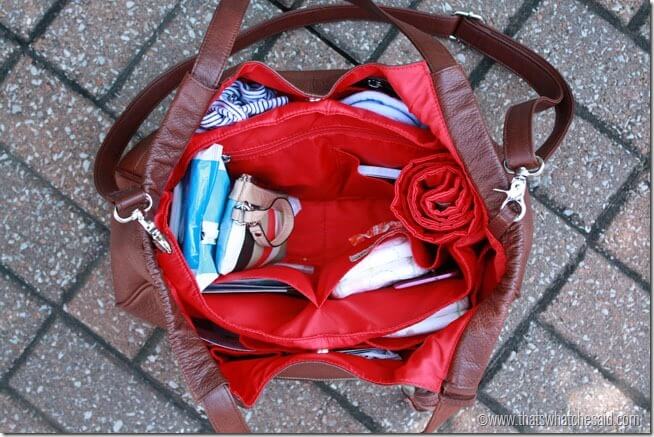 It holds everything I need.  Diapers, Wipes, bug spray, diaper cream, change(s) of clothes, burp cloth, binkies, my wallet, snacks for the big kids, cell phone and that space there in the center that's empty…that's where I can fit my camera (but I am using it to take this picture)!
If I unsnap the baby bag from the purse itself you can see better how much it holds!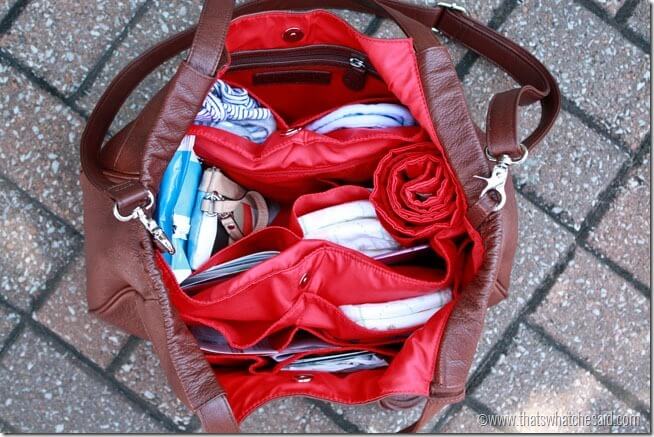 I've used this bag for quite a bit…Before baby, I took it to Utah with me for SNAP Conference!  It was the perfect conference bag!
It also served as the best tech carry on for my flight!  My laptop, tablet, book, wallet, chargers and more fit perfectly and all the pockets kept everything organized and at reach.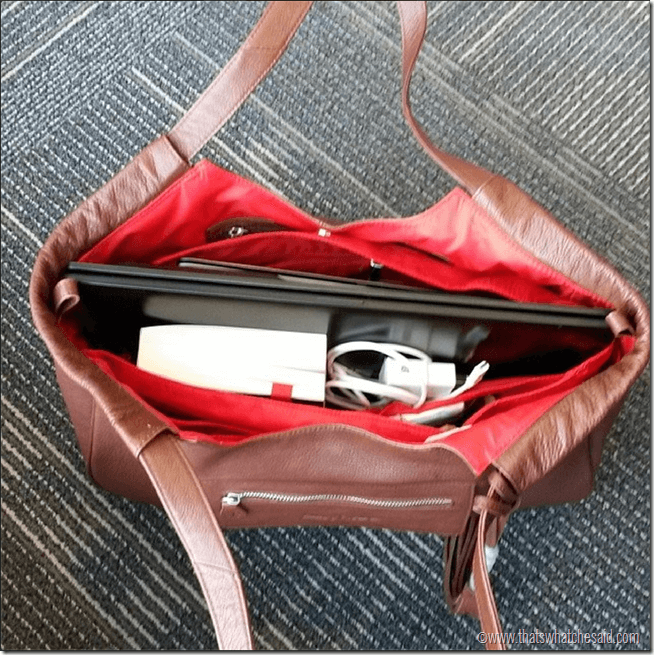 This bag has joined me in life..including the pool and soccer practice.
When I go out and about I always get the nicest compliments on it!  Most have no idea this is my diaper bag!  I love to see the expression on their face!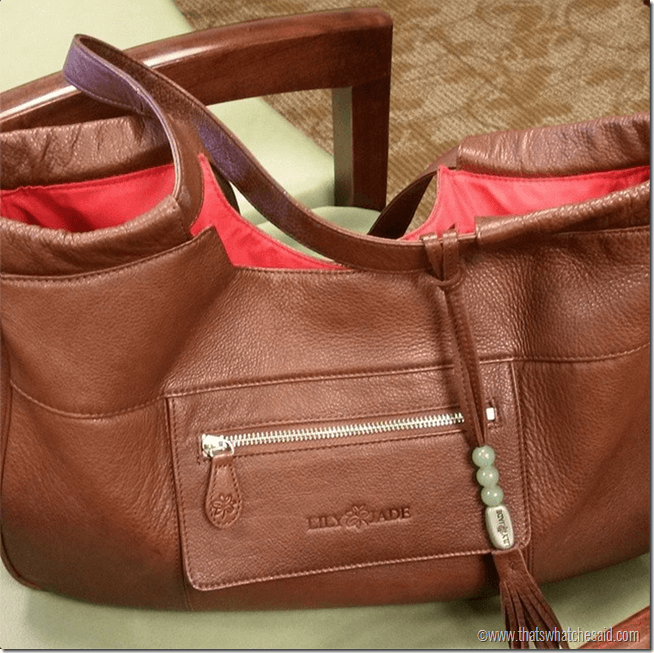 It can be worn with the two shoulder/hand straps or by attaching the included cross body strap.
I took my first outing without the baby when he was only a couple of weeks old! (eek!)  My mom and sister and I went to see Grease at The Muny here in St. Louis.  It's our outdoor amphitheater.  I simply removed the baby bag and now I have left a purse!!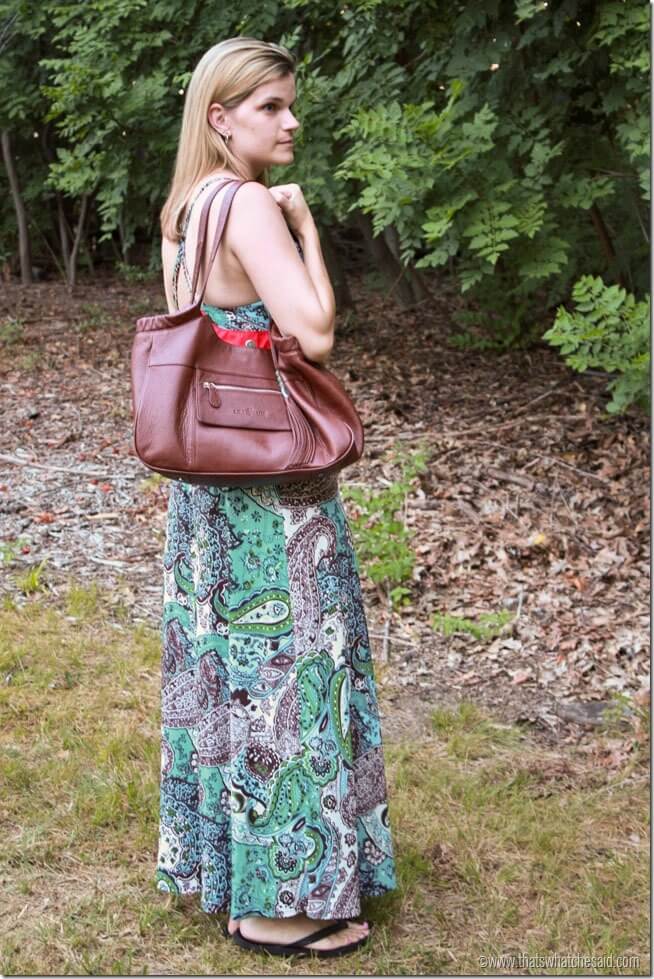 I'd have to say that I am a huge fan of these beautiful bags!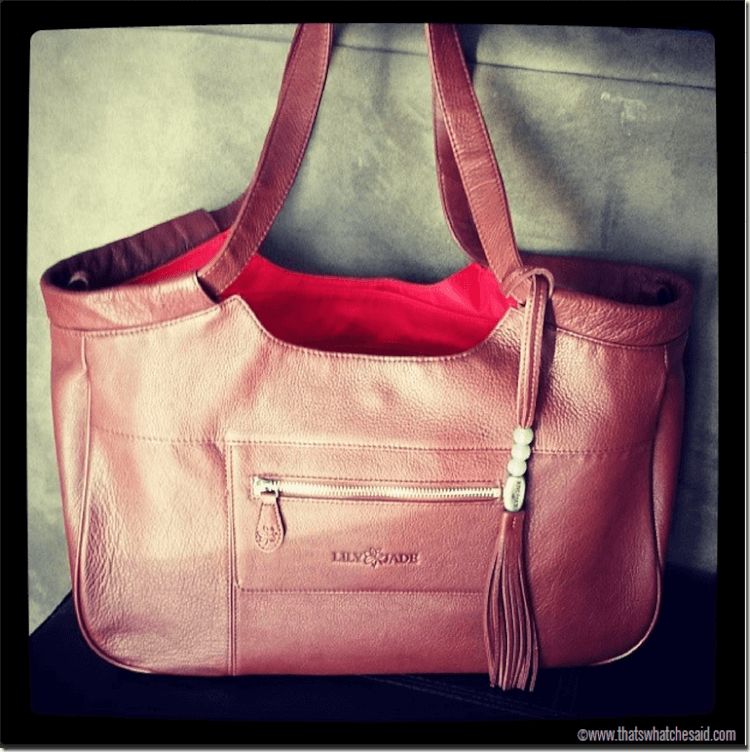 If you are in the market for a fabulous bag that will suite you before baby, during baby and then after baby, I am confident that you will be thrilled with one of the bags from the entire collection of Lily Jade diaper bags. There are more to choose from than just the Caroline! They recently came out with a new line and I am love! Here's my breakdown of the Caroline
Pros:
Construction is incredibly high quality
Leather is absolutely delicious
Color is wonderful
The baby bag is genius
The bazillion pockets in the baby bag keep everything in it's place and easy to find and reach (as us mom's know we normally only have 1 free hand at a time!)
Love the options to use hand straps and then a cross body as well.
CON:
This particular bag does not have a top closure.
I chose this bag because I was drawn to the lines and style however if I had to choose again, I would choose one that zipped close.  I find that while chasing the 2 older boys and dealing with the car seat for the baby, that sometimes I lean over too far or bend and some stuff falls out.  Just keep this in mind if you are like me and have active little ones.  I was mesmerized at how pretty she was that I didn't think about this when ordering!   The Madeline and the Elizabeth both zip on the top and I am now seeing the benefits of having the backpack strap option of these other two bags!!
If you are interested in your own Lily Jade Diaper Bag then head over and take a look!  They have a great selection of fabulous diaper bags for all budgets.  You can also find them on Facebook and Twitter.  Be sure to follow on Instagram and Pinterest as well!