So…what are your kids going to be for Halloween???  I have to confess that normally I am so, so, SO behind on this.  I am that last minute mom that is trying to figure out a kid's costume the night before his school party!  You would think in my crafty nature I'd be all over this holiday however for some reason I am totally not! Thankfully halloweencostumes.com is here and helps me get my kids ready for trick-or-treat day AND I get to host a Costume Giveaway for a lucky one of you!
Is anyone with me?  Late to the game?  I am that person walking down the picked over aisle at Target trying to piece together odds and ends to make a complete costume.  This year, this year is different!  All three of my kids have costumes and I still have a week and a half to spare!  (I am totally taking credit where credit is not due!)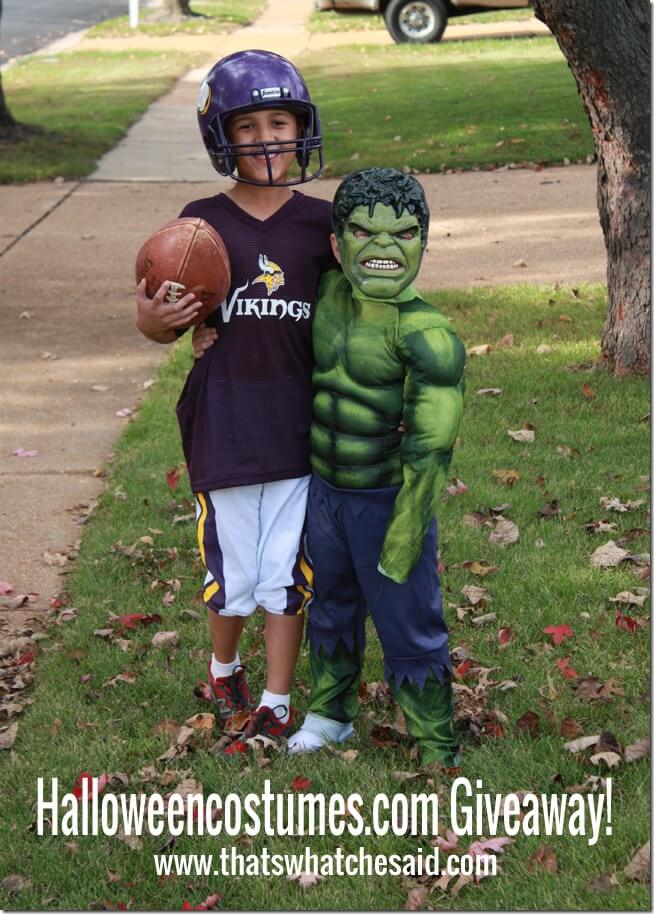 The fun folks at halloweencostumes.com came to my rescue and costumes this year was not my most dreaded task!  I simply pulled up the website with the kids at my side and we looked through the great selection of costumes and they each chose their favorite!  I chose Spangenbaby's :)  Our costumes were shipped right to our door!  NO fighting our way through the small store aisles!!!
Ryan headed straight to the super hero section and after much debate over Captain America and The Incredible Hulk…he chose the Hulk!  A funny story about this kid…this summer we were trying to head out the door and he comes out without a shirt after he had been already dressed.  I asked him where his shirt was and his response was, "Mom!…I am the Hulk and the Hulk does NOT wear a shirt!"  "His Mus-kles are TOO BIG!"  and then he flexes for me!  Love this kid!   We may or may not wear this around our house on a daily basis!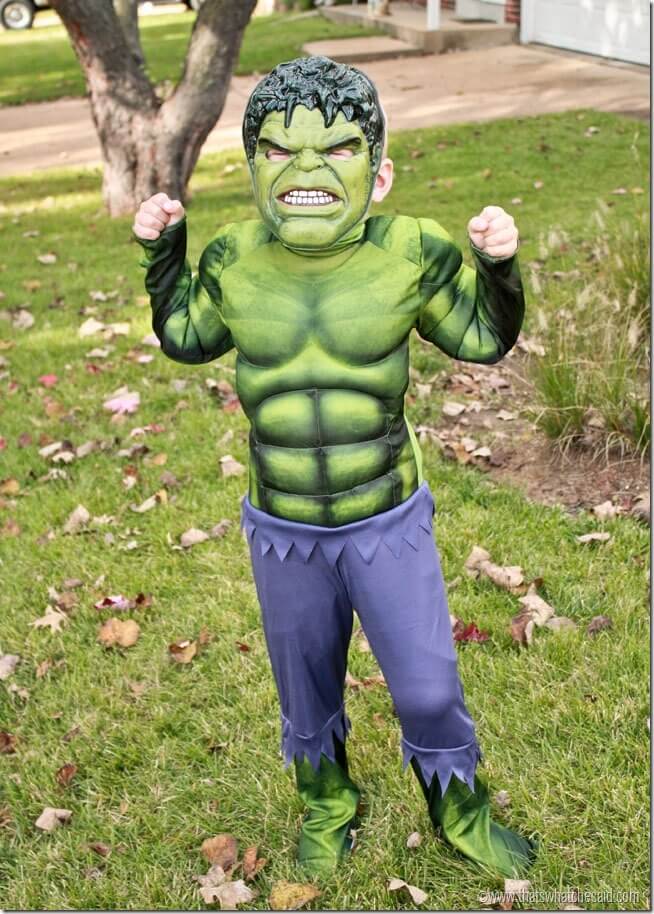 Michael took a bit longer to choose his favorite.  He went back and forth.  A Doctor?  A Minion?  A scary reaper?  But finally he settled on a Minnesota Vikings Player!   I personally and in love with this costume!  It is so cute!  I know boys don't want to be cute but it is! Also he can wear the jersey for the rest of the season as a shirt and the Helmet will make a great decoration in his room!!  You all know I love multi-tasking things!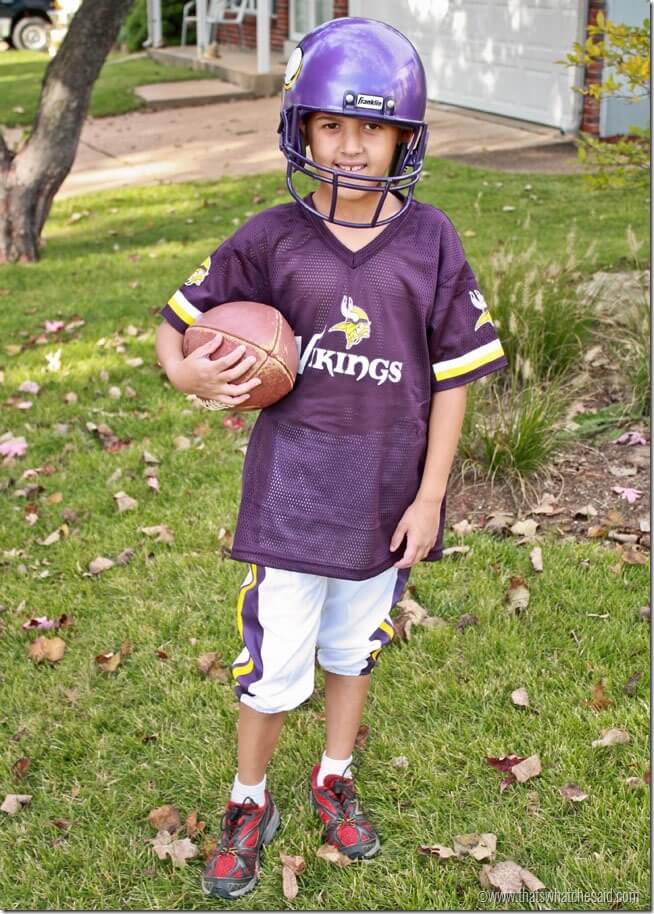 Yep, this costume came with a Helmet, pants, jersey and numbers to make it any players' jersey you wish!  Super fun!
Little bear is going to be just that….a little bear!  Oh friends…this costume is called "snuggle bear" and it couldn't' be more true!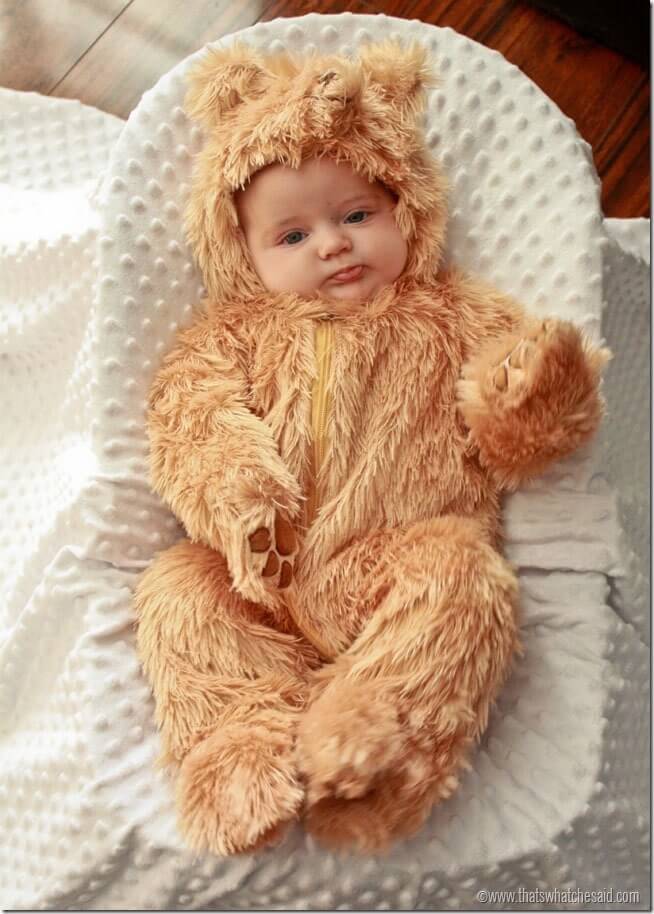 It will keep him warm and snuggly while big brothers are trick or treating!  It's so soft and look at these cute paws!!!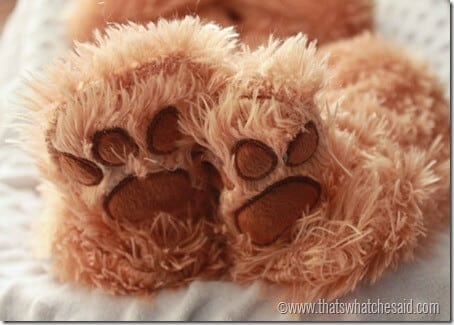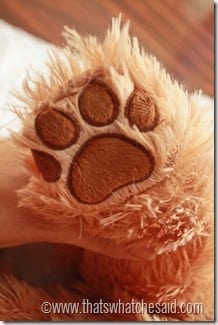 It has the cutest bear face on the hood too.  It's hard to see here but that's because you get distracted by the cute baby face!
So whether you are a super hero, a NFL player or a snuggly, snuggly bear fan, Halloweencostumes.com has something for everyone, including adults!  Kids, babies, tweens, couples, adults…they have costumes for everyone!  Groups, themes and accessories too!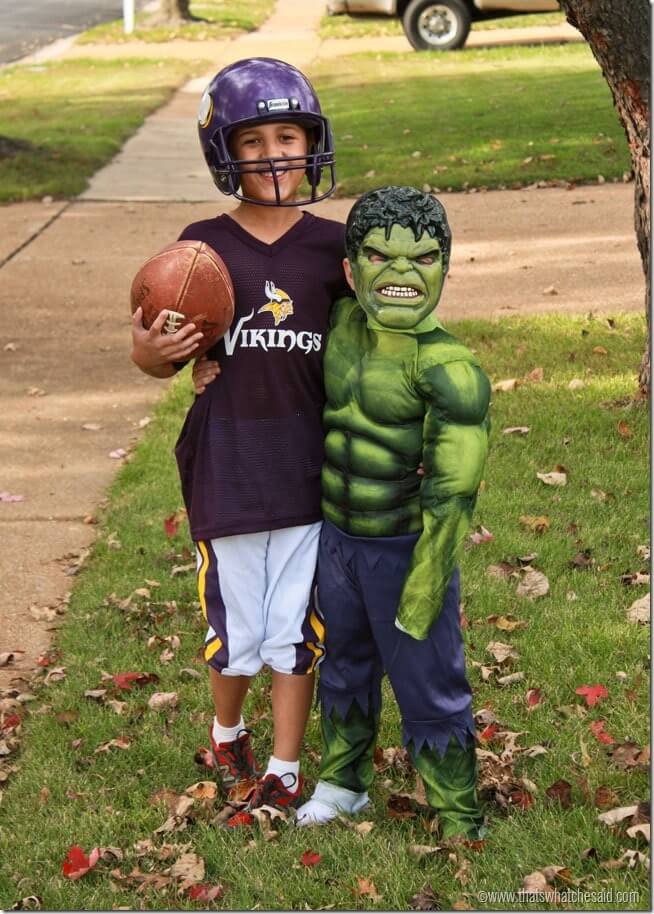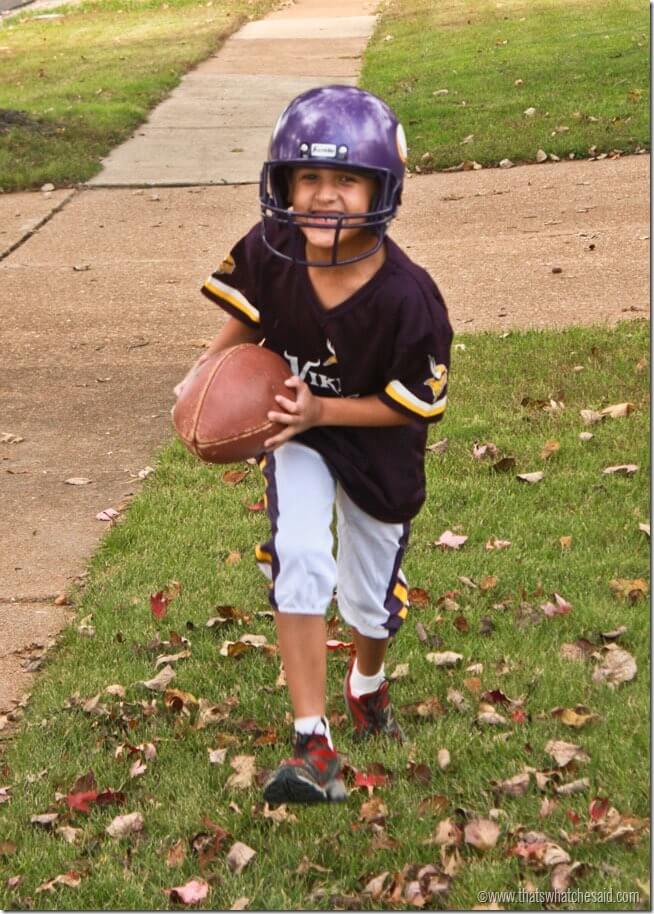 I get to give one of YOU a costume of your choice up to a $50 value!  Simply use the widget below for the giveaway!  No email entries will be counted!  By entering this giveaway you are agreeing to my official giveaway rules.   Priority Shipping included.  US and Canada only.  Void where prohibited.  Mandatory entry is to leave me a comment on your favorite costume.  After that all additional entries are totally optional!  Good Luck!
Disclosure: I received product or compensation for this post, however all opinions are 100% my own.  You can read my full disclosure here.