"This shop is part of a social shopper marketing insight campaign with Pollinate Media Group™ and GoodNites, but all my opinions are my own. #pmedia #BetterNights https://cmp.ly/3/8vNxcO."
I just want to share a little story with you all.
We are driving with the kids the 11+ hours it takes to get to Minnesota to our brother and sister-in-law's house.  We leave late afternoon so that my husband could finish some work things in the morning.  I have the second leg of the trip (or course after the kids pass out and it's quiet enough to actually sleep…I have to drive now!)  We get to their house at about 2 am.  I'm tired and I just want to go to sleep.
We haul the kids in the house as quiet as we can to not awake my in-laws and to keep the kids as sleeping as we can.  I get to share a bed with Ryan and I finally get him settled and lay my head down and pass out almost immediately.  I am dreaming…I am dreaming I am wet.  What?  I wake up…I am in fact wet…with Ryan's PEE!  His diaper leaked…everywhere!
I am so tired that it actually, painfully HURTS to wake up and my first thought is the mattress!  I know my sister in law doesn't  have a mattress cover on it (at least not a waterproof one like we do!) so I bounce up, whip Ryan off the bed and start stripping the sheets immediately trying to minimize the saturation.  Ryan is pissed at me for so many things at this point.  Making him sit in a car for 11+ hours, the fact that he's wet covered in his own pee, the fact I just startled him awake and the fact that I just whipped him off the bed and turned on the light….and now I am attending to the mattress…and not him!
I'm in someone else's house so I am quietly rummaging through the hall closet for sheets…I come up dry.  Only towels.  So towels it is!  I grab some and use one to try to adsorb some of the wetness from the mattress.  In my own luck, he had rolled over on his favorite blanket and it adsorbed most of the pee!  (thankfully!)  I threw down some towels on a sheet-less bed, changed Ryan, diapers and jammies, and then put him back up there (without his favorite blankie!), changed myself and then tried to go back to sleep.
Well that never happened.  I was so worried that he was going to pee through his diaper again that I barely slept a wink that night!  I vowed never again to travel again!
True Story.
Both my boys were/are really wet sleepers.  I swear they hold it in until they finally reach REM sleep and are relaxed enough to let it go!  We can sit on the potty for 45 minutes before bed time, we can cut drinks all together after dinner and we still have two boys who would pee like mad men in the middle of the night.  I think they stored it in their ears!  No matter what we try…they are just heavy night time wetters.  Michael learned eventually and I know Ryan will as well, but until then…it seems there is no light at the end of the tunnel!  Especially when traveling and out of the comfort of your own home.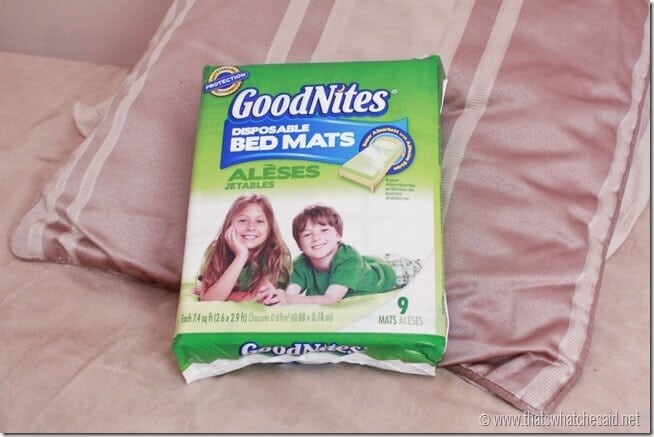 Thanks to GoodNites Disposable Bed Mats…we are traveling again! I will never go anywhere overnight without them.  They give me piece of mind.  I know that I won't have to dig through someone else's closet at 3 am or wake up covered in a child's pee or ruin someone else's mattress!
They are thin enough that I can pack a few on the bottom of our suitcase and barely notice they are there!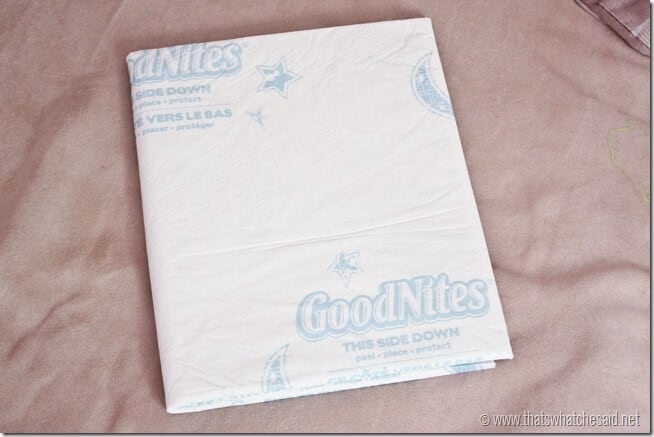 They have these great adhesive sections on the back to keep them in place while squirmy squirms-a lot wiggles all around at night.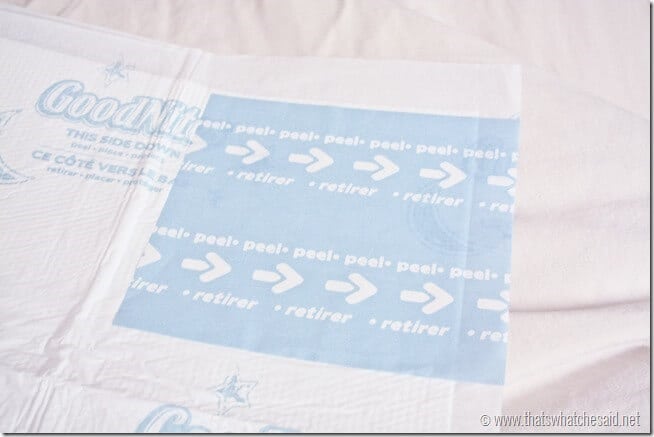 They are quite and don't crinkle and Ryan doesn't even notice they are there!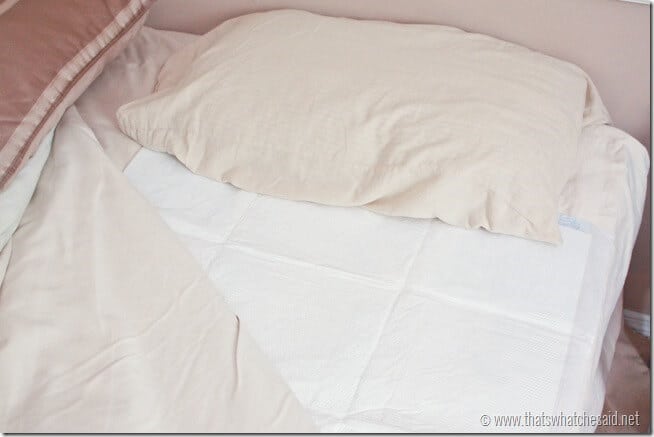 These are great for when you travel to other's homes, sleep overs, camp outs and hotels!  Hotels never have mattress pads and who wants to deal with a pee soaked sleeping bag in the middle of a camping trip!   GoodNites bed mats have saved our travel schedule!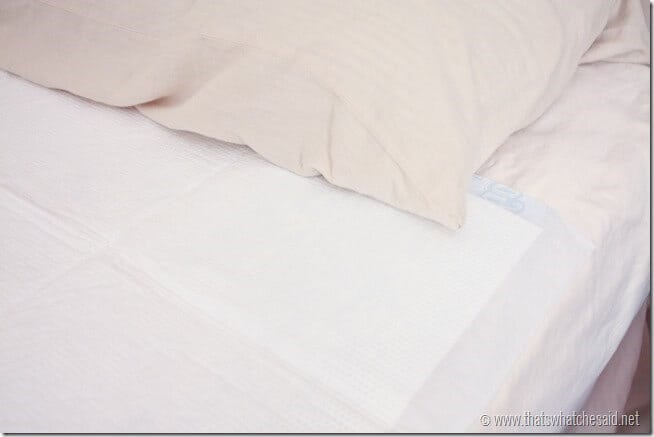 When he does wake up dry his is so proud of himself that I think they are actually helping with the whole potty training thing!  He loves them!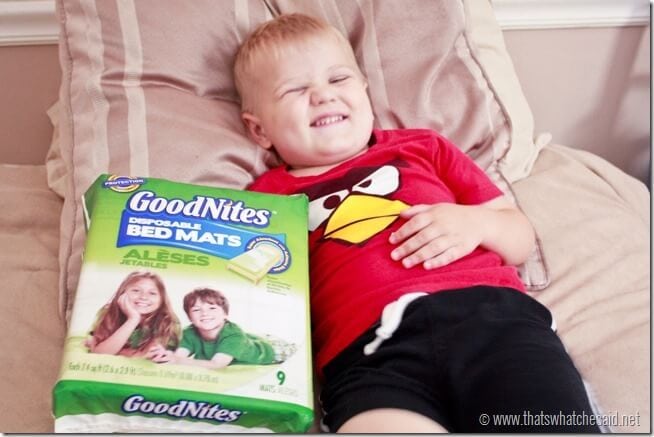 I pick mine up on my weekly shopping trip to Target!  Even better yet, you can print this coupon and get $1.50 off your GoodNites products!!!  I highly recommend picking up a pack if you too have heavy night time wetters or even if you are potty training!  It will give you and your child piece of mind…and in my case will allow you to venture out of your own house for a night or two!