Good Morning!!!  When we lived in Joplin MO you might remember that I would constantly apologize for my photos on my blog.  My house was just not conducive to good natural light…at all.  It drove me nuts.  Well I am sad to say that my new house in St. Louis…isn't much better.  My house faces west and it's long front to back versus left to right.  So I get the sun in the back of my house (1 window in my son's room) in the morning and the bright evening sun in my front windows in the evening.  Not much good indirect white sunlight. 
So when I heard of Lightscoop I was SUPER, DUPER, UBER excited to try one out.  I am so tired of spending hours editing photos and/or setting up mini portrait studios for a shot or two!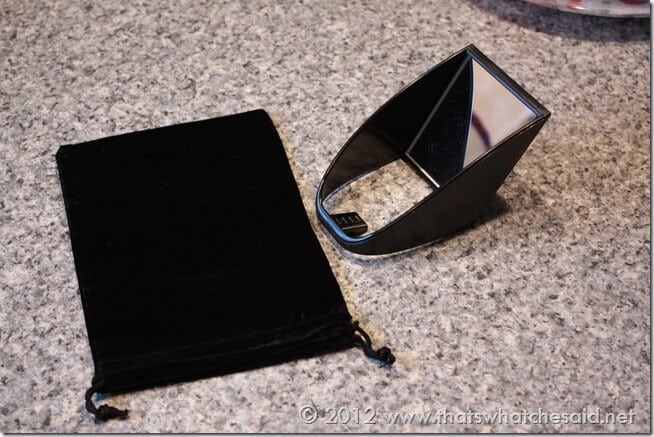 What is LightScoop you ask?  It is not an external, heavy flash to haul around…it's a simple reflective mirror that redirects your built-in flash's light to bounce evenly around your object…not just shine a direct laser beam flash right at them!
(photo courtesy of LightScoop)
Here…just let me show you!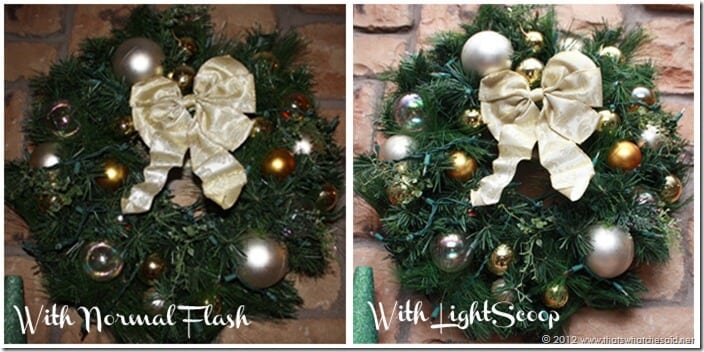 I did not edit the actual photos one single bit…I did put them next to one another and added the text.  What a difference yes?   Here is my Murphy.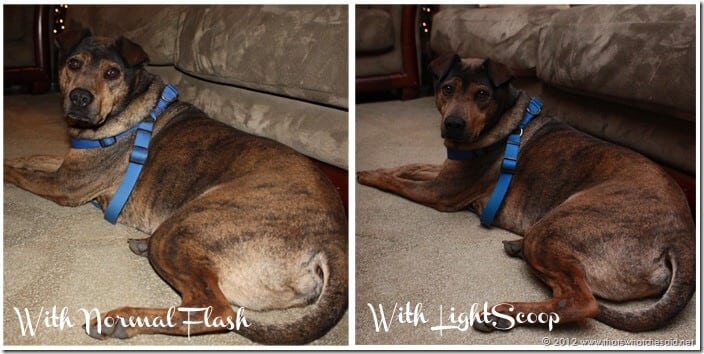 Oh and another wreath picture…not sure what it was with me and taking pictures of wreaths! Can I also point out I took all of these at 9pm at night!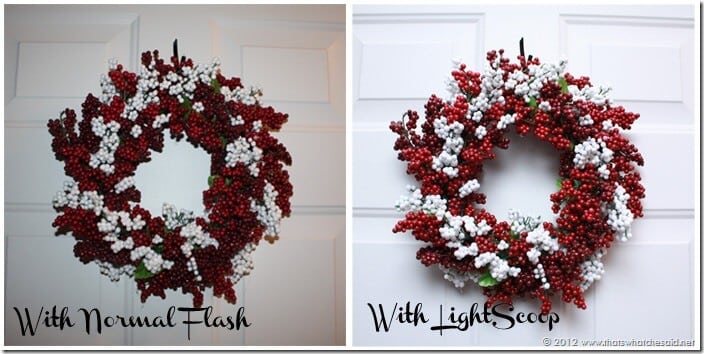 I am in love with this product! I have the original Lightscoop.  They also have a warming version that adds a bit of warmth to your subject…great for portraits!  They also carry a deluxe model and a junior! Something for everyone!  To make the holidays more cheery they are also offering some fabulous discounts right now!
HOLIDAY15 – 15% off $50
HOLIDAY20 – 20% off $100
HOLIDAY25 – 25% off $150
You can find Lightscoop at these great social outlets:
Website | Facebook | Twitter | Flickr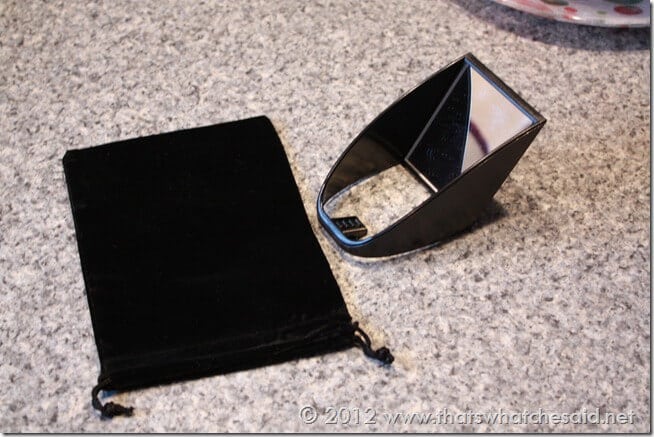 Don't forget you can also get in the holiday spirit by checking out my 25 Days of Christmas Series going on right now!   Also feel free to sign up for email notifications of my posts!
You can also find me on Facebook and Twitter!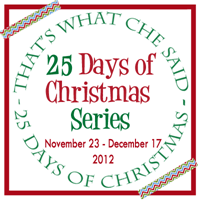 Disclosure:  I was given product for free to review.  All opinions and text are 100% my own.  I only endorse things that I love and that I think YOU would love too!!!  You can read my full disclosure HERE.