Today is Ryan's First Day of Preschool!
It's hard to believe this little guy is already old enough to go to preschool!  All his life, he has watched his brother go to school, get on and off the bus at the bus stop, bring "homework" home and talk about his friends at school.  He wants to go so badly.  However he has only been away from me for the short 3 months I went back to work after maternity leave and before we moved to Missouri.  That was a short 3 months that he doesn't remember!  I'm not sure how he will handle the separation.  Especially since Fred travels for weeks, months at a time.  I am pretty much it.  I am with him 24/7 and now I will be without him for 2.5 hours!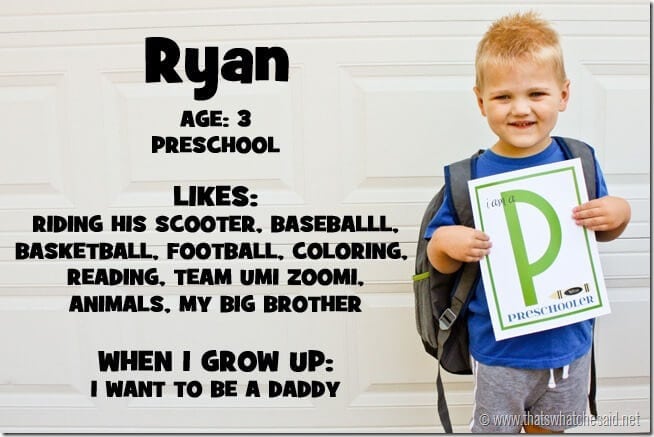 I asked him what he is looking forward to most and he said "homework".  I hate to break it to him but 3 year old preschool does not entail much homework.  I think just the fact that he gets to carry a backpack has made his little year!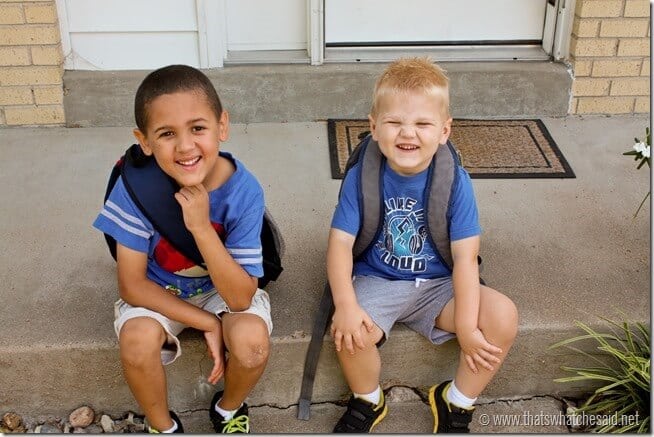 He is so happy to be like his big brother!  Let's all cross our fingers that this goes well.
Me…on the other hand…I am looking forward to 2.5 glorious hours to myself.  Like I said, Fred travels for work.  He travels a lot.  Weeks at a time, including weekends.  Months sometimes.  I need a little break from these love muffins!  I want to pee in solitude.  I want to think all by myself.  I want to start a thought and be able to finish it at that exact moment.  I am looking forward to going into stores that have breakables…why…BECAUSE I AM ALONE AND I CAN!
So here's to preschool!  :)