Michael's first day of first grade
How is this even possbile?  Wasn't I JUST sending him off to preschool?  I honestly feel like just last week he hopped OFF the bus on the last day and now we are right back at the bus stop and he's getting back on…but older and more grown up and OH. MY. GAWD.  he's moving further and further away from being my baby!
I can't believe how much older he looks from this picture below and his photo last year for his first day of Kindergarten.  It's amazing!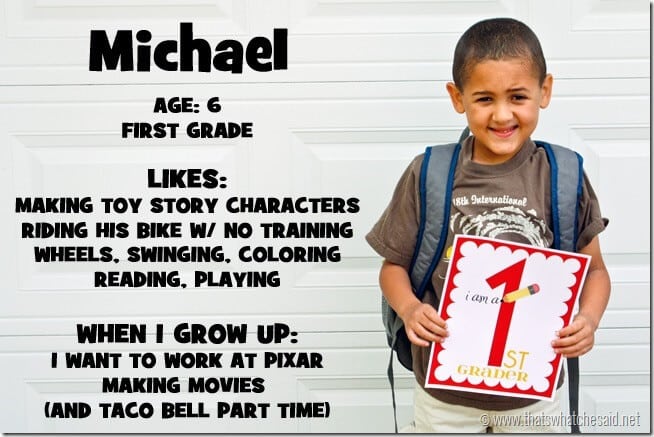 He was far less amused with his first day this year.   I had to wake him up AND take pictures.  He could have done without BOTH.
Some perks of First Grade:
He no longer has to sit in the first couple rows of the bus – those are reserved for Kindergarteners
He can now walk home from the bus stop.  Kindergarteners were not allowed to be released unless an adult was at the bus stop.
He's not at the bottom of the barrel
He's in "an actual GRADE now"  <—his words!
He gets first lunch, which apparently is a big deal?
His little brother was pissed he couldn't get on the bus with Michael but very happy to have me all to himself today!  We have had a glorious morning of snuggling while drinking our milk/coffee respectively!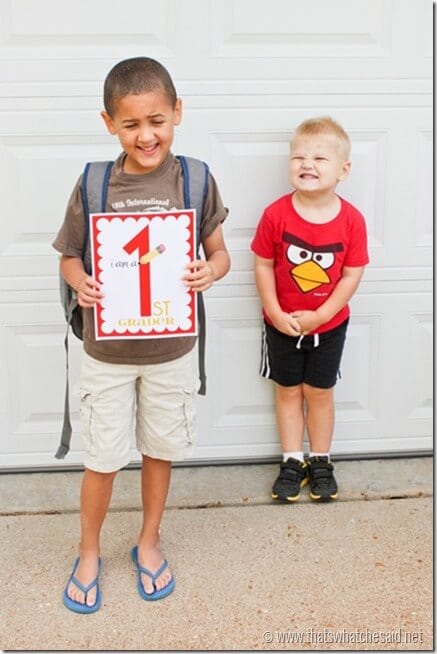 He's such a sweet boy with such a large heart.  He truly cares about everyone and wants to be everyone's friend.  His smile is infectious and he smiles with his entire face!  He loves to learn and create and his imagination and creativity make me envy his little brain!  I hope he has a wonderful year even if that does mean he has to get a bit older!