I love smoothies.  I love them.  I even have a Smoothie Pinterest Board dedicated solely to smoothies!  However it seems I don't make them as much as I'd like to because I just don't have the time in the morning to get everyone ready and be able to blend myself some deliciousness!  Especially now that I am a giant preggo.  It is just really hard for me to get moving in the mornings!  I am thrilled to have been able to try out these DOLE Nutrition Plus Fruit & Veggies POWER Smoothie Shaker  and also thank DOLE for sponsoring this post!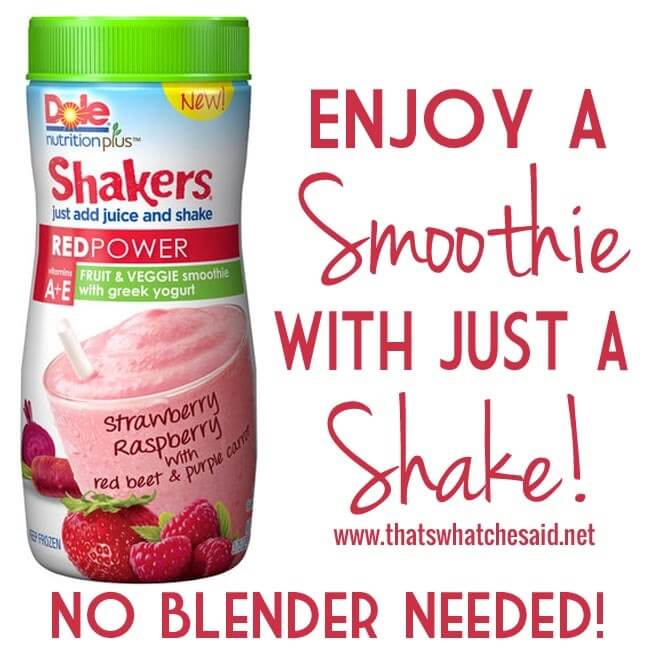 Even though we find ourselves on Summer Break…I am not convinced it is a break after all.  I mean we have Swimming Lessons, Gymnastic Classes, Play Dates, Kids' Day Outs, Summer Camps and Vacation Bible Schools on our calendar…oh and I have "operation get this kid out" as #1 on my list.  So we are not quite abiding by the name of break these days but that shouldn't mean we don't get our proper nutrition, which unfortunately…happens!  Especially for us moms!  We take care of our family first and then ourselves last!  Well since I have a bun in the oven I also need to take care of me and these DOLE Nutrition Plus Fruit & Veggies POWER Smoothie Shakers are my new best friends! They are so easy!  I picked some up at Wal-Mart in the Freezer section right next to the bags of frozen fruit.  I popped them in my own freezer at home and then in the morning, when things are crazy, I simply pop the top, add juice and shake!  Seriously…that easy!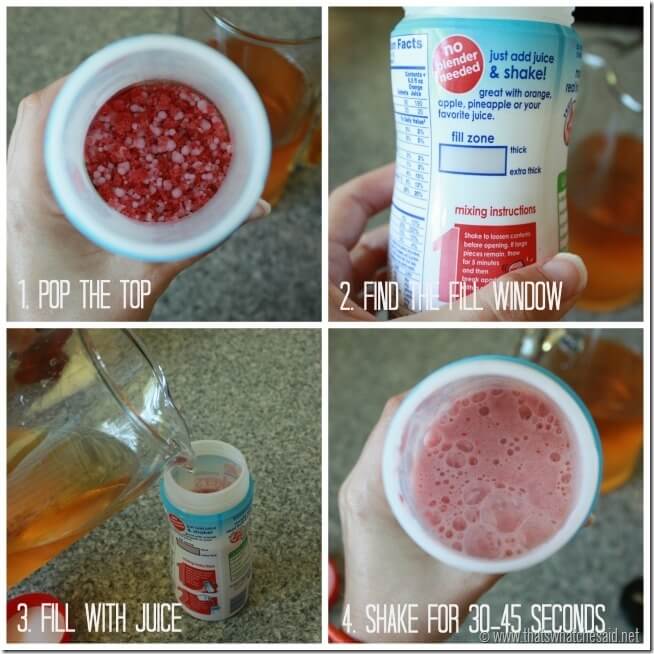 Not to mention that my 7 year old can do this!  HIMSELF!  So that's also one less thing I have to do in the mornings!  I can sit here and type out to you how delicious these are and you can read it but you will have to try them out yourself to fully believe me!  What I can tell you is how convenient these are.  Seriously a delicious, cold smoothie in a matter of minutes!  Let's also talk important things for moms:
I don't have to dirty another glass or travel mug.  I can drink them right out of the container because they are housed PBO & GMO free packaging.
With the screw on lid, I can make it and toss it in our pool bag and then enjoy in the car on the way to swim lessons because "Hey they fit in my cup holders perfectly!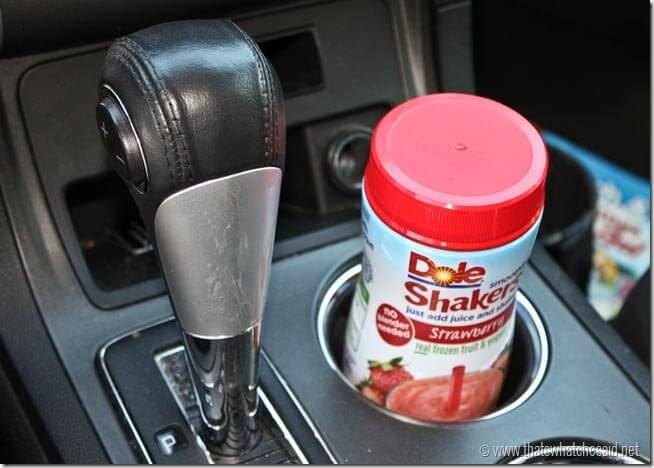 The added veggies to the smoothies make it easy for me to sneak them into my kids diet (and who I am I kidding…my diet too!)
I don't have to get out 5 different ingredients, I don't have to cut anything and I don't have to wash a blender!  I just open, pour and shake!
It also fits perfectly in my stroller cup holder!  What could be more perfect than a simply fast smoothie on a morning or afternoon walk?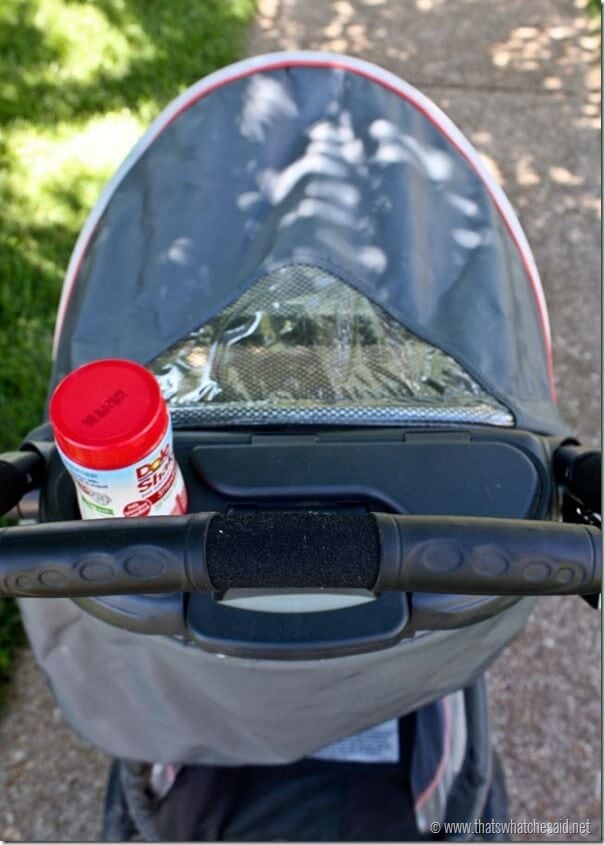 The DOLE Nutrition Plus Fruit & Veggies POWER Smoothie Shakers come in three delicious flavors!

Blueberry Banana with Red Beet (Blue POWER) Shakers

Boosts:

100% DV of vitamins B6 & B12
100% DV of folic acid
5 grams of protein
Pineapple Mango with Sweet Potato and Carrot (Yellow POWER) Shakers

Boosts:

100% DV of vitamin C
A good source of vitamins A & E
5 grams of protein

Strawberry Raspberry with Red Beat and Purple Carrot (Red POWER) Shakers

Boosts:

100% DV of vitamin A
100% DV of vitamin E
5 grams of protein
So next time you are at your grocery store, I highly recommend popping in a few of these guys into your cart!  You will be happy you did!  (your family will too!)
You can follow Dole and all the goodness they are bringing on social media as well!