I mentioned before how much we loved our Water Table!  Water is a great sensory tool for kids, especially in the summer!  When it got cooler out, I brought our water table inside (empty of course) and then filled it with CRUNCHY hard, dry pasta noodles and let the boys have at it.  They scooped and poured and crunched and loved it!
To mix things up this time we used colored pom-pom cotton balls! A SOFT sensory object.  I bought about 8 bags at the dollar store of these colored fuzzy guys. I dumped them in a small bin and gave them to the kids.  Here's what they came up with!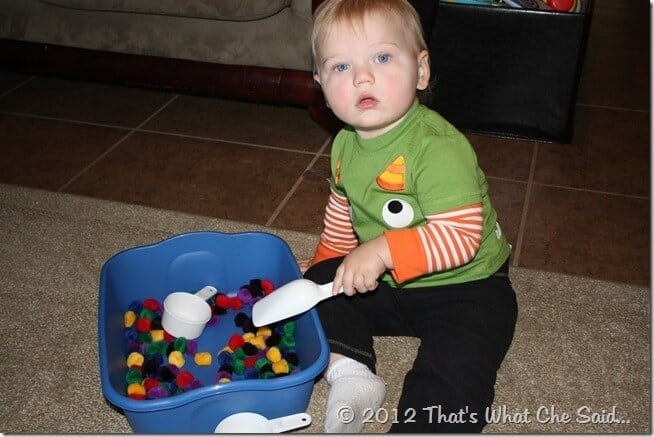 Ryan got to start first while Michael was at school.  He had a great time scooping the fuzzy balls.
Ryan enjoyed "showing" me his fuzzy pom-poms still quite confused as to if he was acceptable for him to be playing with them!  He was so proud when he got a positive reaction from me!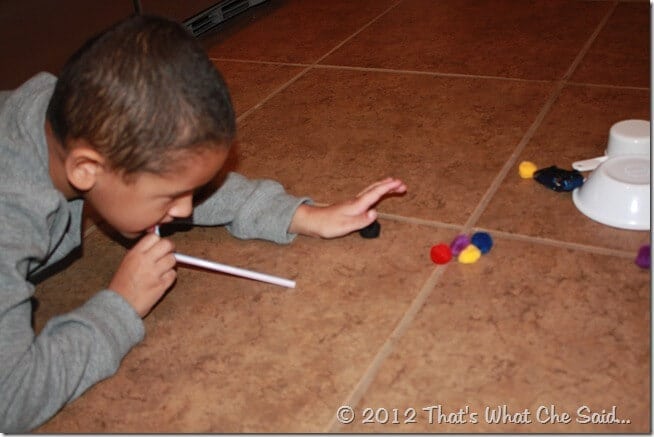 When Michael got home he wanted some straws and I gave one to each of the boys and they blew the pom-poms across the kitchen floor for about 45 minutes.  It was awesome!  Eventually goals were established and they were "Scoring" left and right!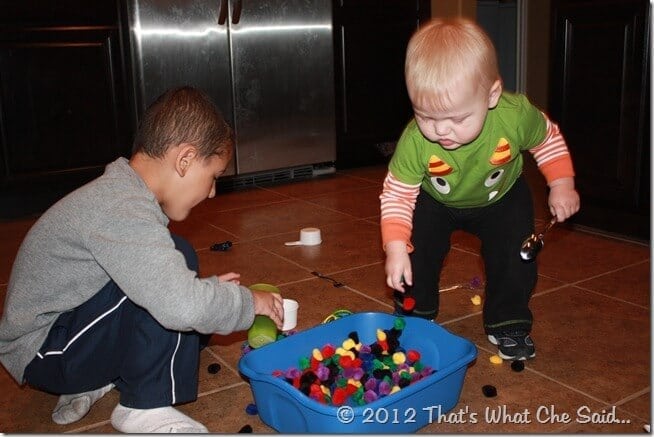 more scooping…and Ryan decided to "spoon" them!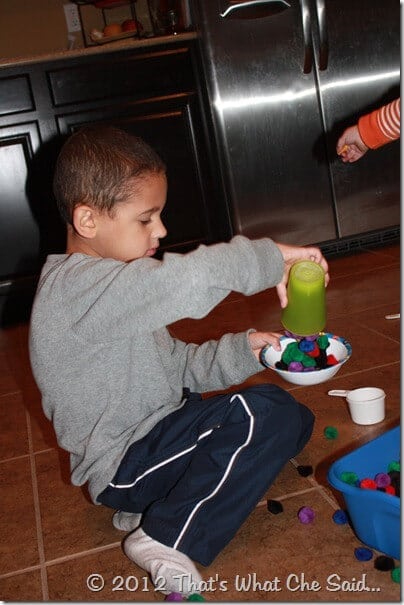 Then bowls and cups came into play and they were making me food in a restaurant.  I believe he was making me a cake at this point…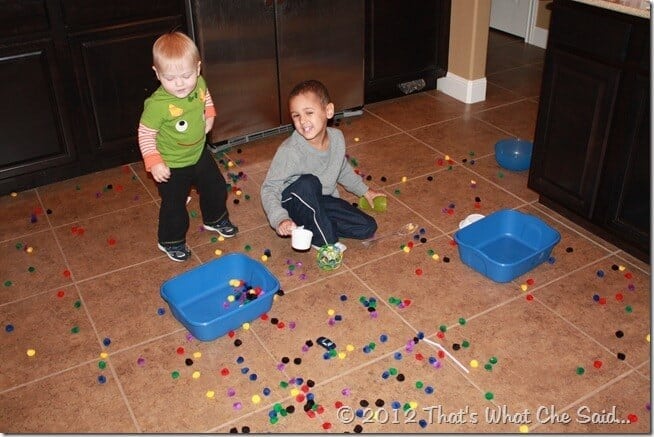 Then they were all over the floor.  I am quite surprised it had taken this long to happen!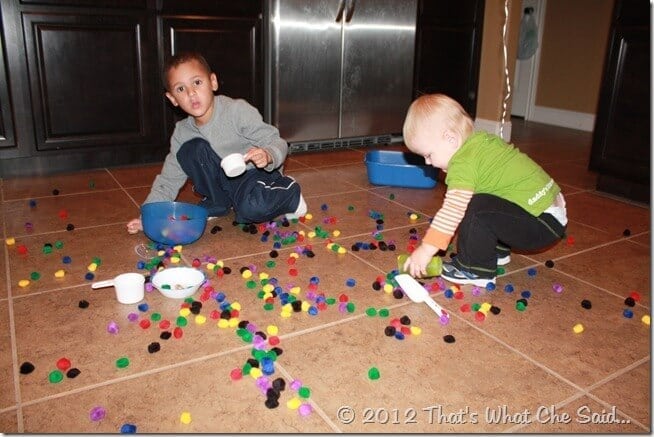 They played so contently…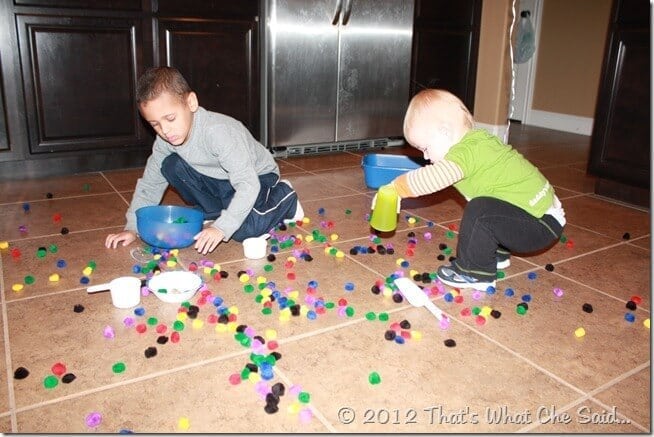 And nicely TOGETHER….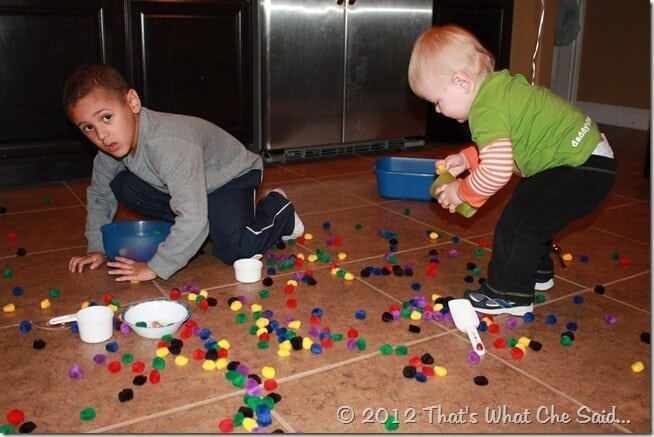 A few more bins and bowls out at this point….a lot of picking them up and dumping them back out.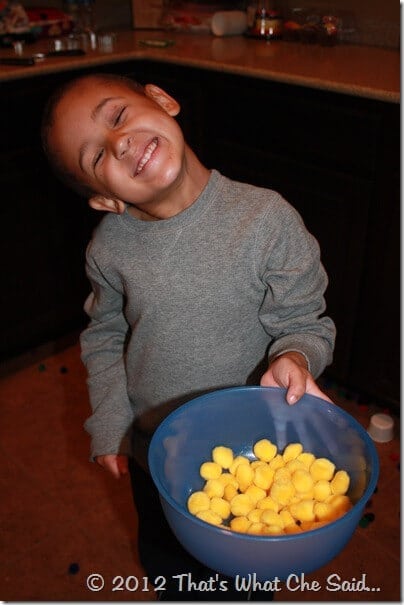 Have no fear….after Ryan went down for a nap…Michael thought it was FUN to go around and pick them up by color!  I'd call out a color and he'd spend 5 minutes gathering that color until we had them all picked up!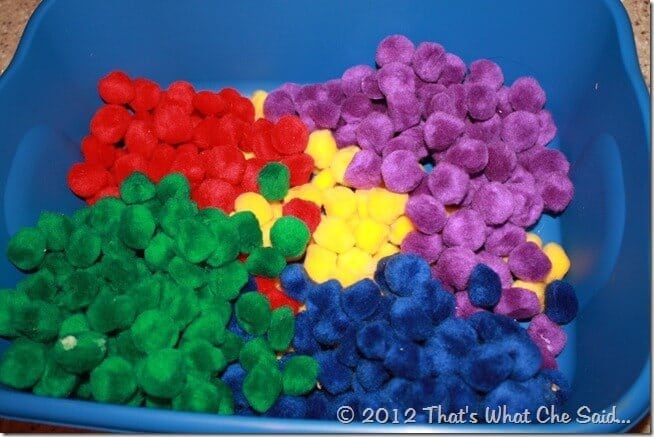 So even clean up was Fun!
Then we moved back to the carpet and got our trucks involved.  So much fun scooping, hauling and dumping!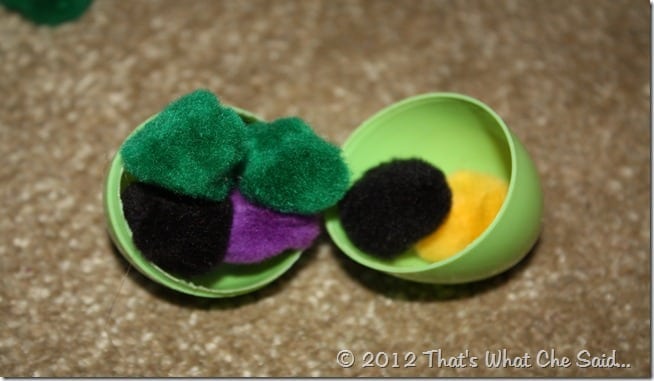 A left out plastic Easter egg also proved for loads of fun hiding surprises inside.    Then we cleaned up again, this time Ryan helping out!
I simply provided the pom-poms and the boys did the rest.  All the scoops, bowls and trucks came from their request or their imagination.  I love watching them play like that!  The creativity in small ones is astounding!
I urge you…head to Dollar Tree, spend $10 and watch what your kids do!