*****GIVEAWAY IS NOW CLOSED*****
Are you in a creative funk with your kids?  Struggling to find fun things to do INSIDE in this crazy summer heat that most of the country is experiencing?  Or just struggling to find NEW creative things to do with them that will hold their attention for more than a minute?  Well today is your lucky day friends!
I was contacted to see if Id' be interested in reviewing a BabbaBox from BabbaCo by Jessica Kim.  I had not heard of the company before but after taking a quick peek at the website, was SO UPSET that I had never heard of them before!  What a genius idea!
Here are the details.  The BabbaBox is geared towards children ages 3-6 years old and contains everything you need to create, explore and learn from the monthly theme.  You can sign up for 1 single BabbaBox, a 3 month subscription or a FULL year (great idea for Christmas Presents if the grandparents are looking for ideas!)  Then a themed BabbaBox is shipped to your doorstep to enjoy!  That's right…to your doorstep!  No more getting a great idea and then having to drag your kids all across town gathering up the supplies to do it, only to return home, realized you forgot something or be too tired to complete it!
Here was our box!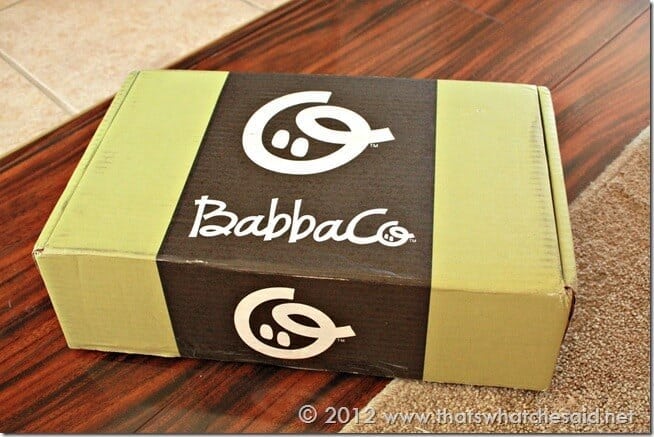 The kids could just tell from the box that it was indeed for them to play with!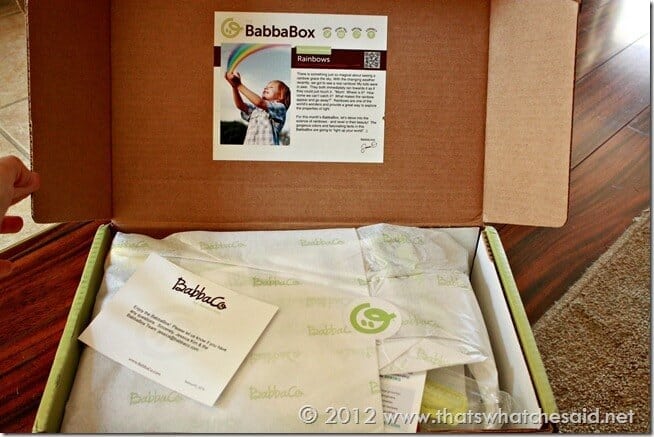 Inside the lid you will find your theme!  Ours was Rainbows!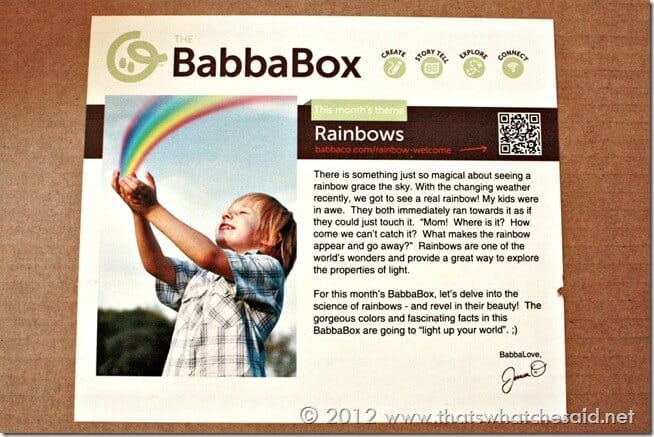 Here were the contents!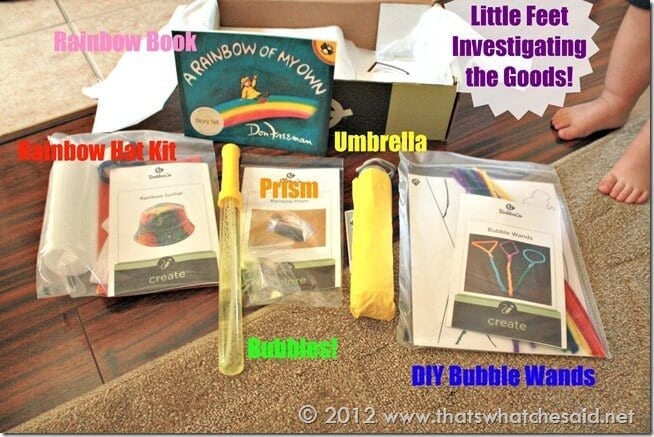 1.  A Rainbow Hat Kit  2.  A Prism 3.  Bubbles and DIY Bubble Wands 4.  An umbrella  5.  A Book themed around Rainbows.  6  All the instructions and information to talk about Rainbows like you have studied them for years :)  7.  Extra ideas online and links to further your discussions and to further your creativity!
Small note:  The recommended age for the boxes are 3-6 years.  Michael is 5 and Ryan is 2.  Ryan had a great time with the box also!  I could see them both learning at their appropriate levels.  I would even consider these for two year olds as well :)
The Rainbow Hat Kit had everything we needed to make this awesome hat!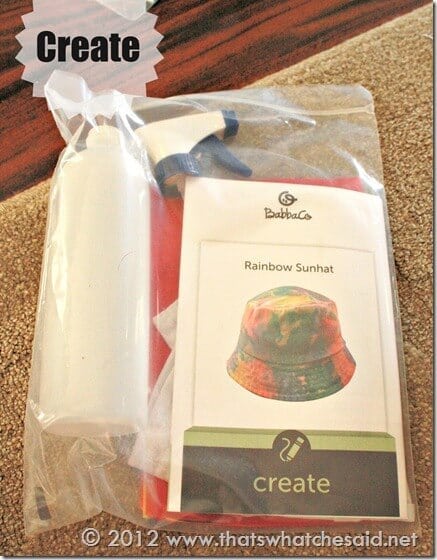 The yellow umbrella was for when you get caught in the rain –the most popular time you see Rainbows! We had a blast with the Prism!  We made rainbows for hours and hours.  There was an info sheet there that explained rainbows and gave suggestions for ways to use the prims!  Seriously…fun for hours, then days and still!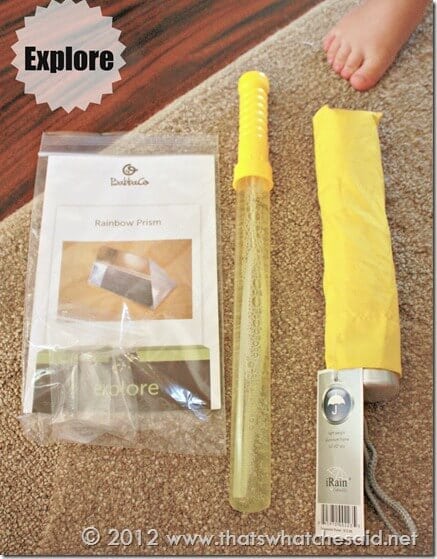 The bubbles were awesome and we made our own bubble wands while talking about the different colors and shapes.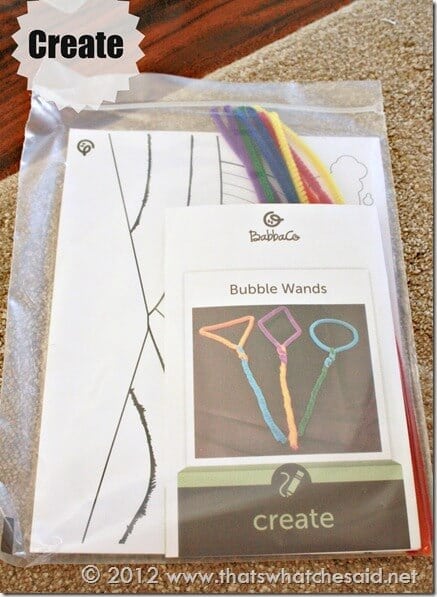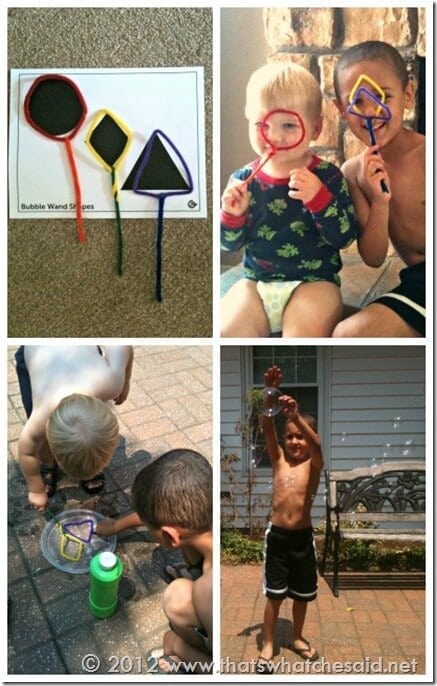 The Book is great and we read it daily.  The box added a bit of creativity back in our daily routine.  All the supplies are there to make the hat and create bubbles.  Since the box was delivered we have talked about rainbow colors in signs as we drive somewhere.  "What colors of the rainbow are there?  Which are missing"  We spotted a rainbow after the ONLY rain we had in ages!  We spot rainbow colors when we are out shopping and "hunt" for ones that are missing.  The box opened many questions, discussions and learning for my kids and I can't stress this point enough…it was DELIVERED DIRECTLY TO MY DOORSTEP!
As a mom who's husband travels ALL. THE . TIME.  not having to haul my kids in and out of stores is just AWESOME!  They loved it!
Now for the FUN Part!  The GIVEAWAY!!!!!  Simply comment below to enter to win your OWN BABBABOX!  Leave me a comment on the blog post and then click "I did it" on the Rafflecopter Widget below!  More entries will appear after that!
Don't want to wait??  You can get 20% off of your FIRST box using the code CHE20OFF!  WOO to the HOO for discounts!  You won't be disappointed!
Like I said before, this would be a great Christmas Present for your littles!  Fun activities that are engaging and educational and include all the supplies for the fun in one box, delivered to your door each month!
Be sure to sign up for the newsletter!  By doing so, right now you can be entered to win an annual membership for FREE!  Link is in the Rafflecopter widget below!
Congratulations Donna! Please repsond to the email I sent you within 48 hours to claim your prize!
UPDATE:  BabbaCo is offering a GREAT discount for Back to School!  They are offering the first 3 months of the membership for 33% off (Only $20 per box!).  The coupon code at checkout for this is CHE33BTS and don't forget about CHE20OFF for 20% off your first box! 
By entering this giveaway you are agreeing to my official giveaway rules