It's official…I have declared that the state of Arizona tried to kill me.  Arizona hates me.  After you read this and I tell you how much I LOVE MY IN-LAWS…some of you with in-laws from hell may hate me also.
Trip down went alright.  Flight was delayed an hour before we left but I just took the boys down to an almost empty concourse and they had a whole side emptied out of all the seats as they were upgrading the gate areas and I let them run around and play.  And sprawl all out on the floor (new carpet) and color!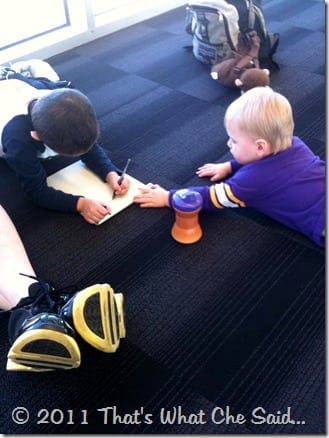 Boys did OK on the flight, not great, but not bad.  Ryan slept a whole 40 minutes maybe of the 2 hour 40 minute flight.  So there was a lot of improv going on for 2 hours.  We found every "Ruff" (dog) in the Sky Mall magazine about 3,478 times.  He thought they were new pictures every time!  Michael put his tray table in the upright position about 2,589 times and then down again.  With about 30 minutes left in the flight Ryan and I switched seats with Michael, who was sitting in the window seat and then Ryan proceeded to open and close the window "shade" thing about 4,912 times.  Luckily we landed with everyone alive and accounted for.
We corralled all our luggage and then found our rental car and made it to the hotel with minimal wrong turns.
Friday and Saturday went off without a hitch.  I love my in-laws.  I know many of you will hate me for this, but I love them!  They are awesome.  All of them.
Came back to the hotel Saturday night and went to bed.  Boys slept really good in the hotel.  Ryan with me, Michael with Freddy.  Then Arizona started hating me.  About midnight.  My stomach didn't feel right.  I will not talk about throw up and poop except to say there was a lot of throwing up and poop!  I was up every 15 minutes to half an hour.  Then about 4:45…Michael was up with it.  From the WTF HOW THE HELL IS MY STOMACH KNOTTING ITSELF UP LIKE IT IS pain…I know it was food related.
The boys woke up, Michael seemed fine.  The three left me to wallow in my misery in the hotel and headed to my sister in love's house for breakfast.  They returned shortly after Michael got sick again and Freddy thought he was going to.
It sucks to be SICK.  It sucks even more to be sick in a HOTEL ROOM.  It sucks even more to have a SICK KID.  It sucks even more that the sun is shining and you came to town to see your AWESOME family and you can't!  (Thank you Arizona for hating me and then rubbing it in with your beautiful days of sunshine and warmer weather!)  It sucks even more when your spouse is wishing death just as much as you and your kids are now feeling great and suck in a hotel room with 2 sick parents.  I am pretty confident, I tossed a saltine at Ryan at one point because he was asking me to eat and that was all the strength I could muster to give him something.  Freddy & I prayed for death.
What doesn't suck is that Ryan never got sick (Thank you sweet Jesus!)  And what doesn't suck is that they BOTH took close to 4 hour naps Sunday afternoon, letting Freddy and I try to recover!  Michael NEVER takes naps anymore!!
So Sunday evening my AWESOME sister and brother in love brought dinner for the kids and sprite and medicine and snacks etc.…to our hotel room.  They certainly would have taken the kids off of our hands for us as well but Ryan was a little clingy being that we don't get to see them all that often, so he wasn't quite familiar.   By the evening though, I was able to sit upright without being curled in a ball in agony so I could at least fix them plates of dinner and didn't have to chuck crackers at them anymore.
WORST. DAY. EVER.  Not too sure exactly what it was…but I never want a repeat!
Again…thank you, thank you, thank you to the angels above that Ryan did not get sick and that Michael had a very, very mild case!  I thank you for that!
I'd love to have that day of visiting and spending time with my family back, but I am just happy to be alive!
Flight home went great…Ryan slept the whole entire time and Michael sat still with the help of my IPhone and Angry Birds.   Probably helped that our entire wait for our plane to board consisted of the moving walkways and then "running" back to do it again…tired them out!
Next time…we'll fly our family HERE to see us!  Arizona in all it's sunny glory, hates me.