Thanks to The Bouqs for sponsoring today's post.  All opinions are 100% my own.
I adore fresh flowers!  Don't you?  And although I LOVE holiday flowers (poinsettias for example) there is something about calla lilies that just draw me.  When I was given the opportunity to order my choice of bouquet from The Bouqs' Volcanic Collection I instantly knew which ones I was choosing :)  I want to show you, though that you can still style what would be considered spring flowers for the winter months!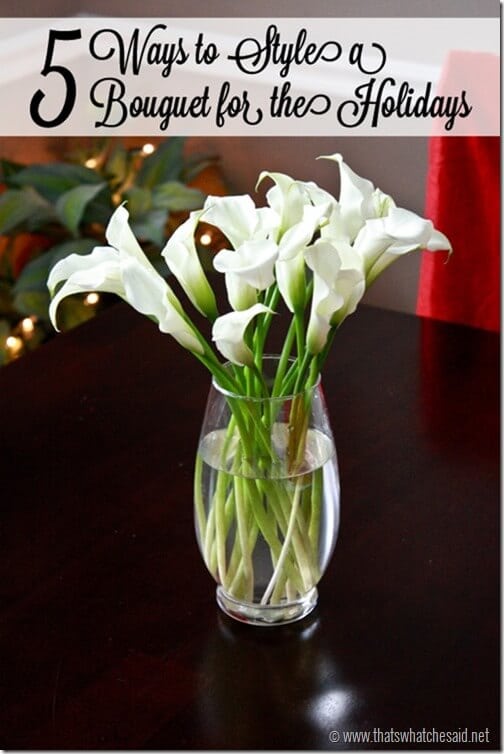 1.  Set your vase in a bin or tray filled with pine cones and ornaments!
2.  Use some plastic Candy Canes (from Dollar Tree) to hang around your vase.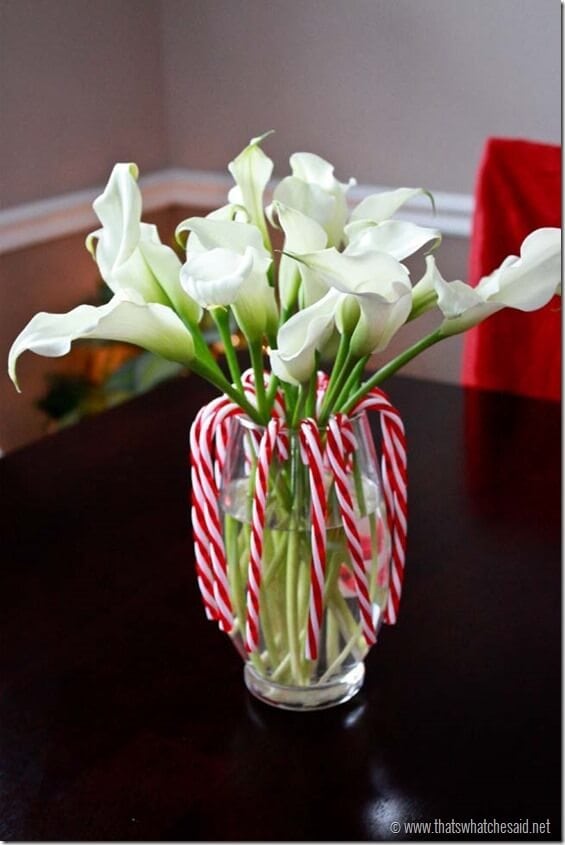 How cute are they?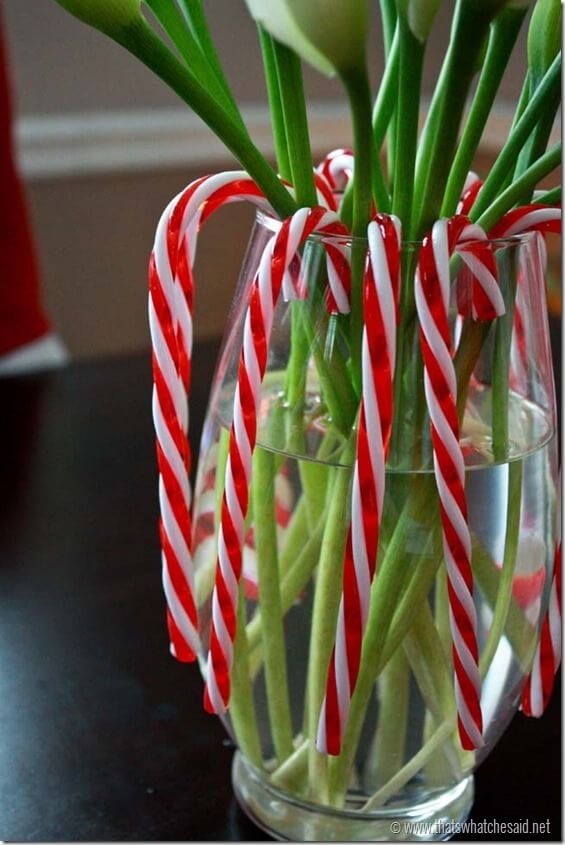 3.  Float some Berries in the water.  I wanted to use fresh Cranberries, but we had a bit of snow storm and I didn't make it to the store!  No fear…these fake berries from an wreath embellishment stalk works great too!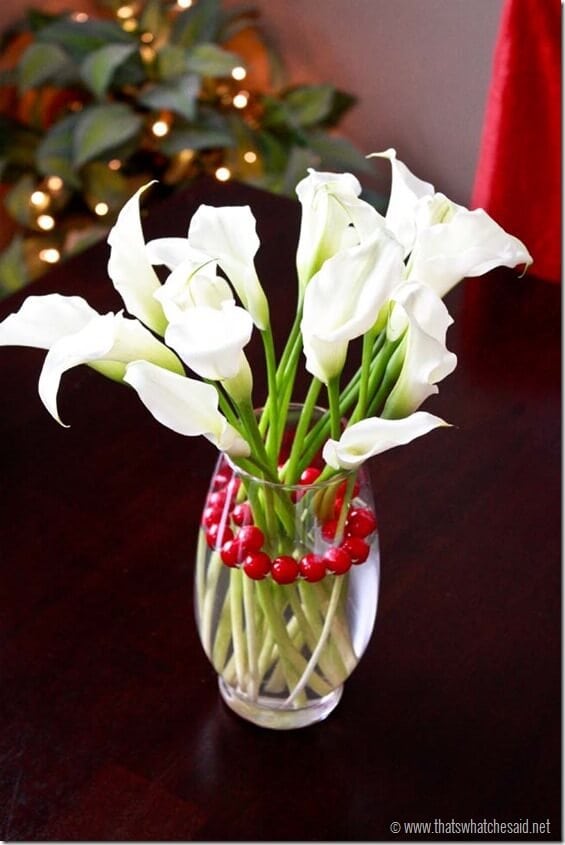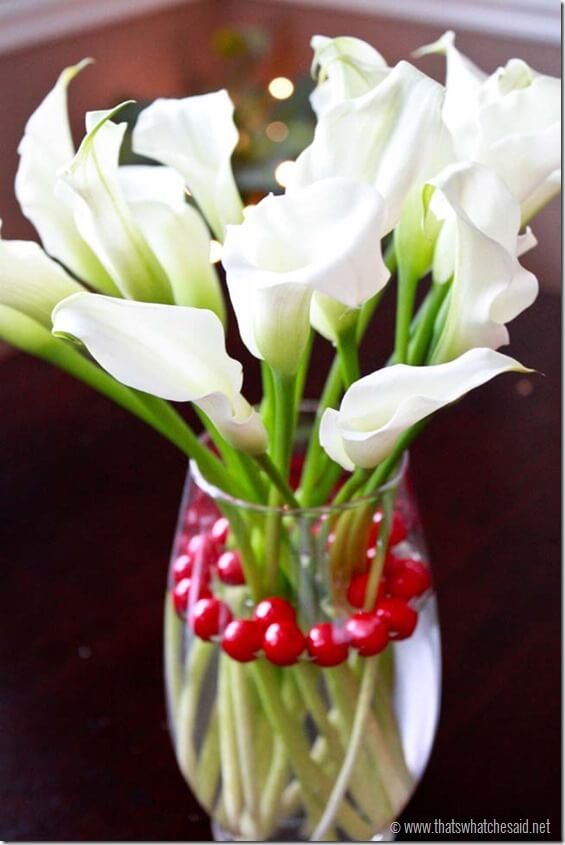 Just chillin in the pool :)
4.  I used some extra fake berry sprigs that I had left over from last years DIY Berry Wreath.  I simply cut them from the stalk and placed them in the vase.
I love the way the red and white contrast each other.
5.  Last and not least…au natural.  Just like they come.  Simple. Beautiful. Perfect.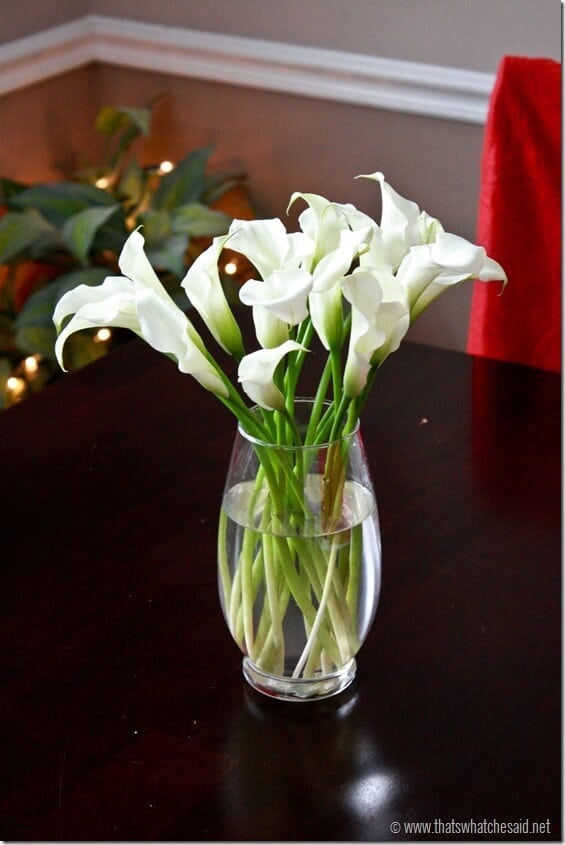 Ordering my Bouq was incredibly easy.  Shipping is included in the cost and they are delivered in about 6 days.  Did you know that these fresh flowers don't arrive from a warehouse somewhere…they ship straight from an active volcano or from the sunny surf of California, seriously, how cool is that!?  The Bouqs cut only what they sell and they source only from eco-friendly, sustainable farms that respect the environment and their workers!
Want your own Bouq?
The Bouqs offer different Bouq sizes and pricing – but keep pricing simple for the consumer – flat rate Bouq pricing:
For the Volcano Collection (From South America)
•    Original Bouq – $40
•    Deluxe Bouq – $50 (double the blooms of the Original Bouq)
•    Grand Bouq – $70 (triple the blooms of the Original Bouq)
•    Shipping included.
•    Orders take up to 6 days for delivery; deliveries take place Monday – Friday.
For the California Collection:
•    Original Bouq – $50
•    Deluxe Bouq – $60 (double the blooms of the Original Bouq)
•    Shipping included straight from the California coast.
•    Orders can be placed for next day delivery prior to 11:45am PST Monday – Friday.
To ensure you or your recipient receive Bouqs on time for the holidays, please place your order prior to the dates below:
Christmas (December 25th):
Order Volcano Bouq by:  December 19, 2013
Order California Bouq by:  December 22, 2013
New Years (December 31st/January 1st):
Order Volcano Bouq by:   December 25, 2013
Order California Bouq by:  December 28, 2013
Love what you see about The Bouqs and want to brighten your or a loved ones holiday table?
Create an account to receive a 20% off promo code, then order your favorite Bouq for your holiday table or to give to a loved one.  Bouqs are the PERFECT holiday gift for loved ones or for your host/hostess for the holidays!  Send some sunshine this holiday season!
So tell me…which of the 5 options above is your favorite?
Thanks to The Bouqs for a beautiful delivery!
Celebrating my 25 Days of Christmas Series today with me is Denyse from Glitter, Glue & Paint!  She is sharing her tutorial for this gorgeous Christmas Subway Runner!