This post brought to you by Rockin Refuel®. All opinions are 100% mine.
I do actually go to the gym and work out!  You might night know that because I don't post about it all the time!   I am horrible at selfies so you wont' see any of me sweaty and flushed but I actually go and enjoy it!  These 5 points below, however are the reasons I enjoy it!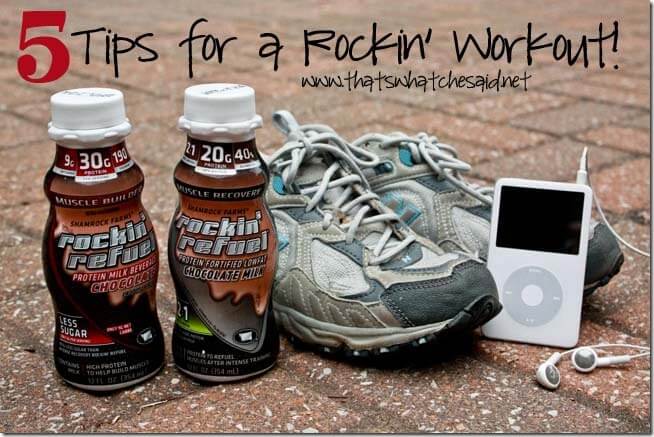 1.  Get a rockin' playlist on your iPod!  Songs that have a bit of bite to them get me in the mood to tackle the elliptical as well as awesome pop songs that I can pretend I am dancing along to!
2.  Get some good shoes!  Enough said.
3.  Stretch before you start!  Do you hop out of bed and get to work on the cure for cancer?  No!  We have coffee, we brush our teeth, shower, give our brain time to wake up!  Same goes for your muscles…stretch them out and get them ready for your workout ahead.  The few minutes you spend doing this will save you some hurt later!
4.  Mix it up.  There is no faster way to dreading your work outs than monotony.  My husband has assigned "workout days" and I kind of stole the idea.  So Mondays it's an hour on the elliptical for cardio, Tuesday its lifting weights, Wednesday is Back Day, Thursday is shoulder day and Friday is leg day.  It' keeps things interesting and also gives my muscles that I worked out the day before a break.
5. Finish my workout by recharging my body withRockin' Refuel Protein Milk Beverage.  It's like the light at the end of the tunnel!  My treat to myself for a job well done and a treat to my body it is!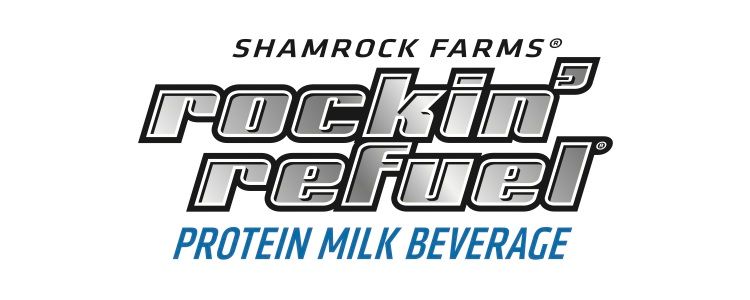 Shamrock Farms® created the Rockin' Refuel® line to provide active individuals with delicious, natural protein beverages to deliver the best nutrition for their workout. Because it contains real milk, Rockin' Refuel is an excellent source of protein and calcium, and is the only protein beverage that boasts naturally occurring electrolytes. And it tastes great- not chalky like other protein beverages!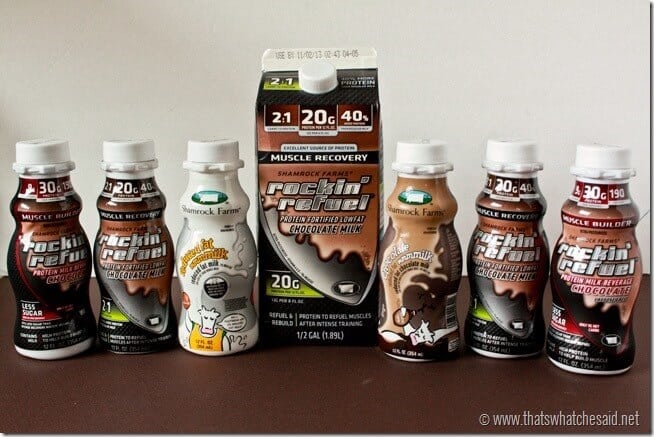 My normally skeptical husband even agrees!  They taste great and the Muscle Bulding kind boast 30g of protein!  30 grams of protein and only 190 calories!    That's awesome and they taste so good after a tough workout!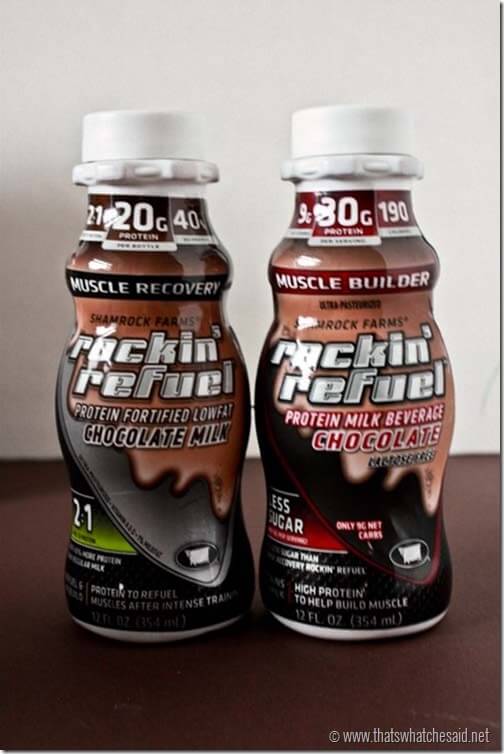 No matter what your workout level or your activity of choice, there is a Rockin' Refuel® right for you!  Have active kids?  They can enjoy these as well as regular and chocolate milks!  Chocolate milk is the original protein drink!   You can now find Rockin' Refuel®in the dairy section of your local Walmart and at www.RockinRefuel.com. Do you want to try it yourself?  You are in luck!  I get to give one lucky reader a Rockin' Refuel® prize pack, including one case of Rockin' Refuel® Muscle Recovery, one drawstring gym bag, and one sweat towel.  All you need to do is leave me a comment telling me your workout of choice!  Are you a runner, do you prefer Zumba, or are you a treadmill kind of person?  I want to know and YOU will be entered to win the Rockin' Refuel® prize pack mentioned above! a Rafflecopter giveaway